Fashion
Materials That Can Be Used To Form Cuban Link Chains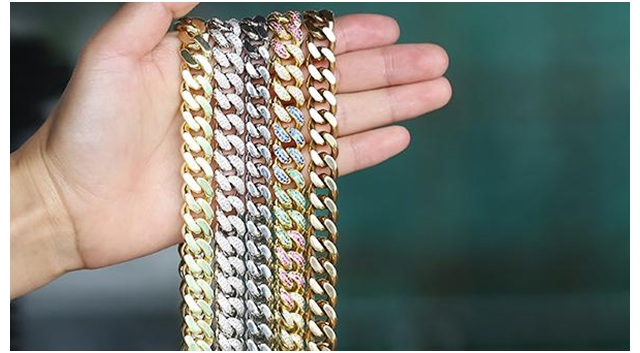 The Cuban link chains as a bracelet or necklace can be added to every day's accessory. These chains look amazing in men and come in various materials. Every person can choose the chain of his choice as of the materials that best suit him. The Cuban link chain as a jewelry piece enhances the overall look and can be styled with any outfit, which means it is versatile to make any outfit better.
The huge variety of styles and size of the chain and the links enable everyone to find one of their choices. Since there is a distinct variety of material, chain size, thickness, and link size, all these aspects offer an extensive range to choose from when combining in different combinations.
The most common of all is the gold chain with excellent locks, but others are silver, bronze, copper, and nickel, which means the variety of metal, supports this chain's formation. Some people may be allergic to one metal to choose the other one from the list. These chains can be a perfect gift to any special man in your life.
Have a look at the type of material you can find in the Cuban link chains!
Gold chain
The golden chains come in different link sizes and styles, and this is the most common and popular metal used to manufacture the chains. The gold Cuban link chain has different proportions of other metals mixed in them, and the only purest form of gold is 24 karat.
The 24 karat gold is very soft and can bend easily; therefore, people generally do not use the purest gold form to make the Cuban links. The purity of gold decreases, but the strength increases when the gold metal mixes with other metals, other forms of gold that are used to make the desirable gold Cuban chain are:
10- Karat gold: it has 14 parts occupied by other metals and is used in iced-out chains. These chains are shiny and upgrade the look of a person.
14-Karat gold: this gold is stronger than the pure form and does not mold easily, contains ten parts occupied by other metals.
18-Karat gold: it is another form that contains other metals in 6 parts.
Gold chain is the best option if you wish to wear it as an everyday accessory. If you are a fan of lightweight jewelry, then opting for hollow chains will be the better option.
Sterling silver
The other metal that a person can choose in the Cuban link chain is sterling silver. This silver metal category is not pure; it is a mixture of silver and other metals to provide high strength to the chains. The chains manufactured using sterling silver are easy to clean and do not cause allergies to the people using them.
Also, the cost of sterling silver chains is not high, and anyone can afford them easily. Wear it either in a normal routine or at special parties; you will look fabulous. The variety of designs one can find is incredible and lure people.
Brass chain
Brass is another metal commonly used to make the Cuban link chain. The appearance is similar to the yellow gold; hence it looks beautiful but is cheaper than it. Cleaning the brass chains is simple and does not require heavy procedures; you can do it even at home all by yourself.
The lifetime of a brass chain is quite long if the proper care is taken. Like the gold chains and yet affordable, the excellent brass material is available at such a lower price. The link chains of brass metal are so resilient that gemstones' incorporation is easy and stable for a longer time.
Stainless steel
People love the stainless steel in their Cuban link chain because it does not get rusted or discolor in the air. Since it does not get damaged easily, it is durable, which is an essential property. The stainless steel chains can withstand the tears of high pressure, and it is hard to make a scratch on them.
Since there is a chromium layer on this metal, it does not get oxidized and hence lasts for a longer time and is the best metal for making body jewelry. Since it is rigid, the artisans find it difficult to add the stones to the link, hence with all such properties, setting the stone is a challenging task.
Copper
The copper metal is highly durable in pure form but not suitable for jewelry as it lacks rigidity. Therefore, jewelers mix it with certain metals that can provide strength, and these metals can be zinc or tin. Even if people regularly wear this unique jewel, they can remain the same for longer times. The copper metal is resistant to rusting; hence maintaining it for a long time is easy.
The Cuban link chain is available in several materials, and if you wish to purchase one of them, you must understand your requirement first. The material that can best suit your skin must be considered, and choose the one with long-lasting properties.