Asia's Top 9 UNESCO World Heritage Sites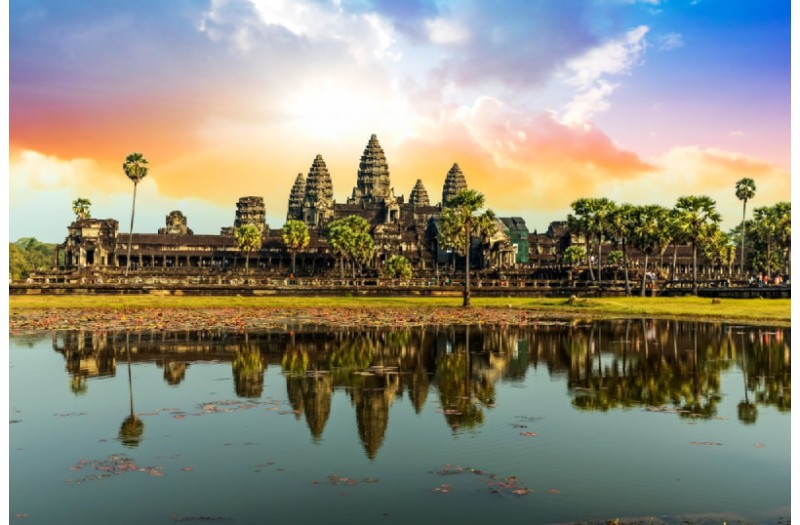 There are many interesting places to visit in Asia. Asia has it all, from the intricate network of temples dating back to the 12th century at Angkor Wat to the secluded Orkhon Valley in Mongolia. So how do you decide on the never-ending list of sensational destinations?
The UNESCO World Heritage sites in Asia are a good place to start.
Destinations that have received international recognition as having outstanding global value are listed as UNESCO World Heritage Sites. Sites must fulfill at least one of ten requirements, such as "representing[ing] a masterpiece of human creative genius" or having "areas of exceptional natural beauty," to be designated as UNESCO World Heritage sites.
You'll need a bit of inspiration and an adventurous spirit to visit one of Asia's heritage sites. Our list of the top 9 Asian UNESCO World Heritage Sites is provided below.
9 Best UNESCO World Heritage Sites in Asia
Angkor Wat, Cambodia
Angkor Wat is not a modest structure. This impressive temple complex, which was once the capital of the powerful Khmer Empire, is a popular destination for travelers in Southeast Asia (and for good reason). Naturally, Angkor Wat is the primary attraction of the Angkor Archeological Park. The largest religious monument on Earth is this temple, dedicated to the Hindu god Vishnu.
Other attractions in this stone-built, jungle-engulfed metropolis are unexplored temples like Banteay Srei, also referred to as the "Citadel of Women," and Bayon Temple, which honors the earthly incarnation of Buddha. More information about the sophisticated urban planning of Khemer can be gained from the intricately designed canals within the city.
There are lots of food and hotel options in nearby Siem Reap. We suggest staying at the boutique 48-room Tree Line Urban Resort, which combines eco-friendly practices and modern Cambodian art with urban design, in the heart of the city's historic district. Chef Gordon Ramsey's favorite traditional Khemer teak-wood restaurant, The Sugar Palm, is a short stroll from your front door. Maybe take a stroll to the adjacent Old Market.
Ha Long Bay, Vietnam
Take a trip to Ha Long Bay, where thousands of tiny islands rise out of the sea and emerald waves chisel away at ragged limestone pillars. Ha Long Bay offers an amazing seascape, earning it the distinction of being named a UNESCO World Heritage Site in 1994 due to its exceptional natural beauty and distinctive geology. There are more than 1,600 islands in its jewel-toned waters, and there is a maze of outcrops, coves, and arches to discover.
Getting out on the water is the best way to explore Ha Long Bay. There are ways to get away from the crowds, even though ships must follow the same paths throughout the bay to protect the area's natural resources. We advise sailing Bai Tu Long Bay, which is well-known for its serene and picturesque beaches, as it is a more untraveled area of the bay. Together with other adventurous souls, spend the evening on a wooden junk boat while cruising the glistening waters and dining on fresh seafood. Maybe take a kayak out to discover the bay's treasures, or just relax on the deck and watch the sunset. Any amount of adventure you can handle will be plenty on a cruise around these waters. Along the way, keep an eye out for goats, storks, and sea eagles. We suggest spending the night on one of Orchid Cruises' ships.
Once you're back on land, check out the fresh and flavorful seafood served at Cua Vang Restaurant in Ha Long Bay, as well as the rich coconut curries made with snails.
Taj Mahal, India
The phrase "bucket list" is frequently used in the Taj Mahal. With a tragic love story behind its creation, this magnificent marble monument—designated as a UNESCO World Heritage Site in 1983—is regarded by many as the most beautiful architectural work ever created. The marble domes, impeccable symmetry, intricate scrollwork, inlaid semi-precious stones, and expansive gardens of the mausoleum, which was built in memory of Mughal Emperor Shah Jahan's wife who passed away while giving birth, are works of art, the complexity of which you can only begin to comprehend once you are standing there in person. While some travelers are drawn to the gardens under a full moon, many arrive at sunrise to witness the marble walls absorb an enchanting pink hue.
We suggest staying at the Taj Hotel and Convention Centre, Agra when you're in the city; it's the ideal place to stay and has a great view of the city (plus a great rooftop infinity pool for the kids).
A visit to Agra Fort, a red sandstone fortress renowned for its expansive courtyards, Mughal architecture, and intricate building maze, is a must-do for those seeking additional adventures during their stay. After that, for some culinary inspiration, check out Rawatpara's spice market or peruse Vogue India's list of restaurants you simply must try.
Humayun's Tomb, India
Architectural beauty abounds in Humayun's Tomb. This tomb, which is situated in the heart of Delhi, was constructed in the mid-16th century and was the first garden-tomb to be found on the Indian subcontinent. Emperor Humayun's wife commissioned the construction of the tomb, which was erected in memory of her late husband—the second Mughal emperor of India. Its elegant design is evidence of the masterful fusion of Islamic and Persian architecture, and its construction is rumored to have served as inspiration for the Taj Mahal.
Take a rickshaw ride to Lodhi Garden, a green space in the city that was once home to even older tombs, after seeing Humayun's Tomb. The garden is a favorite spot for picnickers and joggers, and it's a great spot to people-watch. The Red Fort, Chandni Chowk Bazaar, the most well-known market in India, and Jama Masjid, the country's most significant mosque, are among the other well-liked attractions in Delhi.
We suggest setting up shop at the conveniently situated Claridges Hotel, which is only a ten-minute walk from the Lodhi Gardens. This hotel and location are hard to beat, with colonial charm, palm fronds, a pool, and excellent dining options.
Kumano Kodo Pilgrimage Trail, Japan
The Kumano Kodo trail is the best option if you're looking for a genuine rural adventure in Japan. This historic trek crosses the mountains of Honshu's Kii Peninsula, following in the footsteps of renowned emperors, samurai, and pilgrims. It is recognized as one of just two UNESCO World Heritage Pilgrimage Sites in the world, alongside the well-known Camino de Santiago.
We advise beginning on the Nakahechi trail, which links Kumano Hongu Taisha, Kumano Nachi Taisha, and Kumano Hayatama Taisha—three of the most important Shinto and Buddhist shrines. This spiritual trail, which winds around rivers and waterfalls and winds through the Kii mountains, is based on the Shinto and Buddhist traditions of nature worship.
Today's tourists come to this fabled trail to learn about its history, attain enlightenment, and connect with nature. Savor the breathtaking forests of oak and cherry, as well as shrines, cobblestone stairways, and tiny villages scattered throughout the path. Explore the trail's more than a millennium of history while conversing with pilgrims, innkeepers, and monks along the way. After that, spend the night in Ryokans in the area and relax your weary feet in onsens and thermal hot springs.