Australia batsman Steve Smith will come back as Australian cricket captain after three years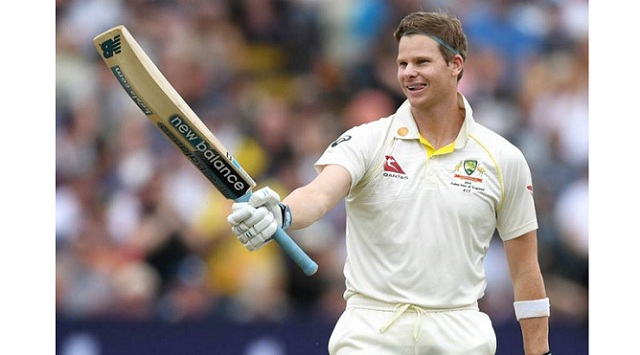 Australia batsman Steve Smith is ready and willing to captain Australia once more, three years on from the scandalous ball-tampering outrage. Steve Smith has officially put his hand up to captain Australia once more if the selectors decide to rotate away from current captains Tim Paine and Aaron Finch.
The board of Cricket Australia will decide if Steve Smith can get back to the captaincy of the Australian men's team at its next board meeting.
The Ticket that has taken in Steve Smith's future will be on the agenda as part of conversations around progression planning. Secretly, the ABC sees some on the board have reservations.
This agrees with public comments from Smith that he is keen on a re-visitation of the captaincy after he was deprived of the leadership for his role in 'sandpaper gate.
Be that as it may, Australian cricket coach Justin Langer disclosed to ABC today:
"We have two very good captains and two important competitions coming up — an Ashes and a T20 World Cup. Our future looks good.
"Despite the media chatter, there is no captaincy position available."
He was additionally banished from standing firm on any leadership position with the national team for two years as Tim Paine became Test captain and Aaron Finch acquired the captaincy of Australia's white-ball teams.
Be that as it may, Steve Smith says he will joyfully step up to the top job in Australian cricket if selectors want him. The 31-year-old vowed his full support for Tim Paine and Aaron Finch, who have both been under pressure to keep their jobs during specific times this year.
One of Australia's most prominent batsmen, Smith got a year restriction from international cricket following the dramatic events on the 2018 tour through South Africa.
Steve Smith skippered his country until 2018 when he was prohibited from the leadership for two years over 'sandpaper gate – which included his colleagues attempting to wrongfully adjust the ball during a Test against South Africa in Cape Town.
Tim Paine has been leading Australia's Test side since Steve Smith was suspended after the ball-tampering scandal back in 2018, while Aaron Finch has assumed leadership in Australia's restricted overs sides.
While Australia has experienced triumphs under the two men, recent failures, specifically Australia's home Test series defeat to India, have brought about calls for Smith to expect the role he gave up three years prior.
Steve Smith clarified that he actually supports both Tim Paine and Aaron Finch, however admitted that he would relish the chance to lead Australia indeed.
Smith was given a year restriction from worldwide cricket following the ball-altering outrage that shook Aussie cricket on the 2018 South Africa Tour.
Steve Smith, 31, was restricted from playing international cricket for a year and made ineligible from standing firm on a leadership position with the national team for two years following the Cape Town ball-tampering affair in March 2018.
The sanction expired in March a year ago and Steve Smith said he was prepared to wear the skipper's armband again whenever inquired.
He reported his re-visitation of the Test team 18 months later by scoring twin centuries to direct Australia to triumph in the first Ashes Test to put Tim Paine's men on course to win the urn for the first time in 18 years.
In any case, since the time of his emotional homecoming to Sydney International Airport, Steve Smith has remained calm on his leadership aspirations. Until now.
"I guess now I've got to a point where if the opportunity did come up again I would be keen," Steve Smith told News Corp. "If it was what Cricket Australia wanted and it was what was best for the team at the time, it's certainly something I would be interested in.
"I'm always going to have to live with Cape Town regardless of whether I lead again or not. It's always there. Time keeps moving forward, and I've learned so much the last few years about myself and grown as a human being."
Regardless of the discussion, Steve Smith stays a prolific run-scorer, averaging 61.8 in Tests and 43.34 in one-day internationals.
He won his third Allan Border Medal as Australia's best male cricketer a month ago and was named ICC Test cricketer of the decade before the end of last year.
Steve Smith has been similarly as prolific with the bat under Tim Paine's leadership, yet has been previously blamed for undermining the current captain.
In 2019, Smith was forced to defend himself after ex-Australian captain Ian Chappell claimed he was "white-anting" Paine during Australia's Test series against Pakistan.
Fast bowler Pat Cummins is Australia's vice-captain and has announced his interest in stepping up to captain. Be that as it may, Australia has traditionally avoided giving the captaincy to a bowler. Ray Lindwall was the last fast bowler to lead Australia, for one Test in India in 1956.
Cricket Australia has not given a sign on the off chance that it would be OK with Steve Smith getting back to the captaincy. Smith was elevated to skipper on a full-time basis after Michael Clarke retired following the 2015 Ashes.
Tim Paine hasn't shown that he will give up the responsibilities and no decision in the captaincy is likely soon.
Australia has little international cricket planned during the current year, without any Tests until the home summer which includes a historic Test against Afghanistan as well as the Ashes.