Billie Eilish collaborates with Hayley Williams at Coachella Weekend 2 for the hit 'Misery Business' duet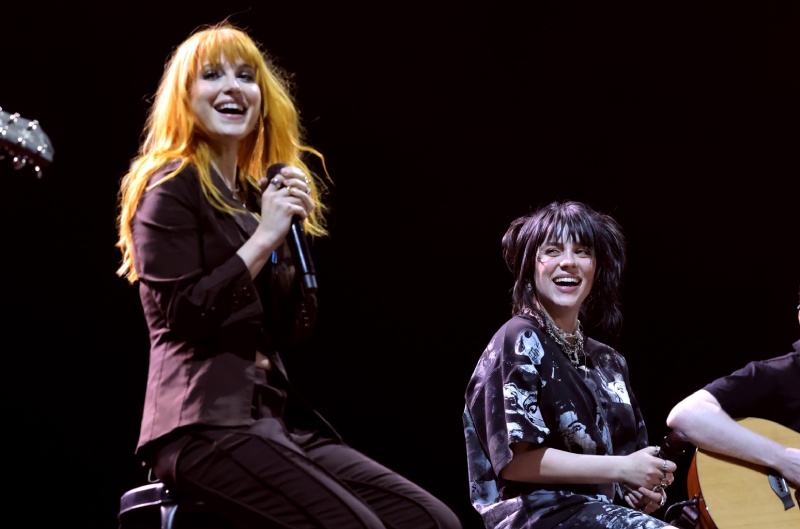 During Eilish' featuring set on Saturday night at the second weekend of the Coachella Valley Music and Arts Festival, the 20-year-old Grammy Award winner amazed the group when she brought out the Paramore frontwoman. Billie Eilish amazed Coachella Weekend 2 participants with Hayley Williams on Saturday night for an intriguing performance of Paramore's 2007 hit "Misery Business."
The startling appearance denoted Williams' first time on the Coachella stage. Williams' appearance came after Eilish and her brother Finneas played "Your Power" from her latest album, with the siblings duetting on acoustic guitar. There was a pause after the song finished, in which expectation filled the air and Eilish sat down on a stool to present her visitor.
She and Eilish played out a high-energy duet of the 2007 Paramore hit "Misery Business." As Williams, 33, demonstrated over 10 years doesn't have anything on the timeless revenge anthem's appeal, Eilish effortlessly cruised through a series of excellent, breathy harmonies.
Eilish originally implied she might draw out an unexpected visitor after a mysterious second stool sat void in front of an audience while she and brother Finneas played out an acoustic rendition of their song "Your Power."
"Oh, look! An empty seat. Who's that for?" Eilish devilishly said prior to encouraging the group to invite her "friend" Williams to the stage.
Supported by Finneas and another guitar player, Williams and Eilish delivered an acoustic rendition of the pop-punk tune. Eilish appeared to be overjoyed to have Williams as a visitor, letting out an energized howl when she strolled in front of an audience. The two jumped and embraced as Williams tended to the group.
"This is my first Coachella, whoa," Williams said to the audience after she and Eilish shared an elated embrace. "Thanks for sharing this with me. This is sick!"
The performance came as a particularly intriguing treat since Williams has publicly separated herself from the song in the later years of her career, refering to specific lyrics she deciphers as hazardous, specifically: "Once a whore, you're nothing more/I'm sorry that will never change."
Williams originally communicated her feelings thinking back on the song in a post on her blog in 2015.
"Misery Business is not a set of lyrics that I relate to as a 26-year-old woman. I haven't related to it in a very long time," Williams wrote in the post. "Those words were written when I was 17… admittedly, from a very narrow-minded perspective."
At a Paramore show in Nashville, Tennessee, in September 2018, Williams declared the band would never again be playing the song live. "This is a choice we made because we feel like we should. We feel like it's time to move away from it for a little while," she said at the time.
This weekend at Coachella, after the pair finished the duet and William's left the stage, Eilish really wanted to express her own awe and fervor to the group.
"Oh my f—— god," Eilish said after bidding Williams goodbye. "Absolutely what on Earth could be cooler than that? I'm dead serious."
Coachella's second and final 2022 weekend will finish off Sunday night with a featuring performance from Swedish House Mafia and The Weeknd, who supplanted Kanye West after he exited only two weeks before the festival.
Saturday night denoted an interesting performance of the song, which Williams has removed herself from lately, in any event, requesting it to be removed from Spotify's Women in Rock playlist. Last weekend, Eilish brought out Damon Albarn of Gorillaz notoriety to perform "Feel Good Inc" alongside Posdnuos of De La Soul.