Blue One Gets Carried Away By SATC Fans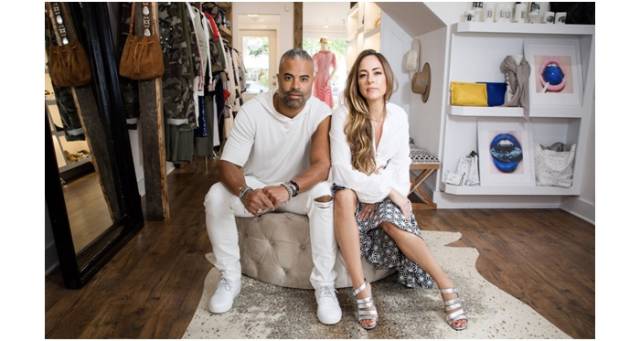 In January of this year, fans of Sex And The City rejoiced as HBO announced that a new season is on the way. With a staggering six series and two movies, the franchise is loved as much for Carrie Bradshaw's sassy style as it is for its unique storylines and razor-sharp dialogue. As news of the next season of the show spread, the Blue One boutique in Montauk, Bridgehampton, saw an increase in customers looking to upgrade their wardrobes, New York style.
Dip into the blue
Located in Montauk, a Long Island favorite for dining, drinking, and shopping, the Blue One boutique offers hand-selected, curated fashion, homewares, and art to its dedicated following of elite New Yorkers. Owned and run by fashionista, Crystal Willis and former Ford Model, Jarrett Willis, Blue One opened its doors in March 2007 and has continued to go from strength to strength ever since – something which is testified to by its 76,000 Instagram followers. With a huge number of people spending more and more time at home at the moment, television is a focal point of our social lives and a lot of viewers are eagerly awaiting the continued adventures of Carrie, Miranda, and Charlotte in the new series of SATC. One of these fans is Blue One co-founder, Crystal Willis, who says, 'Like so many, I very much enjoyed watching Carrie Bradshaw's style evolve throughout the programs and movies and I'm looking forward to seeing more. Like Carrie, a lot of our customers have a very individual style and, for us, it's really exciting to be able to be part of that through our unique fashion finds'.
A new season
Situated in a New York-style loft, Blue One is home to unique fashion by independent designers as well as signature pieces for the home and stunning artwork. With a dedicated following, Blue One's customers include New York billionaires who think nothing of flying the couple around the world by private jet in order to benefit from their experience and expertise. The secret of Blue One's success is in its ability to find the hottest new and independent talent from around the world. Jarret says, 'We curate together and hand-select new designers and pieces each season'.
An Elle Of an honor
Blue One's customers are not alone in championing the innovative boutique – in 2012, leading fashion magazine, Elle, listed Blue One at number one in its list of America's top boutiques.