"Climate Change poses as the nightmare of the present," says Dr. B S Tomar – Chairman of Nims University, at World Health Summit 2023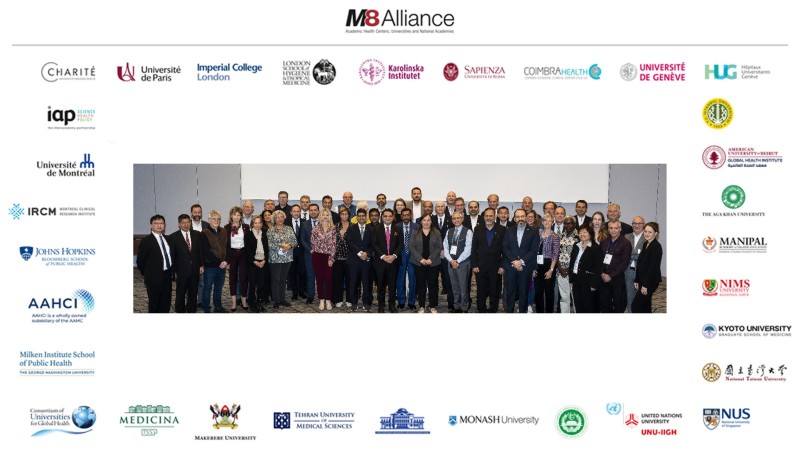 Berlin hosts the World Health Summit 2023 from 15th to 17th October, where Nims University Rajasthan, Jaipur, has been recognized with a prestigious M8 Alliance membership (Academic Foundation of World Health Summit) on the first day of the event.
M8 Alliance, which is made up of 31 of the world's most emerging health universities and institutions, marks a significant step forward in the university's commitment to global health efforts. Only three medical Universities hailing from South East Asia are part of this Alliance. The World Health Summit held in Berlin this year has become increasingly significant as it lauded India's outstanding public health achievements, particularly its COVID Vaccination program, known as the 'Vaccine Maitri Program,' and referred to it as a great sign for India's future. It was also highlighted that the "Pandemic Agreement" will protect the world from Pandemic invasions like coronavirus.
The theme of the WHS 2023 is 'A defining year for global health action,' focused on the urgency and significance of international cooperation to tackle critical health issues and pandemic challenges.
Nims University is currently one of the 31 medical centers/institutions from around the world that are members of the Alliance and have made their name in history. Currently, the Alliance has 31 members, including the IAP, which represents the National Academies of Medicine and Science in over 100 countries. The M8 serves as a think-tank for international discussion on health and educational policy. The M8 Alliance's mission is to promote global health and the development of science-based responses to global health issues, and it serves as a resource for leading global organizations, such as the WHO.
This league comprises renowned institutes such as the U.S. Department of Health and Human Services, the University of Charite – Germany, the University of Imperial College London in the United Kingdom, the National University -Singapore, the University of Geneva – Switzerland, the University of London School of Hygiene & Tropical Medicine, the University of Kyoto – Japan, the University of Sapienza – Italy, the University of Monash – Australia, the Russian Academy of Medicine- United States, as well as the International Institute of Global Health of the United Nations University, and the George Washington University- United States, Association of Academic Health Centers International, Coimbra Health, Portugal, Istanbul University, Turkey, Johns Hopkins Bloomberg School of Public Health, USA, Makerere University, Uganda, Manipal Academy of Higher Education, India, National Taiwan University and more.
Prof. (Dr.) Balvir S. Tomar, Chairman and Chancellor of NIMS University, expressed his pride in the selection of Nims as a member of the Alliance. He stated that the award is a tribute to the dedication, passion, and effort put forth by all NIMSians. Our involvement in this Alliance has enabled it to focus on the SDGs, particularly the 10 SDGs that have been adopted in our institute.
Dr. Tedros Adhanom Ghebreyesus, Director-General of the World Health Organization, in his address at the WHO summit, emphasized the serious health challenges facing the world, including global disease outbreaks, poverty, and the climate crisis. Other international leaders and experts stressed the importance of effective funding, strong public health systems, and international collaboration to improve global health outcomes.
Addressing the World Health Summit, German Health Minister Karl Lauterbach said, "we will have to take responsibility at the international level to tackle the serious diseases. Dr. Karl said that the whole world should come together and make a "Pandemic Agreement."
EU Health Commissioner – Stella Kyriakides highlighted the EU's commitment to implementing a new global health strategy.
In her speech, Barbados' Prime Minister – Mia Mottley, said, "If we want to improve the health pattern of the world's poor and refugee population – who make up nearly half of the world's population – we need to invest more in public health systems and infrastructure.
Axel R. Pries – President of the World Health Summit, said that "it's everyone's job to make sure global health is taken care of. He also said that we need to keep working together to make sure everyone has a chance to live on Earth."
Dr. B S Tomar also expressed his views at the World Health Summit, emphasizing the importance of global cooperation. He stated that climate change is the greatest challenge for us, and we must work together to combat future diseases. We should focus on nationwide health issues to Global Health issues, he added.
The opening ceremony of the 2023 World Health Summit featured a distinguished line-up of speakers, such as Dr. Aurelien Rousseau – Minister of Health, France, Dr. Keizo Takemi – Minister of Health and Welfare, Japan; Dr. Bharati Praveen Pawar – Minister of State for Health and Family Welfare – India, Dr. Ina Szybora Higher Education, and Research Senator Germany, Dr. Heyo Kromer – CEO Charite Universitäts Berlin, Dr. Rose Gan Fombun Leckey – Director Biotechnology Center Cameroon Global Health Prize Winner Virchow Prize Winner, Omnia.L.Omrani, United Nations 27th Conference of Presidents on Climate Change (COP27), Sunao Manabe, Acting President, and CEO Daiichi Sankyo Japan, Dr. Bernd Montague – CEO, Siemens Healthineers, Germany, Dr. Christina Chilimba, Founder and Executive Director All for Youth Malawi and many more came to put the health discussion on the table.
These acclaimed speakers brought different points of view and knowledge to the table, stressing the need for international cooperation and creative solutions to tackle global health issues in this crucial year for global health efforts.