Co-Founder of Writers Community Shanya Das is planning to launch their own digital marketplace for freelancers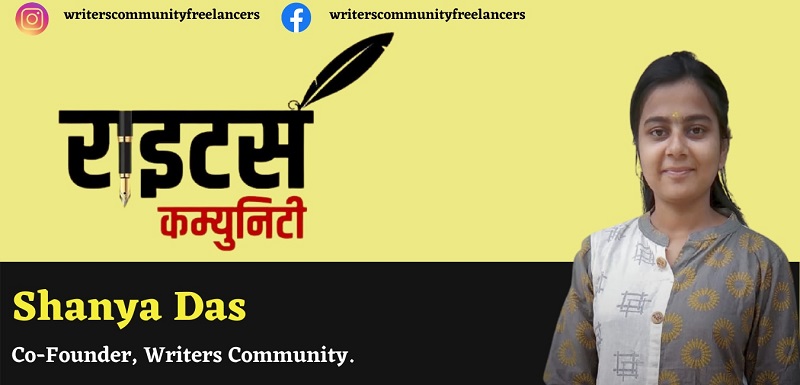 21-year old Shanya Das from Bihar has proven that age is just a number. Shanya is currently the co-founder of Writers Community, an organization working continuously for freelancers. She believes with determination, hard work, and continuity anyone can achieve the heights of success. She recalls the statement of Badminton champion Maria Sharapova 'If you come from nothing and have nothing, it makes you more hungry and determined.' She says that she had implemented these words in her life every time she started working on a new opportunity. Shanya had completed her schooling at Jawahar Navodaya Vidyalaya, Araria. At present, she is pursuing her graduation in Hindi from Gargi College, Delhi University. Shanya Das along with Ankit Kumar has created a new platform for those looking for employment sitting at home during Covid and those who have lost their jobs. Both of them together have named this platform as Writers Community.
Shanya says that she started her professional life working as a web analyzer in News one 11, a news channel operating from Bihar. She has a great interest in reading novels, writing poems and articles. Due to her keen interest in the field of writing, Shanya wanted to advance and establish herself in this sector. Initially, she started freelance work through various social media groups. Still, when she saw that most freelancers were being scammed and were not getting paid for the work, she along with Ankit Dev Arpan established the Writers Community and helped people get employment and save them from scams.
Shanya Das has written various articles that have been published in many newspapers, magazines, and online portals. Her articles are mostly based on the country's current situation, political and social issues. Apart from academic excellence, Shanya has also been escalating her talent on other platforms. She has been awarded for the best speaker in Youth Parliament. She has been awarded Hindustan Pratibha Samman in 2017 & 2019. Along with this, the article written by her was selected by the Petroleum Conservation Research Association among the best articles in the Patna region. Presently Shanya Das is a student of the Hindi department in Gargi Mahavidyalaya and is also a member of the Hindi Creative Writing Society of her college.
Shanya says that she was more interested in writing and reading since childhood. She used to read many novels and later this helped her in enhancing her writing skills. She started writing her poems on the social media site Your Quote and then created her own page. But later she felt that only this was not enough, and they had to start something to provide opportunities to the upcoming talent. With this purpose, she founded the Writers' Community together with Ankit Kumar. The Writers Community is helping freelancers get employment opportunities by training them. Recently the organization has announced plans to launch its own digital marketplace very soon.
Shanya said that providing employment opportunities to differently-abled people, girls, and women is one of her main motives. She says that she is totally aware of the situations of the social status of women in Bihar. Even well-educated women are rarely allowed to work outside. She says that the roots of this orthodox mentality are very deep and women are deprived of their rights for a long time. She wants these women to get opportunities to grow professionally and get financially secure. She wants to provide them employment opportunities through the Writers Community. At the same time, it is entirely safe for women and is also helpful in their skill development.
Shanya said that they are trying further to provide employment to more people through the writers' community and contribute to writing.
You can also connect with Shanya Das through her Instagram. Instagram: @shanyadas5