cTrader – Now Part of B2Broker's White Label Platform Solutions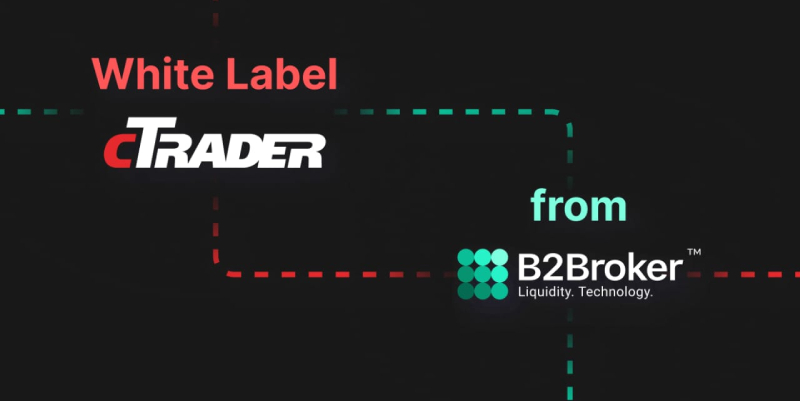 We at B2Broker are extremely excited to announce the launch of the new ready-made platform solution, the cTrader White Label, available to all our clients. By using this new product, brokers can access a wide range of business-enhancing features. White Label cTrader is a sophisticated solution that enables businesses to provide full trading services with remarkable ease to their customers. It's hardly unexpected, given that cTrader is regarded as one of the greatest trading platforms by experienced users, thanks to its unique features and superior performance.
About cTrader White Label
If you are looking for a high-end brokerage solution that provides everything you need to build a customized trading experience, White Label cTrader brokerage is the best choice for you. The rich feature set of this solution makes it appealing to both institutions and retail customers, and the highly customizable user interface allows you to quickly and easily create a look that matches your brand!
The White Label cTrader platform is the greatest option for businesses looking to offer their consumers a high-level trading experience without paying too much. The platform has undergone extensive testing and is ideal for businesses of all sizes. White Label cTrader covers all the requirements, including a server license and a connection to a dependable liquidity source, allowing brokers to focus on their core objectives. You can rely on us to do all of the heavy lifting! Our staff will take care of all elements of implementing our product with your CRM and back-office systems and integrating crypto processing. Furthermore, the support desk will be open 24 hours a day, seven days a week, to answer your inquiries and help you with any problems you may have.
Manage Your Platform Easily with cBroker
cBroker is a great tool for managing trade requests and client accounts in the back office. It aggregates and records all data passing through the system, supplying platform owners with a full picture of the trading ecosystem and total control over all elements of their business. You will always have access to all activities and statistics within the system, giving you a complete view of how the system works.
cTrader Copy
CTrader Copy is an excellent tool for businesses looking to reach a wider audience and gain more clients. A broker may use cTrader Copy to provide clients with the ability to copy other traders' deals and provide their own trading tactics. The platform is adaptable, so you may tailor it to your specific needs.
Trading with cTrader Copy is simple thanks to the platform's user-friendly interface, allowing users to select assets, investment amounts, and risk levels based on their preferences. There is also a built-in Copy Stop Loss function that traders can use to limit the risks they are taking on.
Open API
With the open API provided by cTrader, you can create your own custom trading system on top of the platform's existing infrastructure. Using cTrader's API, you can even create your own customized trading apps with unique characteristics and benefits over other platform alternatives.
White Label cTrader integrates smoothly with any current trader's room you may have. The benefit of this approach is that you can still utilize all of the essential trading tools with any additional programs you choose. You may use various options (such as TradingView) or construct your own UI to create an optimal user experience. Customized labels and visuals, programmable technical analysis indicators, and other features allow you to build the ideal trading platform.
Prime of Prime Liquidity Pool
Another feature provided by White Label cTrader is the Prime of Prime Liquidity Pool. Thus, the platform is ideal for those seeking to access world-class financial institutions at the best prices. We offer over a thousand different products, including 110 FX symbols and 150 cryptocurrency CFDs. All of this is due to Tier 1 liquidity coverage. The White Label cTrader platform is the perfect solution to meet the needs of any brokerage business, regardless of whether you wish to offer Forex, metals, commodities, indices, cryptocurrencies, equities, or ETFs.
B2Broker and cTrader
As the world of online trading evolves, so do the requirements of companies wishing to start or strengthen their position in this industry. B2Broker's White Label cTrader solution is created specifically for such businesses, providing a full package covering all areas of developing the brokerage company.
"cTrader is a well-known platform with a proven track record of success, and it is used by all the market's top brokers. A quick search on the Appstore for cTrader will reveal all the major companies that use this platform.
We believe that in today's ultra-competitive markets, every broker must offer a wide variety of trading platforms to its clients. Otherwise, the broker would lose clients who wish to trade on the cTrader platform. In addition to the traditional trading capabilities provided by the MT platform, cTrader will almost certainly attract a new category of traders and investors.
When it comes to managing your crypto brokerage, and its algo capabilities, cTrader is one of the top solutions on the market.
Since 2021, we have been seeing a growing demand for cTrader among cryptocurrency brokers. Since many cTrader brokers use our liquidity offering, we decided to open a whole new world for brokers that want to grow more sophisticated and cater to traders' needs, rather than requiring them to use a single platform," B2Broker CEO Arthur Azizov.
The solution will provide brokers with the tools they require to provide top-notch customer service, including a customizable front-end interface, back-office management tools, and much more. There is no difference whether you are a new start-up or an established company, the White Label cTrader platform is the ideal solution to meet your needs.
We plan to add even more features and benefits to our White Label cTrader platform. Feel free to contact us if you want to know more about how we can help your business succeed! Keep checking back for updates!