Dive into the world of exclusive and luxurious dining experiences with Vigneto's Home Luxury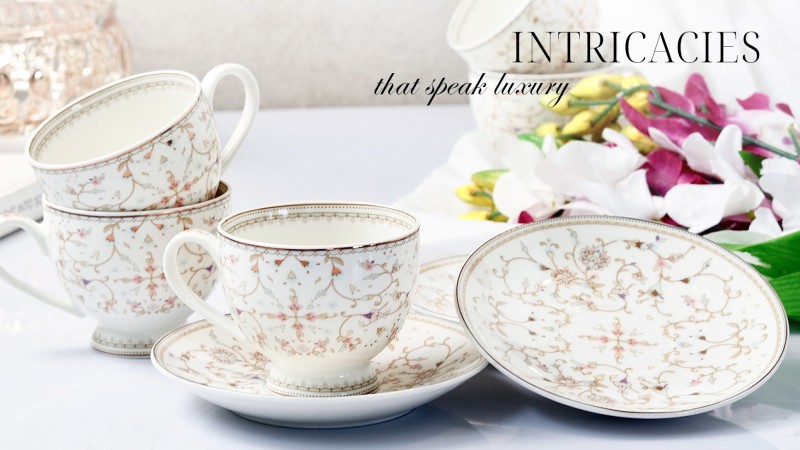 What is Vigneto?
Vigneto is a premium tableware brand that offers a luxurious range of tableware. The products made of the finest premium porcelain and fine bone china have designs inspired by vintage English aesthetics fused with Indian art. The brand's goal is to bring an exemplary and timeless tableware collection to the urban Indian population. Vigneto prides itself on offering crockery that is not only affordably priced but also of the finest calibre and one that exudes luxury. The brand has significantly expanded the formerly highly constrained possibilities in the crockery sector.
As a result, Vigneto has gained popularity both offline and online since its inception and is now offered in close to 150 retail locations in India. Additionally, the brand is also connected to elite merchants like Pernia's Pop-up Shop and Aza Fashions.
Harsh Gupta, the man behind the brand
Harsh Gupta, a business enthusiast, launched the brand Vigneto during the final year of his MBA. He earned his MBA degree from IIM Bangalore and his bachelor's degree in commerce from Hansraj College, University of Delhi. He was one of the very few students at IIM who pursued their business idea instead of seeking a job after completing the master's degree. It was during his internship that he realised that thousands of start-ups are selling their products and services increasingly through online platforms, whereas his family business was still behind the time.
Additionally, unlike most other sectors, relatively few brand alternatives were available when buying tableware online. Because of this, there did not exist a go-to tableware brand that consumers can easily rely on and trust for purchasing high-end luxury products at accessible prices. That motivated him to develop his business idea for Vigneto Home Luxury, a line of crockery that offers a deluxe dining and gifting experience without burning the pockets of tableware enthusiasts. The brand has garnered a lot of love in a short period, and it hopes to accomplish much more in the future.
Products and USPs
Vigneto offers a large selection of tableware, including classic serve ware, sophisticated & luxurious teaware, elegantly designed dinner sets, magnificent dessert stands, snack sets, and much more. A sizable consumer base, especially Indians, enjoys all of its products.
The key factor in their rapid rise to popularity is that most tableware companies either provide low-grade, inexpensive ceramic products or ultra-premium, highly expensive goods. No other company can offer products with the same level of quality and affordability as Vigneto. Because Vigneto has a direct relationship with the manufacturers, the process is free of extra costs and burdens, allowing consumers to purchase premium quality products at reasonable prices. The biggest source of Vigneto's phenomenal success has been this.
The premium and exclusive collection from Vigneto is everything you need to make your dining experience a royal affair! With so many possibilities for tableware, this opulent line truly has something for everyone. What are you waiting for, then? Explore the collection right away and experience dining at a whole new level.