Experience Fight-free Travel with the Newest European Railways; Full List of Best New Train High-Speed Routes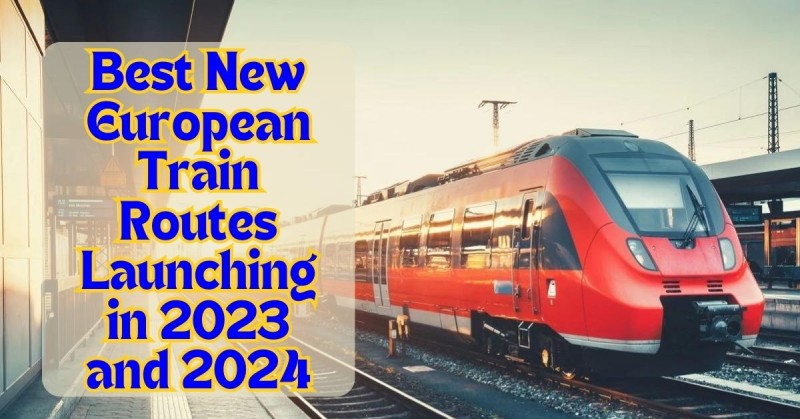 The first cross-border high-speed train service has been introduced by Spain's Renfe. European train travel is enjoying a rebirth as flightless travel picks up steam. Spain's national rail operator, Renfe, has opened its first high-speed train service to France as the newest cross-border route.
One of the best ways to lessen your carbon footprint is to change the way you travel. For example, taking a flight from London to Paris produces 14 times more CO2 than taking the train.
Thankfully, the EU as a whole is investing in trains that offer better and faster connectivity than before. Here are the newest European railways, from cross-country routes to frugal night trains.
Austria
Vienna to Paris with Nightjet
With Nightjet, Austrian national rail company BB has been leading the resurgence of sleeper trains in Europe since 2016. It introduced a new route between Vienna and Paris through Salzburg and Munich in the latter half of 2021.
Price ranges for the 14-hour trip, which departs and returns three times per week, range from about €30 for a seat to €120 and more for a private compartment.
Nightjet will introduce next-generation trains that are as comfortable as first-class flights in the summer of 2023. You may anticipate wireless charging outlets, free WiFi, storage for bicycles and winter sports equipment, and quiet spaces with their own showers and toilets.
Vienna to Genoa and La Spezia with Nightjet
The Vienna/Munich route to Milan was expanded by Nightjet in its revised 2023 itinerary to include Genoa and La Spezia in Italy. You can continue by train from here to Monaco, Nice, and Cinque Terre.
Belgium
European Sleeper from Brussels to Berlin via Amsterdam
On May 25, the long-teased Belgian-Dutch social cooperative known as European Sleeper will begin operating its first route, which runs from Brussels to Berlin via Amsterdam.
Passengers on the European Sleeper can continue their journey to Paris, London, Prague, and Warsaw with just one change. The service will be expanded to include Dresden and Prague starting in 2024.
Arriva, SNCB, and NS will travel from Liège to Aachen and Maastricht in December 2023
Aachen in Germany, Liège in Belgium, and Maastricht in the Netherlands will all be connected by a new three-country train service.
The project is a partnership between Arriva, a part of the German company Deutsche Bahn Group, SNCB, the Belgian National Railway Company, and NS (Nederlandse Spoorwegen).
Czech Republic
Prague to Zurich with ČD
The national rail company of the Czech Republic, České dráhy (ČD) , introduced a new sleeper service in December 2022 that connected Prague with Zurich via stops in Frankfurt and Basel.
The overnight trip, which is a continuation of a service that was discontinued in 2017, will last just under 14 hours. From six-bed couchettes to luxurious sleeping cabins with en-suite toilets and showers, passengers will have a variety of pricing alternatives.
Tickets start at €49.90 for a spot on a couchette with six beds.
France
Paris to Aurillac with SNCF (December 2023)
Later this year, the night train between Paris and Aurillac, which was discontinued in the early 2000s, is expected to resume operation.
Le Pyrénéen and L'Occitan night trains will connect the French capital with the south-central commune beginning on December 10, 2023, according to SNCF Voyageurs.
During the weekdays and on Friday and Sunday evenings in both directions the rest of the time, a daily train will run through the city of Cantal.
The Paris-Nice and Paris-Lourdes services are currently part of a larger initiative to reopen the nation's night trains.
TGV travel from Paris to Berlin (2024)
A new TGV train route between Paris and Berlin has been announced by France and Germany and is scheduled to begin service in 2024.
At the moment, traveling between the two major cities necessitates a changeover at a different station, such as Cologne or Frankfurt. At the moment, traveling between the two major cities necessitates a changeover at a different station, such as Cologne or Frankfurt. Passengers may travel over the new high-speed route in about seven hours.
Midnight Trains from Paris to Venice (2025)
With support from the European Commission, a French startup called Midnight Trains plans to link France and Italy starting in 2025 with a new night train service running from Paris to Venice through Milan. Travelers from the UK will be able to board the train to Italy more quickly and easily thanks to this.
'Paris to Madrid with Trenitalia (starts late 2024)
The FS Italiane Group, which owns Trenitalia, the national state-owned railroad of Italy, revealed plans for a new high-speed Frecciarossa train route between Paris and Madrid in December 2022.
The new train will operate between Barcelona and Paris, from where a high-speed service already connects to the capital of Spain. With hints that further routes may connect Madrid with Italy via France, it is anticipated to launch in the latter half of 2024.
Germany
Berlin to Stockholm with Snälltåget
The Berlin to Malmö train service of the Swedish railroad operator Snälltåget has been extended to Stockholm while being rerouted through Hamburg and Denmark. The whole travel time is just under 17 hours, and direct services start at about €50.
Munich to Genoa and La Spezia with Nightjet
The Vienna/Munich route to Milan was expanded by Nightjet in its revised 2023 itinerary to include Genoa and La Spezia in Italy. From here, it is feasible to continue on to Monaco, Nice, and Cinque Terre.
Stuttgart to Zagreb and Rijeka with Nightjet and EuroNight
Nightjet expanded its sleeper train service from Munich to Venice, Ljubljana, and Zagreb to commence in Stuttgart, Germany, in its new 2023 timetable.
Seasonally, the route will also travel to the Croatian port city of Rijeka, a about 15-hour excursion.
While the service to the capitals of Croatia and Slovenia is provided by Croatian Railways HŽ and Slovenian Railways SŽ under ÖBB's EuroNight, the Nightjet to Venice travels through Munich, Salzburg, and Treviso.
Brussels to Berlin with European Sleeper
Details above.
Arriva, SNCB, and NS will travel from Liège to Aachen and Maastricht in December 2023
Details above.
Italy
Frecciarossa travels from Milan to Paris
Additionally, in late 2021, the high-speed division of Italian railway company Trenitalia, Frecciarossa, debuted a snazzy new train between Milan and Paris.
The train travels the distance in just under seven hours and is both quicker and more opulent than earlier trips. Although 'executive' fares cost more, they are available for as little as €29 and allow you to travel in a comfortable armchair.
Frecciarossa from Rome to Pompeii
A new, direct high-speed train service from Rome to Pompeii and return was introduced by Italy in July.
It takes little under two hours to go from Rome to the well-known archaeological site in the Campania region of southern Italy. Rome departs at 8:53 in the morning, and Pompeii departs at 6:40 in the evening.
It will initially only be available on the third Sunday of each month, although this may change in the future.
Portugal
Iberian high-speed rail connecting Porto to Lisbon and Vigo (construction will begin in 2024)
Lisbon, Porto, and Vigo high-speed rail schemes have been approved by Portugal. It will be part of the larger, high-speed Iberian rail system that unites the nation and links it to Spain.
Currently, the train ride from Porto to Lisbon takes close to three hours. The journey will take just one hour and fifteen minutes thanks to the new rail link. In the end, the new line will link Vigo, Spain, with the Portuguese cities.
Netherlands
Amsterdam to Austria with TUI's Ski Express
Snow sport enthusiasts are getting ready for the introduction of a new overnight train between Amsterdam and several of Austria's largest ski resorts.
Between December 23 and March 31, TUI's "Ski Express" will leave from Amsterdam every Friday night. The service will depart from Amsterdam at 5:30 p.m., stop in Utrecht, and then travel directly to Austria.
Using Nightjet, get from Amsterdam to Zurich
In late 2021, the first-night train service between Amsterdam and Zurich was introduced by Nightjet, an Austrian company. It departs at 8:30 p.m. and gets there at 8:05 a.m.
Couchettes start at about 60 euros, while sleeper cabins start at about 120 euros.
Arriva, SNCB, and NS will travel from Liège to Aachen and Maastricht in December 2023
Details above.
Using the European Sleeper, Amsterdam to Barcelona (Spring 2025)
Soon-to-launch A new night train service between Amsterdam and Barcelona is planned to begin in the spring 2025 by the Dutch-Belgian railway company European Sleeper. North-south train connectivity in Europe would significantly improve as a result.
Using Qbuzz, from Amsterdam to Berlin (January 2027)
By submitting applications for three new train connections—Amsterdam to Eindhoven, Amsterdam to Berlin, and Amsterdam to Paris—Qbuzz is taking advantage of the EU's "open access" rail package.
These might start operating in January 2027 if the Netherlands Authority for Consumers and Markets (ACM) approves them.
Spain
Ouigo, Avlo, and Iryo traveled from Madrid to Alicante and Valencia
SNCF-owned Ouigo introduced a brand-new, inexpensive, high-speed service between Madrid and Valencia in November 2022. It will start running to Alicante in the summer of 2023. Tickets will cost approximately €30 after the launch period but will initially cost €9 one-way with one suitcase.
But Renfe's Aryo will debut its own Madrid to Alicante route on March 27 with fares as low as €7, beating it to the punch. On June 2, Iryo will introduce a comparable service.
Ouigo intends to expand its service to cover Cordoba, Seville, Malaga, and the Costa del Sol in 2023 and 2024.
Barcelona to Madrid with Iryo
Beginning in November 2022, a new high-speed rail service from Iryo will make it easier and more affordable to travel between Spain's capital and its most popular tourist destination.
Iryo, a partnership between the Spanish airline Air Nostrum and the Italian rail firm Trenitalia, offers 16 round-trip trains per day between Barcelona and Madrid for about €18, with travel times as little as 2.5 hours each way.
The low-cost train operator will also start operating a three-hour service between Malaga, Madrid, and Cordoba on March 31, 2023. Beginning in June 2023, Madrid will also be connected to Malaga and Seville by Renfe's Avlo.
RENFE's route from Barcelona to Lyon via Montpellier and Nimes
In 2023, a new high-speed AVE route from Spain to France will be introduced. On July 13, it began running a service between Barcelona and Lyon.
The trip leaves Barcelona early in the morning and takes around five hours, with stops along the way in Girona, Figueres Vilafant, Perpignan, Narbonne, Béziers, Montpellier-St-Roch, Nîmes, and Valence. There is a return train in the afternoon.
Ticket Prices for the entire journey begin at €29.
Renfe travels from Madrid to Marseille via Barcelona (28 July)
Another new route between Madrid and Marseille is scheduled to begin service later this year as part of Renfe's intention to expand its rail services into France.
Initially intended to run on alternate days, trains will subsequently increase to twice-daily service.
In 2024, additional links to Paris are anticipated in preparation for the Olympic Games.
Slovenia
Budapest to Ljubljana via Hungarian Railways
Launched in December 2021, the Hungarian Railways train travels through Graz in Austria on its way from Ljubljana, Slovenia to Budapest, Hungary. Prices for the 7.5-hour trip start at just €16 each way.
Sweden
SJ EuroNight travels from Stockholm to Hamburg
The night train from Stockholm Central to Hamburg-Altona will debut in September 2022 and run entirely on renewable energy. Every day at 5.30 p.m., it leaves and arrives in Copenhagen, arriving at 6.30 a.m.
A seat in a carriage costs the least (starting at €25). Shared beds start at 45 euros, while private compartments with sinks for two people start at 165 euros. Private compartments for one to three guests include a private bathroom, shower, and breakfast beginning at about €205. There are also pet-friendly train compartments available.
The service can also be used to travel from London to Stockholm in less than 24 hours when combined with current Eurostar and Deutsche Bahn services.
Switzerland
Nightjet connects Zurich with Rome
Nightjet revealed it would begin operating a new night train between Zurich and Rome in the winter of 2022 at a press conference in 2020. It is uncertain whether the plans will proceed exactly as planned. Vienna, Salzburg, Villach, and Munich are the operator's sole routes that travel through Rome at the moment.
UK
London to Bordeaux with HS1 (approximately 2026)
The Channel Tunnel railroad line is run by the UK's High Speed 1 (HS1), which is preparing to introduce a new route from London to Bordeaux. Currently, it takes approximately six hours to get from passengers' homes to the French wine region through Paris. By passing the capital, the new line will reduce travel time to about five hours.