Facebook presently lets clients and pages turn on/off comments on their posts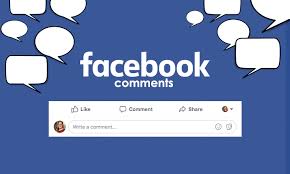 Facebook will permit each client including celebrities, politicians, brands, and news outlets to figure out who can and can't comment on their posts.
The social media goliath reported on Wednesday that when individuals post on Facebook, they will actually want to control who comments on the post, going from each and every individual who can see the post, to just the individuals who have been labeled by the profile or page in the post. It is like a change as of late acquainted by Twitter with limit who can answer to tweets.
The change comes after a milestone administering in Australia in 2019, which discovered news media organizations were at risk for slanderous comments posted by clients on the organizations' public Facebook pages, prompting media organizations to require a change to the law, which had squeezed staff resourcing on control.
The decision discovered media organizations have a duty to pre-moderate comments, yet beforehand there was no real way to screen comments posted on Facebook before they were distributed, except if the page directors utilized a restricted keyword filter to get a word or words and forestall comments containing those words being posted.
While it will mean each Facebook client will have more control over what is posted on their profiles, the effect will be most felt among media associations and other high-profile public pages that have battled to direct comments on Facebook posts on their pages.
The New South Wales supreme court decided in 2019 that few Australian media organizations were at risk for defamatory comments posted by clients on their Facebook pages in light of news stories.
Dylan Voller, whose abuse in the Northern Territory's Don Dale youth detention centre led to a royal commission, had sued the Sydney Morning Herald, the Australian, the Centralian Advocate, Sky News Australia, and The Bolt Report more than 10 comments on their Facebook pages in light of news stories about him somewhere in the range of 2016 and 2017.
An appeal of the decision was maintained a year ago, with the court discovering media outlets had "sufficient control" over erasing postings when they became mindful they were disparaging.
From that point forward, media organizations have been encouraged to deploy significant resources into moderating comments or abstain from posting articles that were probably going to attract potentially defamatory comments in response.
Media organizations had looked for this change from Facebook as a feature of the Australian government's news media dealing code enactment, which passed the parliament a month ago.
The exposure draft for the enactment contained a part requiring the platforms like Facebook to consider news organizations to direct comments, however, this was taken out from the legislation when it was brought into parliament.
The ABC told the Australian Competition and Consumer Commission in its accommodation to the draft legislation that without comment moderation tools "news media organizations may be forced to withdraw from the use of some of these products and/or increase moderation resourcing in order to mitigate legal risks incurred as a result of being on the platform".
SBS told the parliament news media organizations "are subject to significant legal risk regarding user-generated content, including comments on social media posts, which means the ability to manage these features is increasingly important.
The broadcaster said it had to "substantially increase its investment in social media moderation, in particular for news and current affairs content".
"With the ability to switch off comments, this investment could instead be redirected to additional trusted news content for audiences."
Facebook's VP of worldwide issues, Nick Clegg, as of late wrote a 5,000-word exposition pointed toward tending to ongoing analysis of its news feed algorithm in making echo chambers and expanding polarization in society, most quite made in the Netflix narrative, The Social Dilemma.
Clegg contended Facebook's activities showed the organization didn't effectively support the sharing of sensationalized content to keep individuals on the platform. He said Facebook "reduces the distribution" of the content found to be sensational, misleading" or to be gratuitously soliciting engagement. Also, it's been noticed that Facebook users often choose growth tools for boosting their page. Sometimes they manage to get legit likes for Facebook and sometimes they just choose a scam tool and do a lot of harm to the account. To track and monitor these activities is very important.
Websites that additionally have an excessively huge amount of traffic coming from Facebook were likewise downgraded, Clegg said.