Fashion bloggers are recommending Al-Safahat's organic skincare and hair care products whole heartedly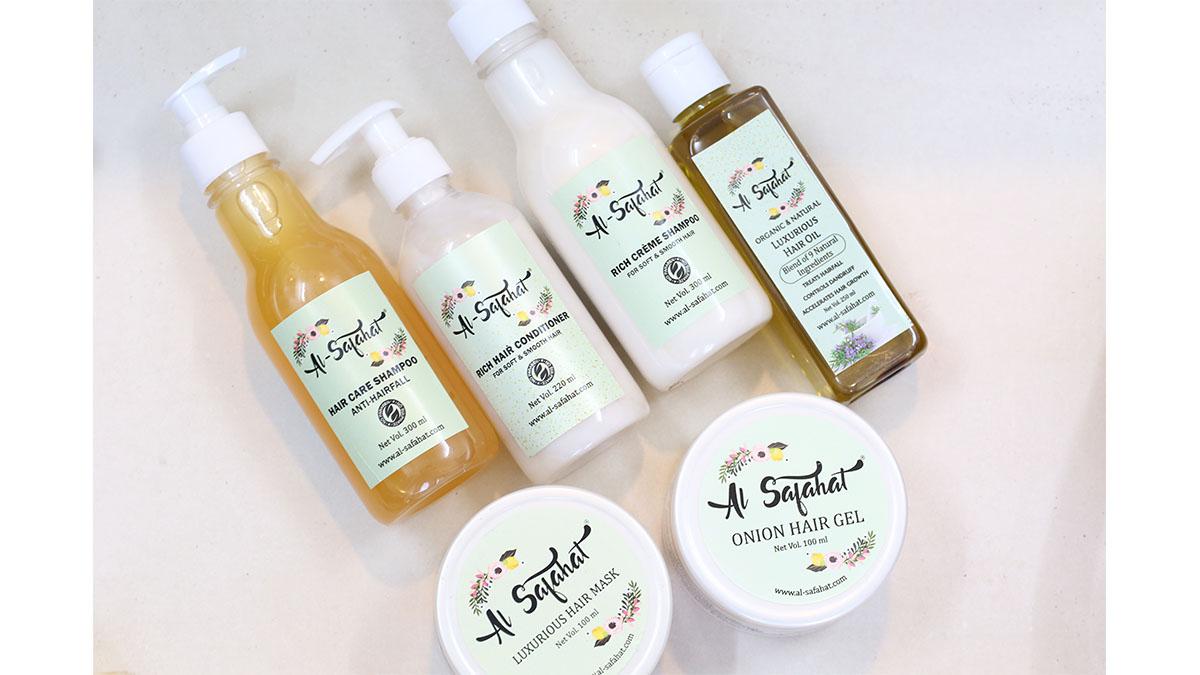 Millennial nowadays are very concerned about the ingredients of their skincare and hair care products. They do not want to compromise their health by using cheap products. High-end make-up essentials are also getting hype like drugstore products. But for the mass and daily use, people cannot afford high-end skincare and haircare products. Sometimes high-end products also contain a certain type of chemical ingredients which can cause carcinoma disease as a long term effect later.
Ayeesha Aquib has brought a new home-based organic skincare and hair care brand named Al-Safahat in 2018. The first product of this brand was Saffron Gel, and it later became one of the best selling products of Al-Safahat. The gel consists of Vitamin E, Saffron, Glycerin, and various type of essential oils. It reduces the blemishes, acne scars, and dark spots, along with tightening the skin and decreasing the aging process.
Ayeesha Aquib conducted the first exhibition of Al-Safahat at Sahil Hotel, Mumbai in 2018. The brand got recognized by many well-known makeup artists who started using the Al-Safahat 24k Gold Elixir as a primer. It hides the pores, and makes a good canvas to apply before make-up. During winter, Aqua Pearl Serum of Al-Safahat became one of the best selling products of this organic skincare and hair care brand. The Aqua Pearl Serum by Al-Safahat hydrates and moisturizes the skin during the dry weather of the winter season.
They stopped shipping in March 2020 for few weeks, but did not stop working. In July 2020, Ayeesha Aquib launched its limited edition product, the 'Exotic Gold Facial Kit'. When the whole world was going through a recession period, and people were losing their jobs and unemployment problems were increasing along with a huge crash in the economy, Ayeesha Aquib did not let her brand Al-Safahat fall. She used this period intelligently, and started quarantine combo packs with offers, and gained many customers in India.
The 'Exotic Gold Facial Kit' of Al-Safahat contains five products with five DIY steps for cleaning purposes to get glowing and radiant skin. After receiving huge positive responses from their customers and famous fashion bloggers and make-up artists, Ayeesha Aquib launched two new facial pack items to sell individually, 24k Golden Glow Message Gel and 24k Pearl Glow Massage Gel. Previously their 24K Gold Elixir Serum got famous and well-known make-up artists started using the serum as a primer to give the face an even and smooth texture before applying the make-up.
In September 2020, Ayeesha Aquib launched the complete Baby Care Range of Al-Safahat. The Baby Massage Oil was launched in 2018 and has been loved by the customers since then. The new package contains 4 more baby care products along with the famous massage oil.
Malini Kapoor, Saba Ibrahim, Shabnam Zaveri, Dj Khushi, Rashi Mehra, Afsha Galar, Palak Purswani, and many other well-known make-up artists and influencers whole heartedly recommend the products of Al-Safahat. They have posed with Al-Safahat products many times during event launches and other programs.
Al-Safahat has launched their new website, www.al-Safahat.com in November, 2020, with their new launch, 'The Complete Hair Care' package for adults.