Forget about "van life," check out this double-decker RV!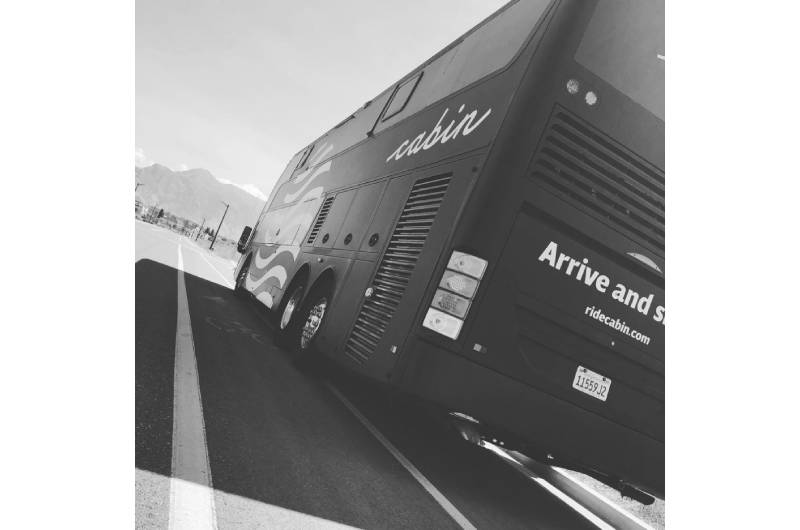 If the pandemic has given us one thing it's a new love of traveling on the open road. With so many airline and travel companies taking a hiatus we have seen a huge increase in the number of vans being converted into RVs. While most of us aren't living out this dream, we are living vicariously through those we follow on social media who are brave enough to take on van life.
So, what's one to do if you want the embark on the path to that idyllic nomad lifestyle as a family of 8? Well, for the Eyerly family of Dallas, TX (everything's bigger in Texas, right?) the answer came in the form of a double-decker bus which had previously been used as a hotel on wheels, but due to the pandemic was being sold off as travel companies were slowing down operations.
"If you'd have asked me two years ago if I'd be interested in moving my family into a converted bus I would've laughed at the mere thought," says Dane, the father of the family. He's the first to admit that a double-decker bus was not in their plans. All that changed during the pandemic. As Eyerly tells it, they were returning from a short road trip when he and his wife Deena felt inspired to make a change.
This isn't exactly something the family had been planning to do. The inspiration came shortly after they had passed the Great Sand Dunes in Colorado, not stopping due to their schedule. "I'm not sure how far past the Dunes we'd gone, but I just couldn't keep going knowing that I was racing home just to stop hanging out with my best friends," Eyerly tells me.
After a brief discussion they decided they'd stop at the next "attraction" regardless of what it was. That's what led them to Capulin Volcano in New Mexico where they hiked down inside the ancient volcano and then around the rim. "The kids were having the time of their lives, and so were we!" That seems to be the moment that made all the difference for the Eyerly's and they knew right then that happiness wasn't in the material possessions they had, but in the experiences they were sharing. From that point forward they began searching for an RV, or fifth wheel, or travel trailer, or a converted school bus.
What they found was a Van Hool TD925 double-decker bus, once used as a hotel on wheels. With this platform they knew they'd found what they were looking for and reached out to multiple bus builders and custom car shops for quotes. They eventually selected a Utah-based custom car company for the build and created a YouTube channel for friends and family to follow along with the bus build and their adventures going forward.
The Eyerly's created the floor-plan as a family, letting the kids have a say in everything. "It's important that they get to be as much a part of this as possible, although we did veto turning the bottom deck into a giant ball pit," Deena tells me. They've even got a video on their YouTube channel of the kids helping create the floor plan.
The Double Decker Family bus is powered by a Cummins ISM 10.8L diesel engine with a ZF Astronic transmission. The bus is nearly 45-foot long and just over 13 feet tall, including the solar panels they've added to the roof. The Eyerly's opted to leave six of the "pods" intact for the children's rooms, and have added a living space, parent's quarters, 1.5 bathrooms (including a 7 foot plus shower), an office, a full kitchen with fridge and freezer, a dining area, a projector and screen on the outside, an observation deck on the roof, and storage that could probably fit a VW Bus. Talk about incredible!
Behind the bus they plan to tow a full-size Ford Transit van that they'll use to "get around town" when their bus is parked. This family is certainly one I will be watching as they set off in their double-decker bus on something akin to "van life," only bigger.