Google Doodle is celebrating a Mexican architect Enrique de la Mora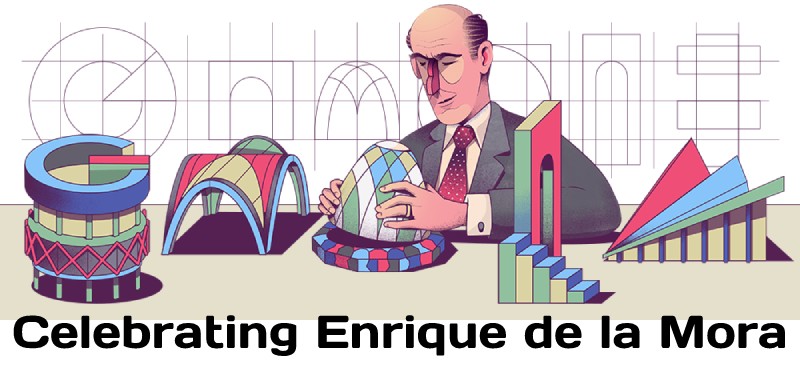 Today's Google Doodle celebrates Enrique de la Mora y Palomar, a Mexican architect who shaped the picture of contemporary cities in Mexico and was outlined by Mexico-based artist Julian Ardila.
Who was Enrique de la Mora?
Enrique de la Mora explored different avenues regarding hyperbolic paraboloid shell roofs, otherwise called saddle roofs, to make structurally proficient buildings with a modern aesthetic. On this day in 1946, Enrique de la Mora got the Premio Educación Pública award from the Administrative Commission of the National Prize for Arts and Sciences for his Purísima Concepción Parish design.
Enrique de la Mora y Palomar was a Mexican architect who won the Public Education Award in 1946 and the National Architecture Award in 1953. His work incorporates public buildings, churches, residential houses, schools, department stores, bank buildings, and urban proposals.
In collaboration with engineers, artists, politicians, academics, and members of the Catholic Church, he made a different language steady with structural, functional, aesthetic, and Catholic liturgical innovations. The buildings designed and worked by Enrique de la Mora are a metropolitan reference and are essential for the modern heritage of architecture and thought in Mexico 1. Along with the Spaniard Félix Candela, he is the highest representative of structural expressionist architecture in Mexico.
Enrique de la Mora was born on this day in 1907 in Guadalajara, a city in Western Mexico. His father, Manuel de la Mora y del Castillo Negrete, was a prominent engineer and architect.
Following his father's footsteps, the young Enrique de la Mora went to the National School of Architecture and graduated in 1933. After a year, he launched his career by designing the El Puerto de Liverpool department store in Mexico City.
Enrique de la Mora learned at the National School of Architecture of the National Autonomous University of Mexico from where he acquired the title of the architect on April 28, 1933. José Luis Cuevas Pietrasanta and Carlos Contreras were two outstanding teachers of that generation, in which Augusto Pérez Palacios and Enrique Yáñez likewise studied.
De la Mora proceeded to design in excess of 100 architectural projects throughout the next two decades, including significant university buildings and churches. His building designs focused on upgrading structures with symmetrical curves such as hyperbolas, parabolas, vaults, and arches.
Enrique de la Mora's most notable work was Iglesia La Purísima, the first Mexican church with a modern architectural design. The structural innovation behind the church's parabolic vaulted roofs won him a National Architecture Award in 1946.
His other significant works incorporate the master plan for the Monterrey Institute of Technology, the Mexican Stock Exchange, and the School of Philosophy and Literature (Facultad de Filosofía y Letras) at the National Autonomous University of Mexico which later became a UNESCO World Heritage site.
Today, Enrique de la Mora is recognized as an important figure in the structural expressionism movement. We can track down his extraordinary work and influence across significant Mexican cities.