Harvey Milk Day: History and Importance of the day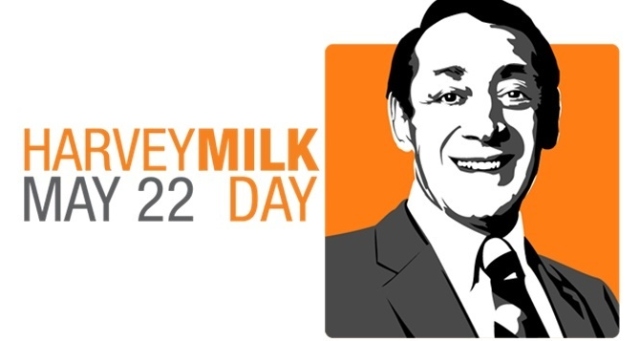 Harvey Milk Day is an annual observance celebrated on May 22. The day is honors the memory of Harvey Milk, a gay rights activist, the first elected gay politician to public office in California, who was assassinated in 1978.
Pictures of Harvey Milk and memorable quotes are frequently found in the material made to promote Harvey Milk Day. Harvey Milk was renowned for quotes like "Hope is never silent." The rainbow flag represents gay rights and freedom of expression.
Harvey Milk Day is a holiday that celebrates the life and achievements of Harvey Milk – a gay rights activist and the first openly gay official in the United States who was assassinated during the late 1970s. While it is noticed everywhere in the United States by many different groups, it is perceived by the state of California as a day of special importance for public schools.
Harvey Milk was a member of the San Francisco Board of Supervisors. He won a seat in 1978, becoming the first openly gay candidate to be elected for public office in the state of California. While serving, he campaigned against the Briggs Initiative that would have prohibited gays and lesbians from working in public schools in California.
On November 27, 1978, Harvey Milk and the mayor of San Francisco George Moscone were killed by Dan White, a former supervisor who wanted his resignation to be removed. Milk had a few conflicts with White and had campaigned against his reappointment.
Harvey Milk Day History
Born on May 22, 1930, in Woodmere, New York, Harvey Milk was brought up in a middle-class Jewish family. He was one of two boys born to William and Minerva Milk and became a popular student at Bay Shore H.S. who played football as well as sang in the opera. At the point when he wasn't in school or doing one of his after-school activities, Harvey worked at his family's department store: Milk's.
In 1951, he graduated from New York State College for Teachers and joined the United States Navy. During the Korean War, he served as a diving teacher at a base situated in San Diego, California until his discharge in 1955. In the wake of leaving the U.S Navy, he at that point moved to New York City and worked various unexceptional jobs. He worked as a public school teacher, a production partner for some Broadway musicals, and a Wall Street investment banker. Eventually, he became tired of the finance district and decided to hang out in Greenwich Village.
In 1972, he became bored with New York and decided to get right the nation over to San Francisco, California. When he showed up in California, he at that point opened up a camera shop on Castro St. called Castro Camera. In his extra time, he worked with the arising gay rights groups at the time and his life started to advance. Castro Camera became kind of a community center. This is when Harvey Milk truly started to become a leader and a gay rights activist.
In 1973, Harvey Milk announced he planned to run for the San Francisco Board of Supervisors. He lost the election yet it didn't keep him from attempting to run for public office again. In 1975, he attempted to run again for a similar seat and lost again – albeit this time his loss was by a lot slimmer margin. Nonetheless, he acquired important experience from his political run and had become to some degree a political force in the gay community.
In 1977, Harvey Milk ran again and this time, he won a seat on the San Francisco City-County Board. On January 9, 1978, he was introduced and became San Francisco's first openly gay officer as well as the first openly gay individual to be elected to public office in the U.S.
On October 11, 2009, Californian Governor Arnold Schwarzenegger set up the Harvey Milk Day to be held as a significant observance on May 22, which is Milk's birthday. The day is marked as a specific day of importance in schools across the United States of America. Harvey Milk was the first gay individual to be elected for public office in California (A major city in the U.S), serving on the San Francisco Board of Supervisors during 1977-78.
The Political career and life of Harvey Milk embody the ascent of the LGBT (Lesbian, gay, bisexual, and transgender) civil rights movement. In the office, he attempted to pass the gay rights law and defeat Proposition 6, generally known as Briggs Initiative, which prohibited the gays and lesbian guys from teaching in public schools.
Harvey Milk urged the LGBT people to be visible in modern society and believed in making social equality. In 1978, Dan white, the former partner on the Board of Supervisors whose politics frequently conflicted with the policy of Harvey Milk, assassinated Milk.
How to celebrate Harvey Milk Day
Celebrating Harvey Milk Day is very simple and extremely easy to recall. A few schools and educational institutions in California will lead some dedicatory projects, activities, and events to honor the efforts made by Harvey Milk. Statements like equal rights will be promoted on this day. Harvey Milk Foundation will coordinate a series of worldwide events to recognize Harvey Milk Day. You can take part in those events.
While Harvey Milk Day is certainly not a public holiday in the United States, numerous individuals actually use the day to remember the work done by Mr. Milk. In California, numerous public schools will do commemorative projects in memory of Harvey Milk on this day and partake in projects to study equal rights.
Harvey Milk Day is a chance to serve the LGBTQ community, regardless of whether you're an individual from it or a partner. The battles that members of this community have looked at as they continued looking for basic human rights is fantastic, there's still a long way to go.
Donate to significant associations that are battling for human rights, and let everyone around you realize that you're there to help them. Harvey Milk died fighting for basic human rights, this holiday is your chance to help ensure nobody else needs to.
Harvey Milk Day is held by the Harvey Milk Foundation. This association focuses on encouraging associations at all levels (local, regional, national, and global) to promote education that incorporates the story of Harvey Milk and the LGBT community and to help LGBT youth.
Harvey Milk Day is celebrated on Milk's birthday, May 22. It is viewed as a day of special importance for California's public schools. This day is seen by LGBTQ+ associations across the United States and abroad.