Healthy Recipe – Almond Cake Recipe by Kerllen Bittencourt Rego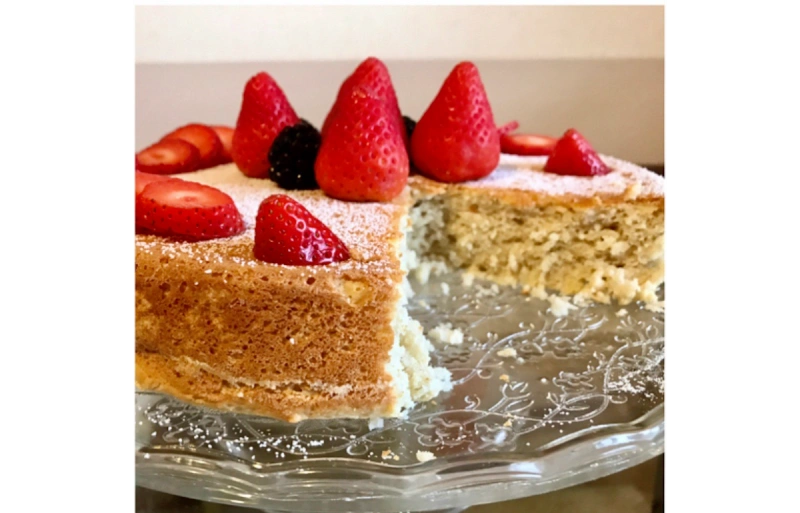 Simple. Sophisticated. Fluffy, delicious, healthy, quick and easy to make. This classy cake will impress your friends and is the answer to all your problems.
It's make with the basic ingredients that you can find in your cupboard
You could easily add some almonds flakes in the top of the dough and when it's baked you can twirl some red berries sauce around it, or add a dollop of whipped cream, ice cream or custard . Enjoy!
Method
INGREDIENTS –
3 eggs, separated into 3 egg yolks and 3 egg whites
1 cup stevia or any other sweetness or sugar
1 cup finely ground almond flour , I used Sukrin
1 tbsp baking powder (make sure your baking powder is fresh!)
3 tbsp corn flour (optional) you don't need to add
1 cup milk
2 tbsp coconut oil
* If almond flour is not available at your market, you can grind up blanched, slivered almonds in a food processor until finely ground.
Preheat oven, prepare pan: Preheat the oven to 350°F (180 C). grease the round pan with butter or coconut oil and flour
2 Whip egg whites to soft peaks: With an electric mixer with a bowl and whisk attachment, beat the egg whites, starting on low speed and gradually increasing the speed.
3 Whisk almond flour, baking powder, coconut oil, milk, beat into egg yolk mixture: In a separate bowl, whisk together the almond flour, milk, stevia, and baking powder. Add the flour mixture to the egg yolk mixture and beat until smooth.
4 Fold beaten egg whites into almond mixture:Fold the beaten egg whites into the almond mixture a large scoopful at a time. You'll be able to gently fold in the whites in such a way as to create a light batter.
6 Scoop batter into pan, bake: Gently scoop the batter into a the prepared springform pan and place in the oven. Bake at 350°F (175 °C) for 35 minutes.
Remove from the oven and let cool. Run a sharp knife around the edge of the cake helping it to separate from the side of the pan. Release the springform pan sides, and gently move the cake (on parchment) to a cake serving plate. Sprinkle with a little powdered sugar qnd red berries before serving.
Enjoy !
Please check my pages for workout motivation , healthy lifestyle and recipes .
Follow 
Www.instagram.com/kerllenrego