HHRD's Water Projects Surpass One Million Consumers!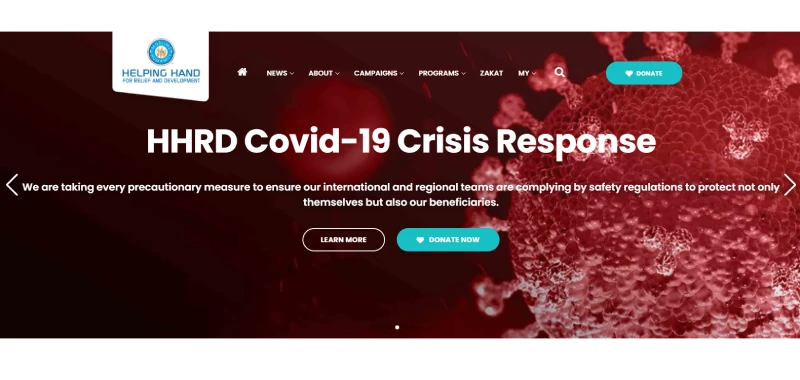 Helping Hand for Relief & Development's (HHRD) Water for Life (WFL) initiative provides one million poor people across Pakistan with clean and safe drinking water. The program was launched after conducting a state-level conference on 'Save Water Save Life.' Since then, around 2,100 projects have been successfully executed under HHRD's WFL program. Moreover, it was estimated that approximately one million deserving and poor people, mostly in Khyber Pakhtunkhwa (KP), benefit from these projects in remote areas of Pakistan.
Considering the poor sanitary conditions of water resources in Pakistan, HHRD's Water for Life (WFL) is a great initiative to provide relief to the poor and needy people of Pakistan. Moreover, HHRD's WFL program contributes directly to the UN's Sustainable Development Goal (SDG). It offers sustainable drinking water solutions to deprived communities with limited or no access to safe and clean drinking water.
If we talk about the stats, during the past year, HHRD approved approximately 643 projects in all Pakistani provinces, including Azad Jammu & Kashmir and Gilgit-Baltistan. Moreover, about 222 clean water projects were launched in KP, 145 in Baluchistan, 112 in Punjab, 106 in Sindh, 52 in Azad Kashmir, and 6 in Gilgit.HHRD's WFL projects' wide spread-out has played a vital role in making its attempts towards providing clean and safe water to all successful.
The water projects launched through the WFL program are diverse in nature. They cater to a lot of water-related needs of the local population. These water projects include 282 hand pumps (AHP), 150 Water Storage Tank submersible pumps, 63 Gravity Water Supply Schemes (GWSS), 6 Reverse Osmosis (RO), and Ultra-Filtration Treatment Plants (UFT), and 56 Solar Powered Drinking Water Solution (SPDWS). Furthermore, 86 Water Wells has been established in the country's neglected areas as a revolutionary initiative.
The WFL program's primary purpose was to provide safe drinking water, especially for women, children, and people with disabilities in impoverished areas of Pakistan, to manage waterborne diseases and improve their health and livelihoods. And it is safe to say that HHRD has once again been successful in providing a helping hand to the deprived people of Pakistan and spreading smiles across children's worrisome faces. Many of the diseases in Pakistan are a product of poor sanitary conditions and limited availability of water; thus, this initiative by HHRD is a game-changer for the country's hygienic conditions.
To conclude, Pakistan needs more organizations like HHRD and even more programs like the WFL to eliminate water-related problems. Moreover, the other NGOs and relief organizations need to learn some tactics from HHRD as they have been successfully launching relief programs over the past few years for the deprived communities of Pakistan.