How to Get Tickets for Take That's Upcoming UK This Life On Tour 2024, Full Schedule and Dates of the Concert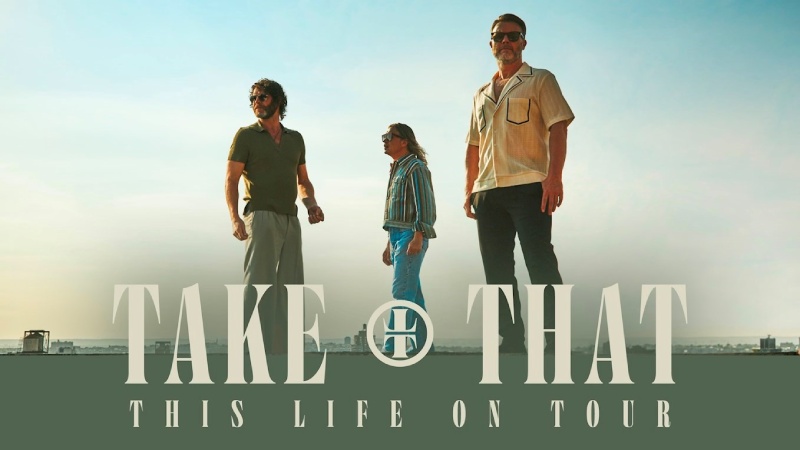 Take That has planned a massive tour, including 29 gigs in the UK and Ireland, as part of which they will make their stage comeback. They will visit Glasgow during this tour. In 15 cities, including Glasgow, Gary Barlow, Howard Donald, and Mark Owen will perform on stage as part of the "This Life On Tour."
The band will perform not just one, but three concerts in Glasgow's OVO Hydro in May, much to the pleasure of fans.
The renowned English pop group made it official on Friday morning after teasing fans with their logo painted all over the OVO Hydro.
Jason Orange and Robbie Williams, two of the band's original five members, won't be participating.
Touring with an opening act Three performances by Olly Murs, Gary Barlow, Howard Donald, and Mark Owen will take place at the OVO Hydro on May 3, 4, and 5.
The trio will perform 29 dates across 15 cities in the UK and Ireland during its This Life On Tour.
With 34 headline concerts at London's The O2, Take That is known for their massive productions and live performances, and they now hold the record for the venue's most performances.
By selling over a million tickets in less than 24 hours, the Progress tour from 2011 smashed box office records, became the biggest tour in the UK, and earned the band a spot on Billboard's annual list of the "Top 25 Tours" (ranking third in the world).
The band celebrated its 30th anniversary in 2019 with the 38-date Odyssey tour, which sold out in advance. They performed at 29 venues and 9 stadiums, and more than 650,000 tickets were sold.
Today marks the release of Take That's brand-new single, Windows, their first new music in more than five years.
The band's first original single in four years, named Windows, was released after the tour was announced. Their upcoming ninth studio album, This Life, is expected to include the song.
Before the major reveal, the group's official emblem was projected on locations throughout the UK, leaving fans excited and raising the possibility of a stadium tour.
Olly Murs, who will open for them on every leg of their tour, will join the band.
How to get tickets
On September 27, OVO Hydro will conduct a presale event that will start at 9.30 a.m.
On Friday, September 29, general ticket sales will start at 9.30 a.m. and take place through Ticketmaster.
Take That Tour 2024 dates
Saturday, April 13 – Sheffield, Utilita Arena
Sunday, April 14 – Sheffield, Utilita Arena
Friday, April 19 – Leeds, First Direct Arena
Saturday, April 20 – Leeds, First Direct Arena
Monday, April 22 – Dublin, 3Arena
Tuesday, April 23 – Dublin, 3Arena
Thursday, April 25 London, The O2
Friday, April 26 – London, The O2
Saturday, April 27 – London, The O2
Tuesday, April 30 – London, The O2
Friday, May 3 – Glasgow, OVO Hydro
Saturday, May 4 – Glasgow, OVO Hydro
Sunday, May 5 – Glasgow, OVO Hydro
Tuesday, May 7 – Manchester, Co-op Live
Wednesday, May 8 – Manchester, Co-op Live
Friday, May 10 – Manchester, Co-op Live
Saturday, May 11 – Manchester, Co-op Live
Tuesday, May 14 – Birmingham, Utilita Arena
Wednesday, May 15 – Birmingham, Utilita Arena
Friday, May 17 – Birmingham, Utilita Arena
Saturday, May – 18 Birmingham, Utilita Arena
Friday, May 24 – Middlesbrough, Riverside Stadium
Sunday, May 26 – Nottingham, The City Ground Stadium
Tuesday, May 28 – Norwich, Carrow Road Stadium
Thursday, May 30 – Milton Keynes, Stadium MK
Saturday, June 1 – Southampton, St Mary's Stadium
Tuesday, June 4 – Plymouth, Home Park Stadium
Thursday, June 6 – Swansea, Swansea.com Stadium
Saturday, June 7 – Bristol, Ashton Gate Stadium