Interesting and Fun Facts about Spanish opera singer Montserrat Caballé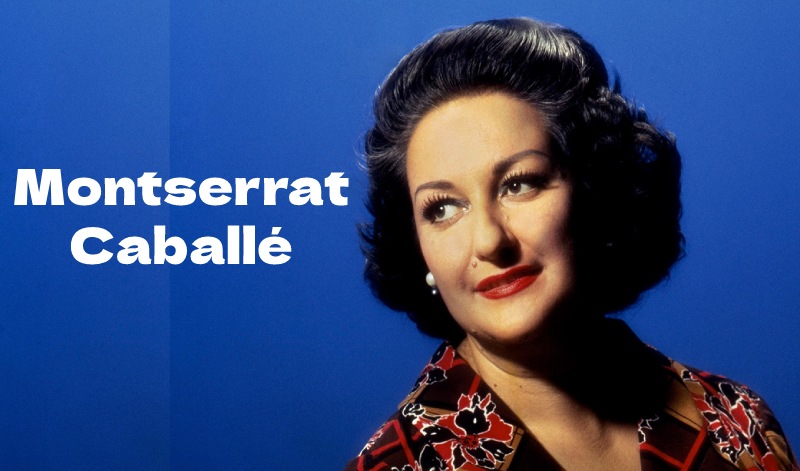 Search engine giant Google celebrates Spanish opera singer Montserrat Caballé's 89th birthday with Doodle on April 12, 2022. She sang a wide variety of roles, yet is most popular as an exponent of the works by Verdi and of the bel canto repertoire, notably the works of Rossini, Bellini, and Donizetti. Here are some interesting facts about Montserrat Caballé.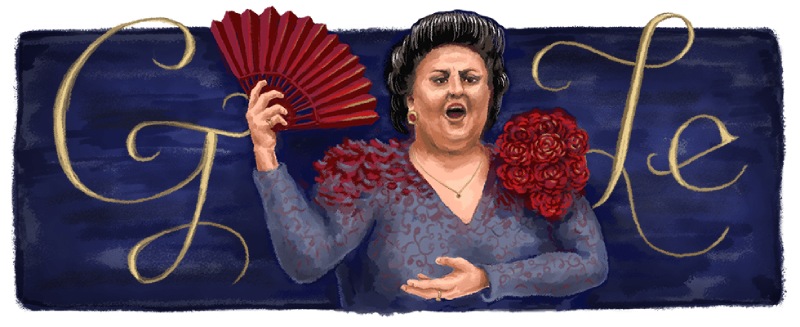 Here is a look at the life and work of Montserrat Caballé.
Personal
Birth name: María de Montserrat Bibiana Concepción Caballé i Folch
Birthdate: 12 April 1933
Birthplace: Barcelona, Spanish Republic
Died on: 6 October 2018 (aged 85)
Death place: Barcelona, Catalonia, Spain
Nickname: La Superba
Father name: Carlos Caballé Borrás
Mother name: Ana Folch
Spouse(s): Bernabé Martí ​
Nationality: Spanish
Sun sign: Aries
Education: Conservatori Superior de Música del Liceu
Famous as: Spanish operatic soprano
Notable awards:

Kammersängerin
Prince of Asturias Award for the Arts(1991)
Grammy Award
National Music Award (1982)
Gold Medal for Merit in Fine Arts (1973)
Gold Medal from the Generalitat de Catalunya (1982)
Doctor Honoris Causa from the Menéndez Pelayo International University in Santander (2008)
35 Interesting and Fun Facts about Montserrat Caballé
María de Montserrat Viviana Concepción Caballé I Folch was born in Barcelona on 12 April 1933. Her family was in humble financial conditions because of the Civil War.
She started her studies as a child at the Conservatori Liceu in Barcelona with Eugenia Kenny and later went on with Napoleone Annovazzi and Conchita Badía. She graduated with a gold medal in 1954.
In 1956, Montserrat Caballé in this way moved to Basel, Switzerland, where joined the Basel Opera, in which later that year she played her first significant role and professional debut, as a last-minute substitution as Mimi in Giacomo Puccini's La Bohème.
Montserrat Caballé became part of the Basel Opera organization somewhere in the range of 1957 and 1959, singing a repertoire that included Mozart (Erste Dame in Die Zauberflöte) and Strauss (Salome) in German, uncommon for Spanish singers, yet which demonstrated valuable for her next engagement at the Bremen Opera (1959-1962).
In 1959, Montserrat Caballé became a principal singer with the Bremen Opera. Her repertory soon included 46 Italian, German, and French roles.
In the late 1950s, she debuted in Vienna, Austria with her performance of Salome, her "very favorite" role. She won a prize from the Vienna Staatsoper for that production. From the late 1950s to the mid-1960s, Caballe sang over 40 roles in seven years. She made her Teatro alla Scalla debut in 1960 as the First Flower Maiden in Wagner's Parsifal. The next year, she got back to Spain.
In 1961, Montserrat Caballé featured as Iphigénie in Gluck's Iphigénie en Tauride at the National Theatre of S. Carlos in Lisbon, close by Raymond Wolansky, Jean Cox, Paul Schöffler and others.
In 1962, Caballé got back to Barcelona and debuted at the Liceu, singing the title role in Strauss' Arabella. From the fall of 1962 through the spring of 1963 she visited Mexico, at one point singing the title role in Massenet's Manon at the Palacio de Bellas Artes. This was followed by a few more successful appearances at the Liceu in 1963.
Montserrat Caballé's homecoming was acknowledged in 1962 when she sang her first performance at the Teatro del Liceo in Barcelona. In addition to the fact that she was ready to perform in her hometown opera, it was then that she met her future husband, tenor Bernabe Marti.
Montserrat Caballé married Spanish tenor Bernabé Martí on 14 August 1964 at Santa Maria de Montserrat Abbey. They had two children; their daughter Montserrat Martí is additionally an operatic soprano.
In 1964, Montserrat Caballé made a sensational debut in Mexico City in Jules Massenet's Manon.
In the next year, Montserrat Caballé gave a highly successful concert performance of Gaetano Donizetti's Lucrezia Borgia at Carnegie Hall in New York City, sang the parts of the Countess in Wolfgang Amadeus Mozart's Le Nozze di Figaro and the Marschallin in Strauss' Der Rosenkavalier at the Glyndebourne Festival in East Sussex, and made her debut at the Metropolitan Opera in New York City as Marguerite in Charles Gounod's Faust.
Montserrat Caballé's international breakthrough came in 1965 when she supplanted a pregnant Marilyn Horne in a semi-staged performance of Donizetti's Lucrezia Borgia at New York's Carnegie Hall, which procured her a 25-minute standing ovation. While this was her first engagement in a bel canto opera and she had to learn the role in under one month, her performance made her famous throughout the opera world.
Later that year, Montserrat Caballé made her debut at the Glyndebourne Festival singing her first Marschallin in Richard Strauss' Der Rosenkavalier and depicting the role of Countess Almaviva in Mozart's Le Nozze di Figaro.
On April 20, 1965, Montserrat Caballé sang on an American stage for the first time, and her career skyrocketed. She got overpowering commendation and acknowledgment. Later that year, she made her debut at New York's popular Metropolitan Opera as Marguerite in Gounod's Faust.
In December 1965, Montserrat Caballé got back to Carnegie Hall for her second bel canto opera, singing the role of Queen Elizabeth I in Donizetti's recently rediscovered Roberto Devereux.
In 1966, Caballé made her first appearance with the Philadelphia Lyric Opera Company as Maddalena di Coigny in Giordano's Andrea Chénier and her Italian debut at the Maggio Musicale Fiorentino as Leonora in Verdi's Il Trovatore, followed by Bellini's Il Pirata in 1967.
Montserrat Caballé got back to Philadelphia in 1967 to sing the title roles in Puccini's Tosca and Madama Butterfly, and to the Met to sing three Verdi heroines. She got back to the Met the next year in the title role in Verdi's Luisa Miller. She likewise got back to Philadelphia as Imogene in Bellini's Il pirata (1968) and Lucrezia Borgia (1969).
In 1972, she made her first appearances at Covent Garden and the Lyric Opera of Chicago, both in the role of Violetta. That very year she got back to the Met as Elisabetta in Don Carlo with Franco Corelli in the title role and sang the title role of Bellini's Norma in Philadelphia.
In 1977, Montserrat Caballé made her debut with the San Francisco Opera in the title role of Puccini's Turandot. She got back to that house ten additional times throughout the next decade. She gave her final performances at the Met in October 1985 as Tosca with Pavarotti as Cavaradossi and Cornell MacNeil as Scarpia.
Montserrat Caballé's voice was noted for its purity, precise control, and power. She was appreciated less for her dramatic instincts and acting abilities than for her amazing technique, vocal shadings, and exquisite pianissimos, which were inspired by Miguel Fleta.
Montserrat Caballé was one of few sopranos to play recorded the role, even though she was more than 50 years of age at the time of the recording in 1984. In 1986 she additionally played a role in the biographic movie Romanza final, directed by José María Forqué.
In 1987, Caballé made an intriguing trip into the world of pop music when she released a duet with Freddie Mercury, the lead singer of the rock band Queen, which was named "Barcelona". The song was inspired by Caballé's home city and was later used as one of the two official theme songs for the 1992 Olympic Games. Mercury was an extraordinary admirer of Caballé, considering her voice to be "the best in the world".
The single was followed by an album of a similar name which was released the next year and included further collaborations between the two performers. The title track later became the anthem of the 1992 Summer Olympics which was hosted by Caballé's native city and showed up again in the pop music charts all through Europe.
That same year, Montserrat Caballé showed up with five other Spanish singers at the Barcelona Olympic Games Opening Ceremony-including Placido Domingo, Jose Carreras, Giacomo Aragall, Teresa Berganza, and Juan Pons. The performance was so generally received that the group went into the studio to record a commemorative album, Domingo, Carreras, Caballe with Aragall, Berganza, and Pons, on RCA Records.
Montserrat Caballé likewise played out the song live, joined by a recording by Mercury, who had died in 1991, preceding the 1999 UEFA Champions League football final in Barcelona's Camp Nou stadium.
In 1996, Montserrat Caballe released a recording with her mother, Montserrat Marti. The RCA album, Arias and Duets (Montserrat Caballe and Montserrat Marti), was the first recording for Montserrat Marti. It included solo recordings from both singers, as well as duets.
Caballé devoted herself to different charities. She was a UNESCO Goodwill Ambassador and established a foundation for needy children in Barcelona. In 2003, she featured in her own documentary film Caballé: Beyond Music, which highlighted some notable opera singers, including Domingo, Pavarotti, Carreras, and Renée Fleming.
On 6 June 2013, Montserrat Caballé was announced persona non grata in Azerbaijan after visiting the de facto independent state of Nagorno-Karabakh and meeting with local leaders, regardless of official warnings given by the Azerbaijani embassy in Spain.
In 2015 Caballé was under arraignment over charges of tax avoidance or fraud. In December 2015 the Spanish court saw her guilty of fraud and gave her a six-month suspended jail sentence. She was likewise prohibited from getting any public subsidies for 18 months.
On 20 October 2012, during her tour in Russia, Montserrat Caballé suffered a stroke in Yekaterinburg and was immediately moved to the Hospital de Sant Pau in Barcelona.
In September 2018, Montserrat Caballé was admitted to the same hospital for a gallbladder issue. She died there on 6 October 2018 at 85 years old. Felipe VI of Spain depicted Caballé as "the best of the best", and Spanish prime minister Pedro Sánchez called her the great ambassador of Spain.
Montserrat Caballé recorded widely all through her long career and made numerous eminent recordings of complete operas as well as recital albums. After various recordings early in her career for RCA Victor Red Seal, Caballé also recorded for EMI, Decca, and Philips among other labels. She recorded many bel canto and Rossini roles.
Of Montserrat Caballé's recordings, a few won a Grammy Award: Rossini Rarities in 1966, Puccini's La bohème in 1968, and Mozart's Così fan Tutte in 1974; different recordings were nominated for the award.
On April 12, 2022, Google Doodle honored Montserrat Caballé on her 89th birthday.