Interesting and Fun Facts about Willi Ninja, an American Dancer, and Choreographer Known as the "Godfather of Voguing"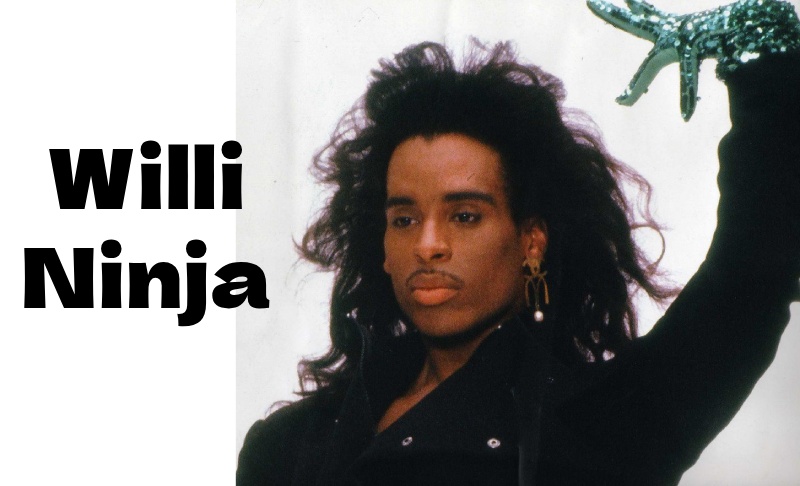 Search engine giant Google launched a Google video Doodle on June 9, 2023, to honor Willi Ninja, a well-known dancer, and choreographer who is referred to as the "Godfather of Voguing." Here are some interesting and fun facts about Willi Ninja.
Here is a look at the life and work of Willi Ninja.

Who was Willi Ninja?
Quick Look
Birth name: William Roscoe Leake
Birth date: April 12, 1961
Birthplace: New Hyde Park, New York, U.S.
Died on: September 2, 2006 (aged 45)
Death place: New York City, U.S.
Nationality: American
Famous as: Dancer, choreographer
30 Interesting Facts about Willi Ninja
William Roscoe Leake, also called Willi Ninja, was an American dancer and choreographer most popular for his appearance in the documentary film Paris Is Burning.
Willi Ninja, a gay man who became known as the "godfather of voguing," was a fixture of ball culture at Harlem's drag balls and developed a distinctive style of dance and movement by drawing inspiration from Fred Astaire and haute couture.
Willi Ninja was born in 1961 and experienced childhood in Flushing, Queens. His identity was supported by his loving mother. She supported his interest in dance by taking him to artful dance exhibitions at the Apollo Theater. Willi taught himself the moves that would make him a star even though she was unable to afford expensive dance lessons.
Willi proceeded to excel at voguing, a dance style that mixes fashion poses with intricate, mime and martial arts-like movements. The Harlem ballroom scene, which was a safe space founded by LGBTQ+ Black and Latino people to celebrate self-expression and community, is where the dance form came from.
He caught the attention of Jennie Livingston, the director of Paris Is Burning, who made Ninja an important part of the movie. Ninja used the film, which was a critical and box office success, as a platform. He turned his appearance into choreography gigs and performances with several dance troupes.
Willi Ninja appeared in the music video for Malcolm McLaren's song "Deep in Vogue" in 1989. The video sampled the unfinished film then and introduced Ninja's style to the mainstream.
A year later, Madonna's number-one hit "Vogue" brought the dancing style even more attention.
Willi Ninja was a self-taught dancer who was born at the Long Island Jewish Medical Center in New Hyde Park, New York. By the time he was in his twenties, he had perfected his voguing style. Willi was born to a black mother and claimed to be of mixed racial ancestry—Irish, Cherokee, and Asian. It was from fellow voguers in Washington Square Park that Jennie Livingston first heard his name.
Although he did not invent the form, he worked to refine it to "an amazing level" through precise movements. His influences included Kemetic hieroglyphics, young Michael Jackson, Fred Astaire, Olympic gymnasts, and Asian culture.
Willi Ninja took part in the drag balls in Harlem with "children" from his House of Ninja. HoN, like other ball houses, was a dance troupe and extended social family with Ninja as its mother. He taught his children late into the night at underground clubs and on the old Christopher Street pier.
Many music videos featured Ninja, including Malcolm McLaren's "Deep in Vogue" and Masters At Work's "I Can't Get No Sleep" with India.
On Nervous Records in 1994, he released his single "Hot," which was also produced by Masters At Work. Ninja went on to work as a runway model for Jean-Paul Gaultier, perform with dance companies under Karole Armitage, and teach Paris Hilton how to walk better.
In 2004, Willi Ninja founded Elements of Ninja, a modeling agency, and appeared on Jimmy Kimmel Live!
In addition, Ninja was prominently featured in Wolfgang Busch's 2006 documentary How Do I Look and the 1990 documentary Paris is Burning.
Willi Ninja also danced in two videos from Janet Jackson's album Rhythm Nation 1814, one of which was "Alright," a remix with cameo appearances from Cab Calloway, Cyd Charisse, The Nicholas Brothers, and the late rapper Heavy D. Additionally, he appeared in "Escapade."
Ninja worked hard to care for his mother, Esther Leake, who had Parkinson's and used a wheelchair. His later dance efforts were inspired by her trips to the Apollo and the ballet with Ninja.
The majority of Black and Latino ballroom dancers are members of houses, which provide those whose biological relatives reject them with an extended social family and a safety net. Willi co-founded his very own community, the House of Ninja, in 1982. Even after he became famous, he continued to support and guide the members of his house.
Willi Ninja began the House of Ninja in 1982 with Sandy Apollonia Ninja, regardless of not having been important for a house beforehand or winning three grand prizes, which was generally seen as a requirement to begin a house.
The Asian and martial arts influences of the house and the fact that people in the ballroom scene didn't know who they were and that they "seemed to come out of nowhere" inspired the name, Ninja.
The House of Ninja was known for its multiculturalism; The majority of houses at the time were African-American, except the Latino House of Xtravaganza.
The House of Ninja eminently remembered white men in their competitions. The house was closed in 1989, reopened in 1991, and reopened once more in 2003.
Over 220 members worldwide are currently a part of the House of Ninja. The oldest living Ninja is Archie Burnett Ninja.
A few films and television series starred Ninja. Along with Dorian Corey and Pepper LaBeija, members of his Paris Is Burning cast, he appeared as a guest on The Joan Rivers Show on August 8, 1991. Additionally, Jennie Livingston starred. The cast discussed the documentary during the episode, encouraging viewers to "walk" as if they were participating in a Drag Ball. In the same year, Ninja featured in the Marlon Riggs 9-minute short Anthem as a dancer.
Willi Ninja introduced new dance techniques that set new standards for voguing, drawing inspiration from Egyptian hieroglyphs and martial arts. Willi rose to fame in the 1990s and went on to appear in luxury runway shows, music videos, and films all over the world. His moves inspired Madonna and Jean-Paul Gaultier, among others.
Willi Ninja was prominently featured in the 1990 documentary, Paris Is Burning, where his unique dance style was exhibited on the big screen. Willi's work was seen by a wider audience as a result of the film's big success.
Willi was a powerful advocate for his community when he wasn't dancing. One of the first to raise awareness of HIV/AIDS prevention at drag balls, Willi played a pivotal role in assisting with lessening the stigma surrounding the disease.
On September 2, 2006, Willi Ninja died in New York City from heart failure caused by AIDS.
Since Willi Ninja's death, he has kept on moving numerous artists and music DJs. Because of his nonconforming and transgressive gender expression as an artist, Ninja is a central figure in LGBTQ studies, gender studies, and performance studies. His presence is articulated in the book Black Sexualities by Juan Battle and Sandra L. Barnes as one example.
Willi Ninja was honored in a Google video Doodle on June 9, 2023. Rob Gilliam illustrated, Xander Opiyo edited, and Vivacious composed the original music for the Doodle video. The performers featured are current members of the House of Ninja (Archie Burnett Ninja, Javier Madrid Ninja, Kiki Ninja, and Akiko Tokuoka aka KiT Ninja) dancing in celebration of Willi's legacy.
On 9th June 1990, the documentary Paris is Burning — which features Willi and the Iconic House of Ninja — was released in the US at the NewFest New York LGBT Film Festival.
We are grateful to Willi Ninja for your contributions to dance and for making Black and Latino LGBTQ+ identities more widely known. The House of Ninja continues dancing in your name.