Interesting Facts about Scones, a British Afternoon Tea Treat Known as Girdle Scone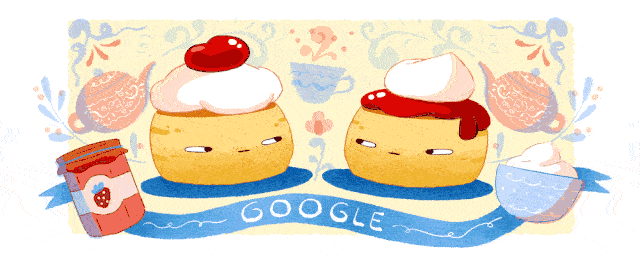 Search engine giant Google released an animated Doodle on June 10, 2023, to celebrate scones, a traditional Scottish baked good that is popular in the UK and Ireland. Scones, a British afternoon tea treat, are the focus of a Google animated Doodle. They can be found in almost any bakery, from the northern tip of Scotland to the southern end of England, and are typically eaten with jam and clotted cream. On this day in 1657, the 'afternoon tea' idea was first presented and offered in London. Here are some interesting and fun facts about scones.
Quick Facts about Scones
Type: Quick bread
Place of origin: United Kingdom
Main ingredients: Wheat, barley, or oatmeal
Interesting Facts about Scones
Scones are a traditional Scottish dessert that is popular in the UK and Ireland. Typically, it is baked on sheet pans and is made of wheat or oatmeal with baking powder as a leavening agent.
Scones are frequently glazed with egg wash and sweetened slightly. The cream tea is incomplete without the scone. It is not like yeast-based teacakes or other types of sweets.
During the Austrian Presidency of the European Union in 2006, Scones were selected as the Republic of Ireland's Café Europe representative, while Shortbread was chosen by the United Kingdom.
A scone is a type of bread that is typically baked on a griddle or sheet in the shape of triangles. Scones are tiny and are in a similar group as the crumpet or muffin. It is made of wheat, barley, or oatmeal and baking powder to make it rise.
The recipe for the scone is almost identical to that of the North American biscuit because of its similar shape. Scones may occasionally contain dates, cheese, raisins, or currants.
However, scone fillings like cranberries, chocolate chips, or nuts are more common in the United States. In the British Isles, they can be found in a wide variety and frequently in coffee shops.
It is generally felt that scones are best eaten when they are very hot and newly heated right from the oven, went with melting warm butter. Buttering scones for oneself is even a pastime for some people.
Scone, also known as girdle scone, is a popular British quick bread that has spread all over the world. It is made with leavened barley flour or oatmeal and is rolled into a round shape before being baked, usually on a griddle. Cast iron pans that were hung over kitchen fires in rural England and Wales were used to bake the first scones.
With the coming of Eastern trade, scones became an integral part of the popular custom of "taking tea," with which they are as yet served daily, hot and buttered, all through England and numerous regions of its previous domain.
Cream and eggs can be added to the standard flour, baking soda, sugar, and salt mixture to enhance scones. Before baking, the dough is briefly kneaded, rolled, cut into triangular shapes, and brushed with the reserved egg white.
Mashed potatoes are required in some recipes. Currants are sometimes added to the dough for scones made with baking powder. These are baked in an oven after being cut into various rounded, wedge, and diamond shapes.
Scones are associated traditionally with England, Scotland, and Ireland, however, no one knows which country invented it. In any case, the first known mention of a scone that was printed is from the translation of The Aenaid (1513) written by a Scottish poet named Gavin Douglas.
Scones are related to the ancient Welsh tradition of baking yeast cakes in the shape of small rounds on stones, which were later replaced by griddles.
Scones from the beginning were baked over an open fire and contained oats. Be that as it may, the present scones are more similar to American biscuits. They are made with wheat, and baked in the oven.
British scones can be sweet or savory, depending on the recipe. Dates, cheese, raisins, and currants are all common ingredients. Soda scones, also known as soda farls, and potato scones, which are typically referred to as tattie scones and resemble small, thin, savory pancakes made with potato flour, are two types of savory scones that are popular in Ulster and Scotland. In a full Scottish breakfast or an Ulster fry, potato scones are typically fried.
The griddle scone, also known as the "girdle scone" in Scots, is a type of scone that is cooked on a stovetop griddle or girdle rather than baked in an oven. This usage is additionally common in New Zealand where scones of all varieties form a significant part of traditional colonial New Zealand cooking.
The dropped scone, also known as a "drop scone," is a type of scone that is made by dropping batter onto a griddle or frying pan to cook it. The lemonade scone, on the other hand, is made with lemonade and cream instead of butter and milk.
There is likewise the fruit scone or fruited scone, which contains currants, sultanas, peel, and glacé cherries, which is very much like a plain round scone with the fruit mixed into the dough. Scones can be made with cream instead of milk to make them light and flaky.
Savory varieties of scone can also be found in some countries, and they may be topped with combinations of cheese, onion, bacon, and other toppings.
Butter, jam, and cream are typically served as toppings and condiments on scones. Sometimes strawberries are also used.
In Hungary, a cake basically the same as the British version exists under the name "pogácsa". The languages of several of the neighboring nations have adopted the name. (E.g. Pogatsche in German.) Pogácsa is almost always served with a variety of seasonings and toppings, including cheese and dill.
Pumpkin scones, made by adding mashed cooked pumpkin to the dough mixture, had expanded exposure during the period when Florence Bjelke-Petersen was in the public eye. Australia is also home to date scones, made with chopped dried dates.
"Puftaloons," or deep-frying or deep pan-frying scones in dripping or oil, is another old way to cook them, usually in the winter.
In cafes and tea shops, cheese scones are a popular snack that is typically served toasted with butter. They are a part of Kiwiana and can be found in the Edmonds Cookery Book.
While biscuits are typically made with other types of animal fat or vegetable shortening, round British scones typically rely on cold butter, while scones can look like North American biscuits.
Additionally, while scones are much of the time (yet not generally) sweet, and presented with coffee and tea, rolls are served more like a bread roll, frequently with breakfast in the American South.
Scones with that name have started to appear in coffee shops in recent years. They may be sweet and contain fruit like blueberries or sultanas or flavorings like chocolate chips or cinnamon.
Typically, American "scones" are closer to British rock cakes. They are heavy, dry, and crumbly, typically in a triangular or irregular shape.
In Utah and southern Idaho, the bread products locally called "scones" are like Native American frybread or New Orleans beignets and are produced using a sweet yeast dough, with buttermilk and baking powder or soft drink added, and they are fried as opposed to baked. They are generally presented with spread and either honey or maple syrup.
Scones are very popular in Uruguay and Argentina. They were brought there by Irish, English, and Scottish immigrants and by Welsh immigrants in Patagonia (Britons are the third biggest foreign community in Argentina). Typically, they are served with mate, coffee, or tea.
US-style scones were presented a decade or so back in Japan by American cafés like Starbucks. They can now be found in a wide variety of bakeries and coffee shops.
Similar to Rock cakes in the United States, these "scones" are heavy, dry, crumbly cakes with a triangular or irregular shape. They frequently contain fruit like blueberries or chocolate chips. However, sultanas and raisins are very uncommon.
A few restaurants and tea shops specializing in British cuisine do sell authentic British scones, frequently as a feature of Cream tea. This is offered, for example, by the "Afternoon Tea" chain of tea shops.
"scon-cap" or "scone-cap" refers to a man's broad flat cap or "bunnet," and the Scots verb scon means to crush flat or beat with an open hand on a flat surface.
Slang terms like "scone" can be used to describe the head in Australia, usually the crown region.