Google Celebrates Juneteenth 2023 with a Doodle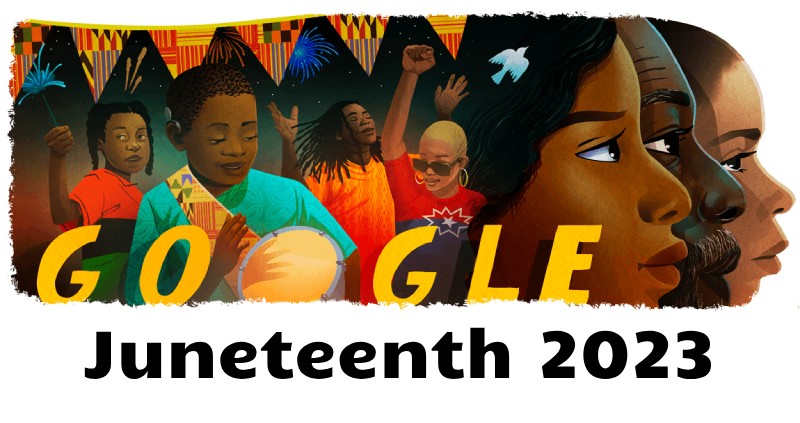 Laura Freeman, a guest artist, and illustrator, created today's Google Doodle, which celebrates Juneteenth 2023. The Emancipation Proclamation informed Black enslaved people in Galveston, Texas, of their liberation on this date in 1865. The official end of the Civil War was marked by the executive order, which mandated the end of slavery in Confederate states.
Several states controlled by the Confederacy, including Texas, continued to oppose the Emancipation Proclamation when it was issued by Abraham Lincoln in 1863. The now-famous General Orders, Number 3, which informed hundreds of thousands of Black Texans of their freedom, were issued by Union troops as they marched to the port city of Galveston. In Texas, Juneteenth became a state holiday in 1980, and in June 2021, it became a federal holiday across the country.
Black Americans commemorate Juneteenth with celebrations and gatherings that pay tribute to the struggles of those who came before them and the ongoing efforts to create a nation that is more just and equitable. Today's Google Doodle artwork features freedom-loving symbols such as a dove, the Juneteenth flag, and Kente cloth patterns in a multigenerational community celebration of the holiday.
Juneteenth 2023: How all US citizens can celebrate the federal holiday
The Juneteenth holiday has served as a time of remembrance for many Black communities for more than 150 years. It refers to the year 1865, when enslaved people in Galveston, Texas, were informed of their emancipation. This was a significant development that occurred approximately two years after President Abraham Lincoln issued the Emancipation Proclamation.
Juneteenth has gained wider recognition beyond Black America since it was officially declared a federal holiday in 2021. Because of this, more people are getting the day off from work or school, and a lot of street festivals, fairs, concerts, and other events are being held to celebrate the day.
People who haven't given the June 19 holiday much thought may be wondering if there is a specific way to celebrate Juneteenth.
How can citizens celebrate the federal holiday?
You can find a wide variety of events taking place in both major cities and suburban areas by conducting an online search. Each event offers a distinct range of scale and atmosphere. Food trucks, art and craft exhibits, parades, and festive gatherings that look like carnivals are among them. People often have access to professionals from healthcare, finance, and community resources at these celebrations. In addition, Black creativity and excellence are celebrated through concerts and fashion shows. Numerous organizations and universities host panels that serve as reminders of Juneteenth's historical significance for those who are inclined to reflect.
Red has always played a significant role in Juneteenth cuisine across generations, in addition to the customary barbecue. The bloodshed and sacrifices of enslaved ancestors are symbolized by this color. Dishes like watermelon, red velvet cake, barbecued ribs, or other red meats are common on a traditional Juneteenth menu. On the table might also be drinks like red Kool-Aid and fruit punch.