Interesting Facts about Allan Haozous (Houser)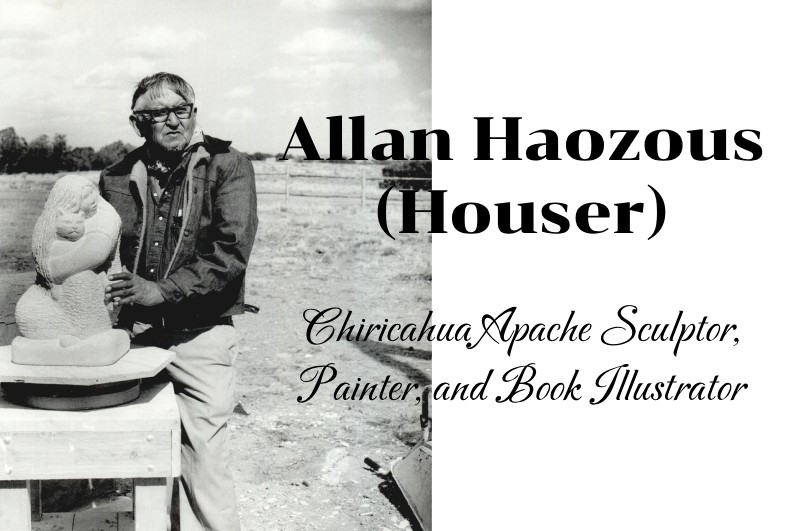 Today's Google Doodle honors Allan Haozous (Houser), a well-known Chiricahua Apache sculptor, painter, and book illustrator, on November 3, 2023, in honor of Native American Heritage Month. Today's artwork was created by Lynnette Haozous of Albuquerque. It shows Haozous in her element, sculpting an Apache man and woman. His sculpture The Future made its debut at the Autry Museum of the American West on this day in 2012. Here are some interesting and fun facts about Allan Houser.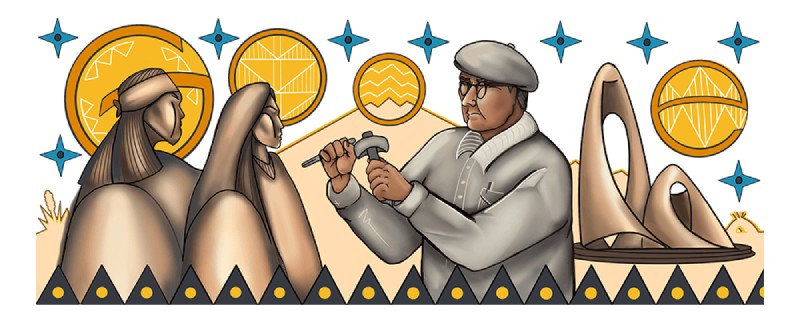 Who was Allan Haozous (Houser)?
Born in Oklahoma, Allan Capron Houser, also known as Haozous, was a Chiricahua Apache sculptor, painter, and book illustrator. He was one of the 20th century's most famous Native American painters and Modernist sculptors.
Houser's artwork is held in major museum collections across North America, Europe, and Japan in addition to the Smithsonian Museum of American Art, the National Museum of the American Indian, and the National Portrait Gallery in Washington, D.C. In addition, the United States Mission to the United Nations in New York City has Houser's Offering of the Sacred Pipe on display.
Quick Look
Birth name: Allan Capron Houser
Birth date: June 30, 1914
Birthplace: near Apache, Oklahoma
Died on: August 22, 1994 (aged 80)
Death place: Santa Fe, New Mexico
Nationality: Chiricahua Apache
Education: Studio at Santa Fe Indian School
Known for: Sculpture, Painting, Drawing, Murals
50 Interesting Facts about Allan Haozous (Houser)
Sam and Blossom Haozous raised Houser on their farm near Apache, Oklahoma, and Fort Sill in 1914.
Following the surrender of the tribe's spiritual leader, Geronimo, in 1886 and the tribe's incarceration by the United States government, he was the first member of his family from the Warm Springs Chiricahua Apache tribe to be born outside of captivity. After leading the tribe in combat, Geronimo would subsequently rely on Allan's father, Sam Haozous, his grandnephew, to translate for him.
Twenty-year-old Allan Houser traveled from Oklahoma to Santa Fe, New Mexico, in 1934 to attend Dorothy Dunn's Art Studio at the Santa Fe Indian School. Houser was one of Dunn's best students for the latter, producing hundreds of drawings and canvases while living in Santa Fe, but he felt that the program was too restrictive.
Allan Haozous (Houser) debuted as a professional artist in 1939, participating in the Golden Gate International Exposition and the 1939 New York World's Fair.
In Washington, DC, he was given his first significant public commission to paint murals at the Main Interior Building. He also married Santa Fe native Anna Maria Gallegos, who served as his 55-year wife.
The US Department of Interior gave him another commission to create life-sized interior murals in 1940. Afterward, Houser went back to Fort Sill to study under Swedish muralist Olle Nordmark, who inspired him to take up sculpture. That year, he carved his first wood pieces.
After his life and career were disrupted by World War II, Allan Houser relocated to Los Angeles with his expanding family to pursue employment in the shipyards there.
Houser made friends with both faculty and students at the Pasadena Art Center while working during the day and painting and sculpting at night. It was here that he first encountered the sleek modernist sculptures of artists such as Henry Moore of England, Jean Arp, and Constantin Brâncuși.
Allan Haozous (Houser) would eventually come to be greatly influenced by these three men as well as the English sculptor Barbara Hepworth, who was one of the first to incorporate sculptural voids within the solid planes of her works.
Houser submitted an application for a commission at the Lawrence, Kansas-based Haskell Institute following World War II. Haskell, a Native American boarding school, wanted to create a sculpture as a tribute to its graduates who perished in the war. Houser had never carved in stone, even though he had been doing so since 1940 with wood.
Allan Houser's drawings and his conviction persuaded the jury, and in 1948 he finished the monumental work Comrades in Mourning, which was carved out of white Carrara marble. It has grown to be recognized as a classic piece of Native American art in general as well as for the artist.
Allan Haozous (Houser) was awarded a Guggenheim Fellowship in painting and sculpture in 1949, which allowed him to pursue his artistic endeavors for two years while simultaneously supporting his expanding family.
Houser taught art at the mostly Navajo boarding school Intermountain Indian School in Brigham City, Utah, from 1952 to 1962.
Allan Houser had more time to teach, raise a family, and concentrate on his painting during the Intermountain years. There, he experimented with watercolors, oils, and other media, finishing hundreds of paintings.
Allan Haozous (Houser) also worked as an illustrator for children's books while he was employed at Intermountain, contributing paintings and drawings for seven different books, one of which was an illustrated biography about his granduncle Geronimo. Artist Robert Chee was among his notable Intermountain Indian School students.
Allan Houser received an invitation to join the faculty of the Institute of American Indian Arts, a recently established Native American art school, in 1962.
He and his family moved back to Santa Fe, where he became the head of the Institute's sculpture department. In addition to being a teacher, Houser cast his first bronzes in 1967. He brought ideas and his own history to a student body comprised of people from all over Native America.
Allan Haozous (Houser) started by experimenting with other tribes' iconographies, fusing the tribal and the abstract into his own unique visual language through the influence of modernist sculpture.
While still teaching at the Institute in the early 1970s, Houser started the demanding cycle of production and exhibition that would make him famous. He felt driven to work in as many sculptural media as possible as the head of the sculpture department, as demonstrated by his 1970 solo exhibition of welded steel, stone, and bronze sculptures at the Heard Museum in Phoenix, Arizona.
In 1973, Allan Houser won the Gold Medal in Sculpture at the Heard Museum Exhibition. The following year, he displayed paintings and sculptures at the Philbrook Museum of Art in Tulsa.
Exhibitions, awards, and accolades kept coming. He was asked to paint the official portrait of Stewart Udall, the former secretary of the interior of the United States, in 1975.
Allan Haozous (Houser) held a solo show at the Governor's Gallery in the State Capitol in Santa Fe that same year. Houser taught full-time at IAIA for thirteen years before retiring to focus on sculpture.
Beginning with his retirement in 1975, Houser entered the most prolific stage of his career. The family compound in southern Santa Fe county, along with time and resources, helped Houser refine the visual language that would eventually become his artistic legacy.
Allan Haozous (Houser) elevated both Native American and Modernism to new heights by fusing Native American subject matter with the abstract forms and sculptural voids of his Modernist contemporaries. Notable works include Lead Singer, Abstract Crown Dancer, and The Mystic.
Along with his figurative work, Houser also produced a life-sized bronze piece called Chiricahua Apache Family, which was dedicated in 1983 at the Fort Sill Apache Tribal Center in Apache, Oklahoma.
The composition commemorated the 70th anniversary of his tribe's prisoners-of-war being released from Fort Sill, as well as the memory of his parents, Sam and Blossom.
A Public Broadcasting System (PBS) series on American Indian artists included an examination of Houser's work. In the series were R. C. Gorman, Helen Hardin, Fritz Scholder, Charles Loloma, and Joseph Lonewolf, among others.
Offering of the Sacred Pipe, a colossal bronze sculpture by Allan Houser, was dedicated in 1985 at the U.S. Mission to the United Nations in New York City.
He created a bronze bust of Geronimo a year later to mark the 100th anniversary of the Chiricahua Apaches' surrender. Later, the bust's cast was given to the National Portrait Gallery, where it is now part of the gallery's permanent collection.
Allan Haozous (Houser) created an astounding amount of work in the last five years and was honored with numerous awards for his lifetime achievements. He dedicated As Long as the Waters Flow, a large bronze sculpture that was commissioned for Oklahoma City's Oklahoma State Capitol, in 1989.
He gave the Smithsonian Institution a casting of a bronze Sacred Rain Arrow in 1991. He dedicated the work to the American Indian in the dedication before the US Senate Select Committee on Indian Affairs.
Additionally, in 1992, President George H. W. Bush granted him the National Medal of Arts, making him the first Native American to do so. The ceremony took place at the White House.
Allan Houser was honored in 1993 when the Institute of American Indian Arts dedicated the Allan Houser Art Park. In 1994, he made his final trip back to Washington, DC, to give the US government the sculpture May We Have Peace, which he stated was a gift "To the people of the United States from the First Peoples." First Lady Hillary Clinton accepted the gift to be installed at the Vice President's home.
The remarkable amount of drawn work that was left behind in the Allan Houser Archive, which is situated at the Houser family compound and sculpture garden in southern Santa Fe County, New Mexico, demonstrates Houser's primary skill as a draftsman.
Using the more than 6,000 photos that have been preserved, it is possible to follow the career and wide range of subjects of an artist who started all of his works, including paintings and sculptures, by applying his hand to paper.
Houser's early career was distinguished by his paintings and drawings, but it was his sculpture that ultimately propelled him to international prominence as an artist.
Allan Haozous (Houser) started with simple wood carvings in 1940 and finished his first large-scale stone piece, Comrades in Mourning, at the Haskell Institute in Lawrence, Kansas, in 1949. But before he had the time and means to create the bronzes pictured here, it would be a while.
In August 1994, Allan Houser died in Santa Fe, New Mexico, at the age of eighty.
The goal of the nonprofit Allan Houser Foundation is to spread the Houser name. In addition, the family runs the Allan Houser Compound, a foundry and sculpture garden situated south of Santa Fe, and a commercial gallery featuring Allan Houser's artwork in downtown Santa Fe.
Allan Houser was inducted into the National Native American Hall of Fame in its first induction ceremony in 2018.
After Houser's 1990 creation, a group of figures was relocated to the Oval Office in 2021 upon Joe Biden's inauguration. The sculpture, which was originally displayed at the National Museum of the American Indian, shows a running horse with a Native American male rider. It is presently exhibited on one of the shelves in the president's office.
The work of Allan Houser is still being studied in academic institutions. His estate collaborates on ongoing exhibitions with museums, art galleries, and public areas across the world.
Allan Houser's major works were displayed in November 2009 at the Heard Museum and the Desert Botanical Garden in Phoenix, Arizona. His abstract and modernist works were on exhibition at Grounds for Sculpture in Hamilton, New Jersey (2008).
"Unconquered: Allan Houser and the Legacy of one Apache Family," a major exhibition that examines three generations of the Haozous/Houser family, was held by the Oklahoma History Center in 2008.
Allan Houser's artwork was featured in the National Museum of the American Indian George Gustav Heye Center survey Stretching the Canvas: Eight Decades of Native Painting (2019–21).
Additionally, major collections of Allan Houser's work are housed in museums both domestically and internationally.
After retiring from teaching in 1975, Haozous created nearly 1,000 sculptures in a variety of media that were highly regarded throughout the world.
Allan Haozous (Houser) was the featured artist at the Utah-hosted Winter Olympics in 2002 and was inducted into the Oklahoma Hall of Fame in 1985. He was the first Native American to receive the National Medal of Arts, and he won numerous awards for his artwork throughout his career.
Nowadays, a lot of people appreciate Haozous' artwork, which is on display in Santa Fe, Vancouver, London, Paris, Tokyo, and a few museums in Washington, D.C., such as the Smithsonian Museum of American Art.
On November 3, 2023, Google featured a Google Doodle on its homepage to celebrate Allan Haozous (Houser).