Interesting Facts about British Painter Gluck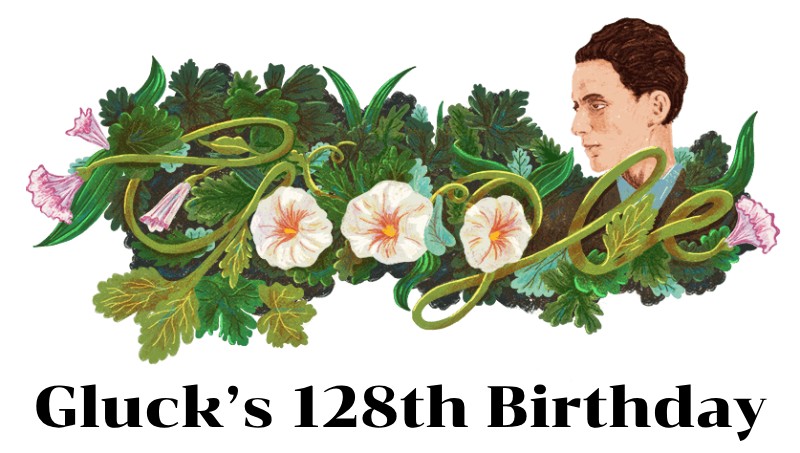 Sonny Ross, a guest artist from Manchester, created the artwork for today's Google Doodle, which honors British artist Gluck on his 128th birthday on August 13, 2023. Gluck, who is well-known for its recognizable portraiture and picture-frame designs, also painted over gender expectations by forgoing the inclusion of any prefixes or forenames (such as Miss or Mr.). Here are some interesting and fun facts about Gluck.
Here is a look at the life and work of Gluck.
Quick Look
Birth name: Hannah Gluckstein
Birth date: 13 August 1895
Birthplace: London, England
Died on: 10 January 1978 (aged 82)
Death place: Steyning, Sussex, England
Father name: Joseph Gluckstein
Mother name: Francesca Halle
Alma mater:

St Paul's Girls' School
St John's Wood School of Art

Known for: Painting
40 Interesting Facts about British Painter Gluck
Gluck, a British painter who was gender non-conforming and also went by the names Peter and Hig, was born Hannah Gluckstein. Gluck refused any forename or prefix (such as "Miss" or "Mr"), as well as the title "Mr."
Gluck joined the Lamorna artists' colony close to Penzance and became known for his portraits, floral paintings, and a novel picture frame design.
One of the women with whom Gluck had relationships was Nesta Obermer; their collaborative self-portrait, Medallion, is regarded as a seminal work of lesbian art.
Gluck was born on 13th August 1895 in London, England, into a prosperous Jewish family.
Up until 1910, Gluck attended the Dame School in Swiss Cottage, then from 1911 to 1913, she attended St. Paul's Girls' School in Hammersmith. In that year, Gluck received a Royal Drawing Society Silver Star award.
Between 1913 and 1916, Gluck attended St John's Wood School of Art before relocating to the west Cornwall valley of Lamorna and joining the artists' colony there.
E M Craig (1893–1968), a fellow art student and Gluck's companion who went by the name Craig, made the journey to Cornwall.
Although little is known about Craig today, Gluck valued their bond and frequently mentioned how they had fled together in later years.
By 1918, they had moved into an apartment on Finchley Road, followed by a studio in Earls Court, and for a while, they had also kept a studio in Lamorna.
Gluck started to adopt a masculine appearance and challenge gender norms in the Lamorna artistic group.
Alfred Munnings depicted Gluck smoking a pipe in 1916. Gluck insisted on being referred to simply as Gluck, "no prefix, suffix, or quotes," and she quit when an art club for which she served as vice president mistakenly called her "Miss Gluck" on its stationery.
Gluck was depicted as Peter, a Young English Girl, by Romaine Brooks in 1923. Gluck solely displayed work in solo shows and did not identify with any one artistic school or trend.
The artist's creations were presented in a unique frame that Gluck invented and was granted a patent for in 1932. This Gluck frame protruded from the wall in three layers and was supposed to make the artist's paintings appear to be a part of the room's architecture by being painted or covered in paper to match the wall on which it was hanging.
Gluck rose to fame in the 1920s and 1930s for his portrait paintings and floral paintings, the latter of which Syrie Maugham, an interior decorator, favored.
Gluck debuted with a solo exhibition of 56 paintings in October 1924 at the Dorien Leigh Galleries in South Kensington, London.
Stage and Country, a 1926 exhibition at the Fine Art Society in London, included several paintings by Gluck that he created in 1925 that featured theater scenes.
In that same year, Gluck's father purchased Bolton House in West Hampstead, where Gluck would live until 1939 along with a housekeeper, a chef, and a maid.
By 1928, Sybil Cookson, a writer and socialite, and Gluck were residing together in Bolton House.
A studio addition to the home was conceived and constructed in 1931 by architect Edward Maufe.
The next year, Gluck held another solo exhibition at the Fine Art Society called Diverse Paintings. He also started dating British floral designer Constance Spry, whose creations influenced Gluck's paintings.
Gluck and Spry spent some time at Tunisia's Hammamet in 1934.
Gluck and Nesta Obermer spent a weekend in May 1936 at Mill House in Plumpton, East Sussex, the home of the Obermer family. Later, they would cite May 25, 1936, as their wedding day.
After Gluck and Spry broke up, he burned their private correspondence, journals, and artwork at Bolton House.
Medallion, one of Gluck's best-known paintings, is a dual portrait of the artist and his beloved Nesta Obermer that was inspired by a night in 1936 when they saw a Fritz Busch production of Mozart's Don Giovanni.
A third solo exhibition by Gluck was held at the Fine Art Society in 1937. The Queen visited the display of thirty-three paintings, which included a Medallion.
Gluck relocated to a cottage next to the Obermer residence in Plumpton in September 1939 after closing Bolton House, which was later requisitioned by the Auxiliary Fire Service for use during the war.
In 1943, Gluck and Edith Shackleton Heald began dating. The two enjoyed vacations in Brighton and Lyme, Dorset, until Gluck moved in with Heald at Chantry House in Steyning, Sussex, in 1944.
In 1944, Steyning Grammar School in Sussex hosted an exhibition by Gluck. The artist used the studio until 1949 when Gluck sold that part of the property to Ithell Colquhoun. In 1945, Gluck sold Bolton House but kept the studio.
In his seventies, Gluck returned to painting and presented another well-received solo exhibition featuring fifty-two works from his entire career. He used special handcrafted paints that were provided free of charge by a producer who had taken on Gluck's rigorous requirements as a challenge. It was Gluck's final exhibition after his first one in 1944.
Gluck gave 57 items to the Brighton Museum & Art Gallery in 1977, including apparel, accessories, and artifacts from his stay in Tunisia.
Gluck opted to solely display their work in solo shows since they refused to associate with any particular artistic school or movement. They displayed 56 paintings in the London Dorien Leigh Galleries in 1924. Every single picture was sold, and local interior designers began to favor the floral paintings.
A picture frame created and patented by Gluck in 1932 became known as the Gluck frame. The painting appeared to be a part of the wall's architecture because of its three-tiered design, which customarily matched the color of the wall it was hanging on. The design made its premiere at the British Art in Industry exhibits, which again caught the interest of interior designers.
In 1936, Gluck painted Medallion as a result of seeing a Mozart opera being performed. One of the most well-known representations of a lesbian relationship, the dual image of them and their lover has become an iconic lesbian statement.
Gluck worked for reform in the arts sector as well. Gluck campaigned for a new standard for oil paints for ten years because he was unhappy with the quality of the paints that were already on the market for artist work. Ultimately, the British Standards Institution gave in to his demands.
Gluck presented their final exhibition in 1973, debuting more than fifty works throughout their career.
Gluck, who was 82 years old, died in 1978 in Steyning, Sussex.
Rage, Rage against the Dying of the Light, a painting of a decaying fish head on the beach that Gluck started in 1970 and finished in 1973, was his final significant piece.
A six-week memorial exhibition of 45 of Gluck's paintings was held in 1980 by art dealers The Fine Art Society, two years after the artist's passing.
Gluck insisted on maintaining their integrity both personally and artistically, and their legacy continues to encourage many artists to express themselves without restraint.
On August 13, 2023, Google featured a Google Doodle on its homepage to celebrate Gluck's 128th Birthday.