Interesting Facts about Carmen Amaya, a Spanish Flamenco Dancer and Singer "The Greatest Flamenco Dancer Ever"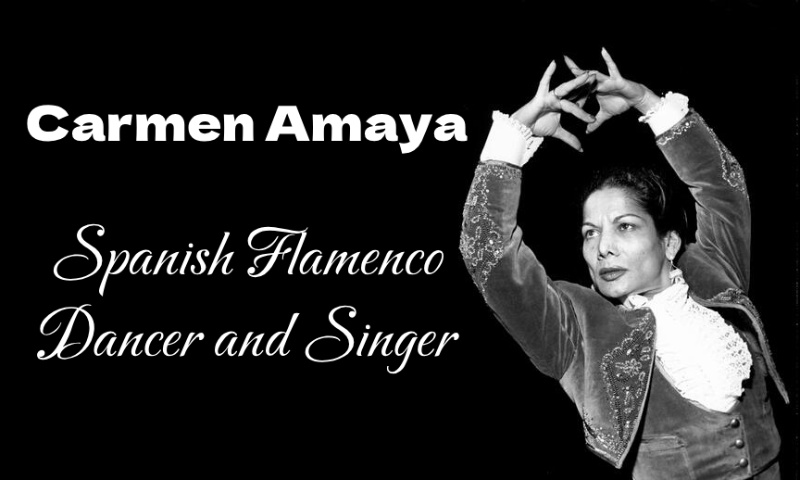 Spanish Romani dancer Carmen Amaya is honored in today's Google Doodle on November 2, 2023, which was illustrated by guest artist Genie Espinoza, who is a Barcelona-based guest artist. One of the best flamenco dancers of all time, Amaya's personality and boundless energy were evident in every move she made. Here are some interesting and fun facts about Carmen Amaya.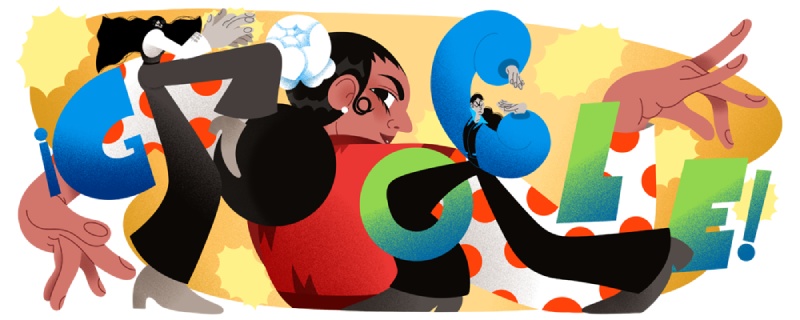 Who was Carmen Amaya?
Spanish Romani flamenco dancer and singer Carmen Amaya Amaya was born in Barcelona, Catalonia, Spain's Somorrostro district. She's been dubbed "the greatest Flamenco dancer ever" as well as "the most extraordinary personality of all time in flamenco dance." Because of its speed and intensity, she was the first female flamenco dancer to master footwork that was previously only performed by the best male dancers. She occasionally wore high-waisted trousers while dancing as a representation of her strong character.
Quick Look
Birth name: Carmen Amaya Amaya
Birth date: 2 November 1913/1915
Birthplace: Somorrostro, Barcelona, Spain
Died on: 19 November 1963 (aged 50 or 48)
Death place: Begur, Spain
Occupation(s): Flamenco dancer, singer, actress
Years active: 1926–1963
Dances: Flamenco
35 Interesting Facts about Carmen Amaya Amaya
Born into a Spanish Romani family, Carmen Amaya was the daughter of guitarist José Amaya Amaya (also known as "El Chino" or "The Chinaman") and Micaela Amaya Moreno. Out of the eleven children, Carmen was the second, but only six—two brothers and three sisters—lived to adulthood.
Amaya's father, a poor Calé Romani guitarist who performed day and night in bars, brought her into the world of flamenco. Carmen began going out at night with her father when she was a little girl. He played the guitar and sang along with her. Then they picked through the loose change that people had thrown on the ground and begged. "La Capitana," her first nickname, was soon acquired.
Carmen Amaya began making appearances in some lesser-known theaters at the same time. Carmen didn't make her stage debut at the Spanish Theatre in Barcelona until Josep Santpere, a brilliant variety show businessman, first expressed interest in her and introduced her to more esteemed venues. She was soon performing at Paris's Palace Theatre.
Her name was first published in print during the 1929 Barcelona International Fair, thanks to an article written by art critic Sebastià Gasch for the weekly Mirador.
At this point, Carmen Amaya's dancing caught the eye of reputable businessman Vicente Escudero, who concluded that Carmen's flawless fusion of two significant styles—that of the traditional dancers and the looming style of dancers in the varieties—would bring about a flamenco revolution.
She toured Spain as a member of the Manuel Vallejo company in 1930. José Cepero had suggested that she dance at the Teatro Español when she returned to Barcelona.
Carmen Amaya made an appearance on the Madrid tablao Villa Rosa poster in 1929, and she performed at the International Exhibition in 1930.
During that year, she performed at the Fontalba Theatre and the Zarzuela Theatre, also called the Coliseum, in Madrid alongside Conchita Piquer and Miguel de Molina, among other well-known performers. Carmen achieved true success across the country in that way.
She worked for a musical magazine in Barcelona and had a small role in La hija de Juan Simón and Maria de la O. From her 1935 debut to her final performance in "Los Tarantos," her dancing showcases the essence of flamenco.
The fact that so few movies have been centered around a single person makes the movies she starred in noteworthy. Additionally, they serve as an example for all dancers who consider their style to be "of temperament". Dance and flamenco have rarely been as popular in New York history as Carmen Amaya's performances.
Carmen Amaya was hired for a tour by Juan Carceller. She visited San Sebastián among other major cities.
Luisita Esteo performed with her in a 1935 Coliseum show in Madrid. Carmen and her group were employed by Carcellé's company at the Zorrilla Theatre in Valladolid on July 18, 1936, the day of the Spanish coup. They were comfortable financially at the time, and she had just purchased her first car. The car was requisitioned, so they could not go to Portugal until November, even though they were scheduled to go to Lisbon to sign the lease.
Luisita Esteso's show was touring Valladolid in 1936, just as the Spanish Civil War was getting underway, and Carmen Amaya and her troupe were part of it. They traveled from Spain to Portugal over the border and arrived in Lisbon shortly after. From there, they boarded the ship Monte Pascoal and set sail for Buenos Aires. It took them fifteen days to travel across the Atlantic and reach Brazil and Uruguay. At the Maravillas Theatre in Buenos Aires, she made her stage debut with Ramón Montoya and Sabicas.
She welcomed a number of her family members into her artistic group at this point in her life. She worked with Miguel de Molina on movies in Buenos Aires, where she gained the respect of musicians Leopold Stokowski and Arturo Toscanini, who also publicly praised her.
Carmen Amaya and her family's success surpassed all predictions. Because the theater was always packed and tickets were sold out two months in advance, they originally only intended to be there for four weeks, but ultimately ended up staying for nine months. El Teatro Amaya, which was built in honor of the artist, is a prime example of the great fame she attained in this South American nation.
Carmen Amaya made a lot of influential contacts while she was in the US. The biggest names in music, film, and culture requested to see her dance when she visited Hollywood multiple times to shoot films.
In 1941, she went to New York and performed at Carnegie Hall alongside Antonio de Triana and Sabicas. She also had the opportunity to meet US President Franklin Roosevelt while in the country.
After her return to Europe, she gave performances at the Théâtre des Champs-Élysées in Paris and subsequently London, where she had the opportunity to meet the Queen of the United Kingdom.
Carmen Amaya was already well-known throughout the world when she returned to Spain in 1947. She not only made a name for herself as an artist during her years in America, but she also unavoidably became a legend. Her dance was the riskiest flamenco ever seen in a theater at the time. She was notable not only for her artistic talent but also for her fascinating personality, which captured the attention of everyone she knew with both her dancing and her unpredictable behavior. She was also incredibly giving.
In 1948, Carmen Amaya experienced immense success both on her subsequent American tour and at the London Princess Theatre. In 1950, she made another tour of Argentina.
The following year, after giving several performances in Rome, she went back to dancing in Spain, this time at the Tivoli theatro in Barcelona. In addition to various cities in Germany, Italy, and the rest of Europe, she carried on her work in Madrid, Paris, and London.
When Carmen Amaya performed there, the Queen of England congratulated her; the pair appeared together in a newspaper photo titled "Two queens face to face."
She married guitarist Juan Antonio Agüero, who was not a gypsy, in 1952. Agüero was a member of her troupe and came from a well-to-do Santander family.
One of Carmen's most thrilling experiences occurred in 1959 during the dedication ceremony for a fountain that bears her name. The fountain was situated on the Paseo Marítimo de Barcelona, which runs through the Somorrostro neighborhood. She had previously strolled past these locations as a young girl, dragging her sorrows in her shoes, many years prior.
She carried on with her work in North America, South America, Mexico, France, Spain, and the United States in the subsequent years. In 1959, she won at the La Zarzuela Theater in Madrid and the Westminster Theatre in London. At that time, Barcelona honored Carmen Amaya with the building of the Carmen Fountain, which was well-received by the public, in Somorrostro, the artist's former home district. After Rovira-Beleta's Los Tarantos, her final film, was recorded in 1963, she went on to work. Ultimately, her illness kept her from finishing her studies in Gandía.
Filming of her latest film, Los Tarantos (1963), directed by Rovira-Beleta, worsened her illness. After overcoming her health problems, Carmen embarked on a summer tour after filming.
Carmen Amaya was already terminally ill when she gave her last performance in Madrid. Her illness ultimately prevented her from performing; specifically, it was a form of renal impairment that hindered her body's natural removal of the toxins that had accumulated. There was nothing the doctors could do. It was her final dance in Malaga. When Carmen was working in Gandía on August 8, 1963, she interrupted her performance. Abruptly, she stopped dancing and said to Batista, "Andrés, we finished."
Carmen Amaya was buried in Santander's Ciriego Cemetery after died of kidney disease in 1963 in Begur, Girona, in northeast Catalonia.
She received the Lasso of the Lady of the Order of Isabel la Católica, the Medal of Merit of Tourism in Barcelona, and the title of Adoptive Daughter of Begur.
A monument dedicated to her was erected in the Montjuic Amusement Park, three years after she died in 1966. She has a street named for her in Buenos Aires. Lucero Tena, Mariquilla, and Felix de Utrera were among the many artists who took part in a tribute performance in Madrid's "Tablao" Los Califas in her honor.
Her death was a huge loss to the flamenco community worldwide. She received the title of Hija Adoptiva de Bagur, the Lazo de Isabel la Católica, and the Medalla del Mérito Turístico de Barcelona. Numerous Roma people from throughout Spain and even France came to her funeral.
Carmen Amaya died in Bagur, where she also spent her last days. Her body is interred in her husband's family's crypt in Santander. Three years after her passing in 1966, statues of her were placed in Buenos Aires and Barcelona's Parque de Montjuic. In Madrid, a tribute event featuring Lucero Tena and other artists was held at Tablao Los Califas. In 1970, Llafranch (Girona) also honored her.
Carmen's flamenco legacy survives today as a model of force, meter, intensity, and power in dancing, as well as a means of expression that ended the flamenco's previously enduring sweetness. Sol Hurok, a well-known producer, called Carmen "The Human Vesuvius." The epitome of the flamenco dancer par excellence is Carmen Amaya. She performed dances in a lot of movies.
The Tablao de Carmen was established in 1988 as a tribute to Carmen Amaya in the Poble Espanyol, the exact location of her dance performance for King Alfonso XIII of Spain at the opening of the 1929 Barcelona International Exposition. A part of Carmen Amaya's photographic legacy is on exhibit at Tablao de Carmen. Her husband Juan Antonio Agüero's guitar (by Santos Hernández, 1930) is played at the Tablao de Carmen on special occasions and is a part of the founder family's legacy.
On November 2, 2023, Google featured a Google Doodle on its homepage to celebrate Carmen Amaya's 110th Birthday.