Interesting Facts About Tango Composer Astor Piazzolla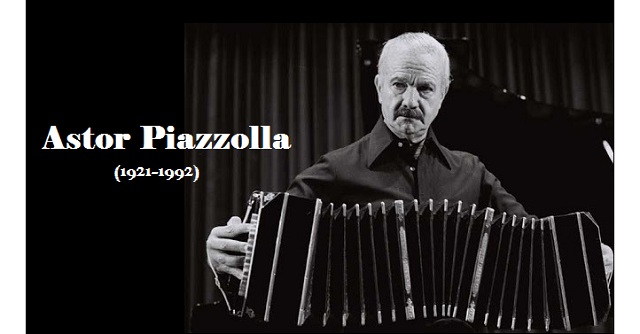 Search engine giant Google celebrates the 100th birthday of Argentine tango composer Astor Piazzolla with a Google Doodle on March 11, 2021. Known best for pioneering the classical and jazz-influenced Argentine nuevo tango music genre, Piazzolla is viewed as one of the world's most significant tango composers and bandoneon players.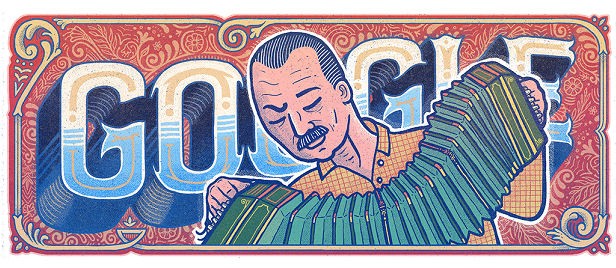 Here is a look at the life and work of Astor Piazzolla.
Personal
Birth name: Astor Pantaleón Piazzolla
Birthdate: March 11, 1921
Birthplace: Mar Del Plata, Argentina
Died on: July 4, 1992 (aged 71)
Death place: Buenos Aires, Argentina
Father name: Vicente "Nonino" Piazzolla
Mother name: Assunta Manetti
Spouse(s): Dedé Wolff, Laura Escalada
Sun Sign: Pisces
Known as: Musician, composer, arranger
Genres: Tango, nuevo tango, jazz, Latin jazz, world music
Associated acts: Aníbal Troilo, Nadia Boulanger, Roberto Goyeneche, Edmundo Rivero, Amelita Baltar, Gerry Mulligan, Pino Presti, Tullio De Piscopo, Horacio Malvicino
55 Interesting Facts about Astor Piazzolla
Astor Pantaleón Piazzolla was an Argentine tango composer, bandoneon player, and arranger.
His works revolutionized the traditional tango into a new style named nuevo tango, consolidating elements from jazz and classical music. A virtuoso bandoneonist, he regularly played out his own compositions with a variety of ensembles.
In 1992, American music critic Stephen Holden described Astor Piazzolla as "the world's foremost composer of Tango music".
In 1925, Astor Piazzolla moved with his family to Greenwich Village in New York City. At home, he would listen to his dad's records of the tango orchestras of Carlos Gardel and Julio de Caro and be presented to jazz and classical music, including Bach, since the beginning.
Astor Piazzolla started to play the bandoneon after his dad spotted one in a New York pawn shop in 1929.
After their re-visitation of New York City from a short visit to Mar del Plata in 1930, the family moved to Little Italy in lower Manhattan. In 1932 Piazzolla composed his first tango, "La Catinga".
In 1934, Astor Piazzolla met Carlos Gardel, one of the most important figures in the history of tango, and played a cameo role as a paperboy in his film El día que me quieras.
In 1936, he got back with his family to Mar del Plata, where he started to play in a variety of tango orchestras, and around this time he found the music of Elvino Vardaro's sextet on the radio.
Inspired by Vardaro's style of tango, and still just 17 years of age, Astor Piazzolla moved to Buenos Aires in 1938 where, the next year, he understood a dream when he joined the ensemble of the bandoneonist Aníbal Troilo, which would become one of the best tango orchestras of that time.
Aside from playing the bandoneon, Astor Piazzolla additionally became Troilo's arranger and would sporadically play the piano for him.
Read More: Google Doodle celebrates Argentine tango composer Astor Piazzolla's 100th birthday
In 1943, Astor Piazzolla began piano exercises with the Argentine classical pianist Raúl Spivak, which would proceed for the following five years, and composed his first classical works Preludio No. 1 for Violin and Piano and Suite for Strings and Harps.
In 1943, he wedded his first wife, Dedé Wolff, an artist, with whom he had two children, Diana and Daniel.
Astor Piazzolla would lead Fiorentino's orchestra until 1946 and make numerous recordings with him, including his initial two instrumental tangos, La chiflada and Color de rosa.
In 1946, Piazzolla formed his Orquesta Típica, which, even though having a comparable formation to other tango orchestras of the day, gave him his first chance to experiment with his own way to deal with the orchestration and musical content of tango.
In 1946, Astor Piazzolla composed El Desbande, which he viewed as his first formal tango, and afterward started to compose musical scores for films, beginning with Con los mismos colores in 1949 and Bólidos de Acero in 1950, the two movies directed via Carlos Torres Ríos.
Having disbanded Astor Piazzolla's first ensemble in 1950 he nearly deserted tango altogether as he kept on study Bartok and Stravinsky and orchestra direction with Hermann Scherchen.
Between 1950 and 1954, Astor Piazzolla composed a series of works that started to build up his extraordinary style: Para lucirse, Tanguango, Prepárense, Contrabajeando, Triunfal and Lo que vendrá.
At Ginastera's encouragement, on August 16, 1953, Astor Piazzolla entered his classical composition "Buenos Aires Symphony in Three Movements" for the Fabian Sevitzky Award. Piazzolla's composition won an award from the French government to study in Paris with the amazing French composition teacher Nadia Boulanger at the Fontainebleau conservatory.
In 1954, he and his wife left their two children with Piazzolla's parents and traveled to Paris.
Presenting Astor Piazzolla's work, Piazzolla played her some of his classically inspired compositions, yet it was not until he played his tango Triunfal that she congratulated him and urged him to seek after his career in tango, recognizing that this was the place where his talent lay. This was to demonstrate a historic experience and a cross-road in Piazzolla's career.
Before leaving Paris, Astor Piazzolla heard the octet of the American jazz saxophonist Gerry Mulligan, which was to give him forming his own octet on his re-visitation of Buenos Aires.
He composed and recorded a series of tangos with the String Orchestra of the Paris Opera and started to play the bandoneon while standing up, putting his right foot on a chair and the bellows of the instrument across his correct thigh. Until that time bandoneonists played sitting down.
Back in Argentina, Astor Piazzolla formed his Orquesta de Cuerdas (String Orchestra), which performed with the singer Jorge Sobral, and his Octeto Buenos Aires in 1955.
Astor Piazzolla's new way to deal with the tango, nuevo tango, made him a controversial figure in his native land both musically and politically. In any case, his music acquired approval in Europe and North America, and his reworking of the tango was embraced by some liberal segments of Argentine society, who were pushing for political changes in parallel to his musical revolution.
In 1958, Astor Piazzolla disbanded both the Octeto and the String Orchestra and got back to New York City with his family where he battled to make a living as a musician and arranger.
Momentarily forming his own group, the Jazz Tango Quintet with whom he made only two recordings, his attempts to mix jazz and tango were not effective.
Astor Piazzolla got the news on the death of his dad in October 1959 while performing with Juan Carlos Copes and María Nieves in Puerto Rico and on his re-visitation of New York City a few days later, he asked to be left alone in his loft and in under an hour composed his famous tango Adiós Nonino, in homage to his dad.
Piazzolla was serving as the musical director. The tour proceeded in New York, Chicago, and afterward Washington. The last show that the three did together was an appearance on CBS the only colour TV channel in the US on the Arthur Murray Show in April 1960.
Back in Buenos Aires soon thereafter he set up the first, and maybe generally well known, of his quintets, the first Quinteto. Of the numerous ensembles that Astor Piazzolla set up during his career, it was the quintet formation that best expressed his approach to tango.
In 1963, Astor Piazzolla set up his Nuevo Octeto and that same year debuted his Tres Tangos Sinfónicos, under the direction of Paul Klecky, for which he was awarded the Hirsch Prize.
In 1965, Piazzolla released El Tango, an album for which he teamed up with the Argentine writer Jorge Luis Borges. The recording featured his Quinteto along with an orchestra, the singer Edmundo Rivero and Luis Medina Castro presenting writings.
In 1966, Astor left Dedé Wolff and the next year signed a five-year contract with the poet Horacio Ferrer with whom he composed the operetta María de Buenos Aires, with lyrics by Ferrer.
In 1969, Astor Piazzolla composed Balada para un loco with lyrics by Ferrer which was debuted at the First Iberoamerican Music Festival with Amelita Baltar and Piazzolla himself leading the orchestra. Piazzolla was awarded second prize and the piece would prove to be his first popular achievement.
In 1970, Astor Piazzolla got back to Paris where with Ferrer he composed the oratorio El pueblo joven later premiered in Saarbrücken, Germany in 1971. On May 19, 1970, he gave a concert with his Quinteto at the Teatro Regina in Buenos Aires where he debuted his composition Cuatro Estaciones Porteñas.
Back in Buenos Aires, he established his Conjunto 9 (a.k.a. Nonet), a chamber music formation, which was an acknowledgment of a dream for Piazzolla and for which he made some out of his most complex music.
Astor Piazzolla presently set to the side his first Quinteto and made a few recordings with his new troupe in Italy. Within a year the Conjunto 9 had run into financial issues and was disintegrated and in 1972 he took an interest in his first concert at the Teatro Colón in Buenos Aires, sharing the bill to other Tango orchestras.
After a time of incredible productivity as a composer, Astor Piazzolla suffered a heart attack in 1973, and that same year he moved to Italy where he started a series of recordings that would span a period of five years.
In 1975, Astor Piazzolla set up his Electronic Octet an octet comprised of the bandoneon, electric piano and/or acoustic piano, organ, guitar, electric bass, drums, synthesizer, and violin, which was subsequently supplanted by a flute or saxophone.
In December 1976, he played at a concert at the Teatro Gran Rex in Buenos Aires, where he introduced his work, "500 motivaciones", composed particularly for the Conjunto Electronico, and in 1977 he played one more memorable concert at the Olympia in Paris, with a new formation of the Conjunto Electronico.
In 1978, Astor Piazzolla formed his second Quintet, with which he would tour the world for 11 years, and would make him world-renowned. He likewise got back to writing chamber music and symphonic works.
During the time of the Argentine military dictatorship from 1976 to 1983, Astor Piazzolla lived in Italy, however returned many times to Argentina, recorded there, and at least one event had lunch with the dictator Jorge Rafael Videla.
In 1982, Astor Piazzolla recorded the album Oblivion with an orchestra in Italy for the movie Enrico IV, directed by Marco Bellocchio, and in May 1982, in the Falklands War, he played in a concert at the Teatro Regina, Buenos Aires with the second Quinteto and the singer Roberto Goyeneche.
In 1982, Piazzolla composed Le Grand Tango for cello and piano, devoted to Russian cellist, Mstislav Rostropovich which would be debuted by him in 1990 in New Orleans.
On 11 June 1983, he put on one of the best concerts of his life when he played a program of his music at the Teatro Colón in Buenos Aires.
On 4 July 1984, Astor Piazzolla showed up with his Quinteto at the Montreal International Jazz Festival, the world's biggest jazz festival, and on 29 September that same year they showed up with the Italian singer Milva at the Théâtre des Bouffes du Nord, Paris.
In 1984, Astor showed up with his Quinteto Tango Nuevo in West-Berlin, Germany, and for TV in Utrecht, Netherlands. In the summer of 1985, he performed at the Almeida Theater in London for a week-long engagement.
In 1986, With the film score for El exilio de Gardel, he won the French pundits Cesar Award in Paris for best film music.
Astor Piazzolla showed up at the Montreux Jazz Festival, Montreux, Switzerland, with vibraphonist Gary Burton in July 1986, and on September 6, 1987, his quintet gave a concert in New York's Central Park, which was recorded and, in 1994, released in compact disc format as The Central Park Concert.
In 1988 he composed music for the film Sur and married the singer and television personality Laura Escalada on April 11.
During a tour through Japan with Milva he played at a concert at the Nakano Sun Plaza Hall in Tokyo on June 26, 1988, and that same year went through a quadruple by-pass operation.
His 1982 composition, Le stupendous tango, for cello and piano was debuted in New Orleans by the Russian cellist Mstislav Rostropovich and the pianist Igor Uriash in 1990, and on July 3 he gave his last concert in Athens, Greece, with the Athens Orchestra of Colors, directed by Manos Hatzidakis.
He suffered a cerebral hemorrhage in Paris on August 4, 1990, which left him in a coma and died in Buenos Aires, just under two years after the fact on July 4, 1992, without regaining consciousness.
In 1995, Astor Piazzolla's family gotten the Konex Award, as the most important musician of the decade in Argentina.
On March 11, 2021, Google honored Astor Piazzolla's 100th Birthday with a Google Doodle.
In honor of Astor Piazzolla's 100th birthday, the Astor Piazzolla Foundation recently declared the Piazzolla Music competition for soloists and ensembles the same.