Jasson Domínguez becomes the youngest Yankee to hit a home run in his opening at-bat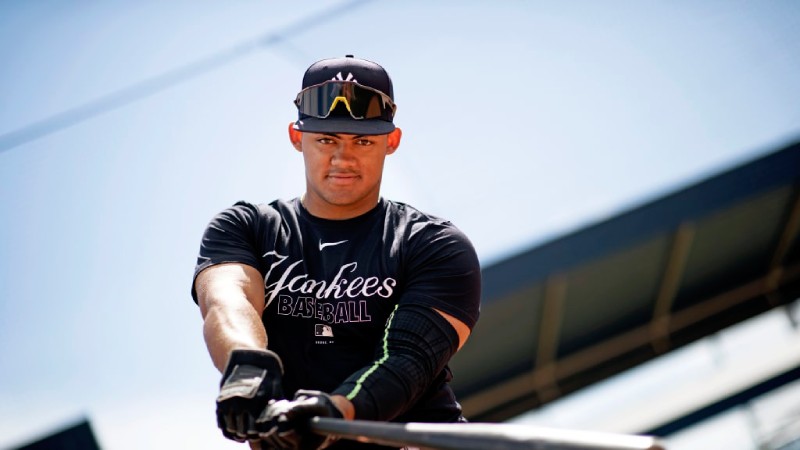 The 16-year-old Jasson Domínguez impressed Aaron Boone, the manager of the New York Yankees, with his poise and confidence when he took batting practice at the team's academy in the Dominican Republic in 2019.
"Right then he got your attention," Aaron Boone said. "It was like, it's a 16-year-old kid [and] you see the skill set right in front of you. He had that kind of easy smile to him, handles himself really well."
In his first major league at-bat, Jasson Domínguez stunned everyone on Friday night by blasting a two-run home run against Houston's ace Justin Verlander.
Aaron Boone remarked, "That's pretty impressive." "That's a way to announce your presence with authority."
Jasson Domínguez became the youngest Yankees player to homer in his first career game at the age of just 20 years, 206 days. Since Aaron Judge on August 13, 2016, he was the first Yankees player to score multiple runs in his debut at-bat in the major league.
It was also just the second occasion in history that a player homered in his first at-bat against the current Cy Young Award winner. Marcus Thames, who played for the Yankees, was the other, who faced Randy Johnson on June 10, 2002.
Television cameras switched to Jasson Domínguez's family as they screamed and sprang about after seeing the ball leave the yard and give his team a 3-0 lead in the first inning after he hit an opposite-field home run to the short porch in left off a three-time Cy Young Award winner twice his age.
"I knew it was going to be a lot of different feelings finally stepping on the field," Domínguez said. "I mentioned my dream coming true right in front of me and I was able to connect there for that hit and it ended up being a homer. So my mind is flying away."
He went 1-for-4 in the Yankees' 6-2 victory.
The highly anticipated talent had a tremendous debut in the major leagues, four years after Aaron Boone first watched him take batting practice as a youngster. The last-place Yankees extended their roster on Friday and called the switch-hitting outfielder and catcher Austin Wells up from the minors.
"Everyone's excited for them and excited to see them," Aaron Boone said before the game. "Both [are] talented guys who earned this opportunity, and looking forward to watching them go spread their wings and continue to develop and hopefully see some good things."
After the Cincinnati Reds took Harrison Bader off waivers, Jasson Domínguez is anticipated to take over as the team's primary center fielder. Aaron Boone also stated that Wells will see significant playing time over the last month of the season. Jasson Domínguez batted fifth and Wells at position seven in the starting lineup on Friday night.
"When I heard the news, it was a special moment," Domínguez said in Spanish through a translator. "Just to be here, very excited. Happy to be right here today, and it's a special day."
Wells is known more for his bat than his defense, but he wants to prove in the majors that he can be an asset in both.
"I'm here to do that as well and play and help the team win," he said before the game. "So, that's my goal and if I can do it in any way, I'll do it anyway."
Since receiving a $5.1 million bonus upon signing with the Yankees, Jasson Domínguez has been the subject of great expectations. He was so young and had such a rare mix of speed and strength, that he was known as The Martian.
But he said that doesn't make him feel any more under pressure.
"I haven't really been paying too much attention to all that, all the comments and all the information about me," he said. "I'm not much on social media. I'm not reading a lot of the different articles that are written. I just try to focus on what I can do and try to play my game and better myself so that I can fulfill whatever expectation there is being the best I can be."
Dominguez became the Yankees' youngest player to participate in a game since pitcher José Rijo, then 19 years old, did so in July 1984. He also became the team's youngest position player since outfielder Stan Javier, then 20, did so in April 1984.
Aaron Boone is aware of the expectations that are placed on Jasson Domínguez and is certain that he will live up to them.
"I think he's going to be a really good player," Aaron Boone said. "I really do. [He's] not a finished product. And we'll see how his journey goes. He's obviously a very young man, super talented. I think when we look up in several years, we're going to see a really good player in front of us and he gets to start to write that script, in the big leagues anyway, starting today."
Jasson Domínguez joined the squad this season after only appearing in nine games at Triple-A Scranton/Wilkes-Barre. There, after hitting, he hit .419 with two doubles and 10 RBI. For Double-A Somerset in 109 games, he hit .254 with 15 homers and 66 RBI.
For Scranton/Wilkes-Barre, the 24-year-old Wells hit .254 in 33 games while driving in 20 runs and hitting five home runs. He was selected in the first round of the 2020 draft out of Arizona.
For the game on Friday night, Jasson Domínguez had a large group of friends and relatives in Houston, including his mother, father, aunts, and uncles.
He said he has always wanted to play in the major leagues, but he tries to live in the moment and not spend too much time worrying about the future.
"I concentrate a lot on my day-to-day and on what I need to do to keep improving or if there's a certain skill that I've got to improve," he said. "So, to me, I try to keep it very simple. But now we're here in the big leagues and now I have a chance to taste some of the league and try to keep learning from it."
Judge joined in on the fun as well.
With a solo home run against Verlander in the fifth inning, he became the player in major league history to reach 250 home runs the fastest.
Judge accomplished the feat in his 810th career game, surpassing Philadelphia outfielder Ryan Howard, who accomplished it in his 855th game in 2010.