Jujutsu Kaisen Chapter 239: Release Date, Time, Where to Read, and What to Expect from the JJK239 Manga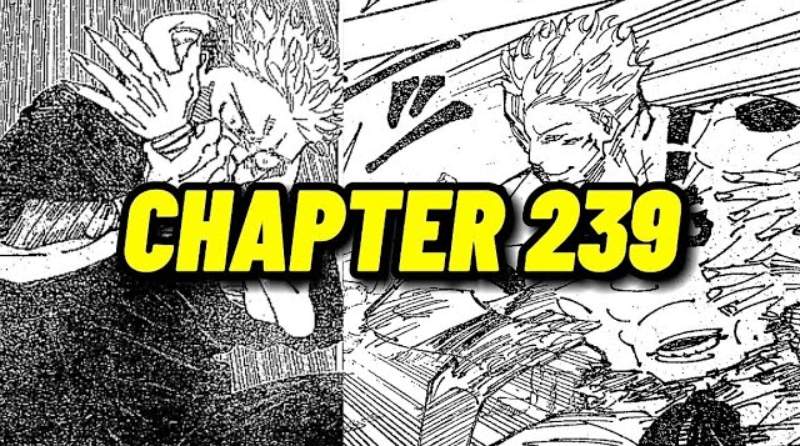 We now know the day and time of Jujutsu Kaisen Chapter 239's release. Although Kashimo tries to hit Sukuna in the previous chapter, he is unable to do much damage. The two then converse briefly about love. Itadori and Higuruma, among others, enter the fray as the domain that contains Hakari and Uraume splits. Seeing where the story goes from here on out in Chapter 239 will be interesting.
Jujutsu Kaisen Chapter 239 is currently awaited by all series fans. The plot is heating up, and based on how the last chapter concluded, JJK's Culling Game arc may be nearing its pinnacle. The story's final few months have been amazing, as readers have been able to witness the amazing battle between Gojo and Sukuna. It was inevitable that these two characters would clash at some point in the narrative, and it did so when Gojo was revealed in the Culling Game Arc.
This is the release date of Jujutsu Kaisen's next chapter.
When is the Jujutsu Kaisen Chapter 239 release date & time?
The anticipated release date of Jujutsu Kaisen Chapter 239 is Sunday, October 22, 2023. Following the previous chapter, the manga took a hiatus.
According to historical release trends, Jujutsu Kaisen Chapter 239 will be released in the US at:
8 AM PT
11 AM ET
It is expected to arrive in Japan on Monday, October 23, at 12 a.m. Japanese Standard Time.
Where to read the JJK Chapter 239 manga
On the official Viz Media website, Shueisha MangaPlus website, Shonen Jump+ app, and MangaPlus app, readers can access digital versions of Jujutsu Kaisen Chapter 239.
For $2.99 a month, fans can access Shonen Jump and read the entire manga series. They will also be able to read JJK and other Manga titles like Dragon Ball, One Piece, One Punch Man, Naruto, and My Hero Academia during a seven-day free trial.
Sukuna and Kashimo had an interesting conversation in JJK Chapter 238 during which the former started preaching about receiving acknowledgement and showing mercy. Kashimo returns to his current form during their conversation, indicating that Sukuna ought to have been satisfied.
He was baffled as to why Sukuna traveled to the present day. The latter then clarified that he did not need love. He just needed to take someone's life whenever he felt like it. It will be interesting to see where Akutami decides to take the narrative after their exchange.
A few chapters ago, the fight came to an end, and right after, Kashimo and Sukuna engaged in another fight. Fans anticipated that this fight would not last long, and Jujutsu Kaisen 238 proved to be the conclusion of exactly that. It's time for Yuji Itadori, the series' protagonist, to take the fight to the King of Curses. Fans are incredibly excited for JJK chapter 239 because it will focus on exactly that.
Higuruma and Yuji's Tag Team Work
Most fans anticipate Yuji to be the main attraction in Jujutsu Kaisen chapter 239, and for good reason. Even though it's probably going to be the case, Higuruma is definitely not to be disregarded. He's a very strong character, and his cursed technique, which he uses with his Domain Expansion, may come in handy in this situation. Sukuna is a villain who has committed numerous crimes, and with his amazing abilities, he can be brought to justice.
Should that materialize, supporters might be able to witness his weakness against Yuji. Fans should absolutely anticipate that Higuruma will get his big break before Yuji takes control of the match, at the very least. Because of this, the upcoming chapter will probably concentrate equally on these two competitors while also showcasing Sukuna's abilities.
Higuruma may begin by using his amazing technique, in which case Sukuna's supporters should anticipate some backward movement. Ultimately, in typical Gege fashion, fans will discover that Sukuna was not truly harmed, and Higuruma may then find himself in serious trouble.
In the meantime, given what just transpired, Yuji is likely to use anger as fuel for his power. Not only has Gojo died, but Megumi has become part of Sukuna. Yuji held great significance for these two characters, and they are now absent from his life. Fans should definitely expect him to advance his skill a few notches in JJK chapter 239, as this should be the catalyst he needs to progress to the next level.
Yuji's New Cursed Technique
Yuji Itadori did not possess a cursed technique from birth. He wasn't even able to perceive curses until a very late age. That does not, however, imply that Yuji is incapable of learning a cursed technique. Gojo has long since stated that he will eventually appropriate Sukuna's cursed technique for himself. As hinted at near the end of the previous chapter, it seems that the process for that to happen has already begun, and this power is now manifesting in him.
It was evident from a close inspection of Yuji's hand that he had sharp nails. These nails typically appeared when Sukuna used the Cleave and Dismantle techniques to take control of his body. It appears that Yuji may have regained access to his cursed technique because he can now manifest them even without Sukuna physically present in his body. It was already anticipated by fans that he would acquire these abilities at some point, and it might as well happen now.
Fans may be able to see a few pages where Yuji cuts Sukuna if he does acquire these abilities in Jujutsu Kaisen chapter 239. Since he is the technique's parent user, he won't be greatly impacted by these techniques, of course, but the opposite should also hold in that situation. Given that they both use the same technique, Yuji shouldn't be too affected by cutting techniques.
In essence, Yuji would be the only one left with the ability to battle Sukuna without having to worry about losing, much like he had an advantage over Mahito.
Start of Sukuna vs Yuji
In the upcoming chapter, readers can anticipate Yuji and Sukuna getting into a fight. Finally, fans might get to see a few pages of someone lamenting Gojo's death and Megumi's loss. The author made the rather strange choice to deny any characters any time to grieve these deaths. Even Shoko, one of Gojo's closest friends, did not show any emotion. Beyond one panel, Gojo's own students showed no reaction to the fans, and the story handled the whole thing horribly. Now that the author has the opportunity to save face, readers may be in for a wild ride, depending on how he responds to Yuji's emotional outburst in the upcoming chapters.
It is highly anticipated by fans that these two characters will engage in a fierce battle in the upcoming chapter. Although Sukuna was already shown to be underestimating Yuji in the previous chapter, the protagonist may receive a cursed technique and be driven by rage, which will put Sukuna on the defensive for the first time as Yuji ultimately realizes his full potential and advances to the next level.
Jujutsu Kaisen 239: Another Character Death
Another character may pass away in Jujutsu Kaisen chapter 239. Over the last few chapters, fans have witnessed a good number of them die. The fans were deeply shocked by the death of Gojo, who was the most important of them. Kashimo was a peculiar character because no one really gave a damn about him and he just appeared and disappeared from the story.
It might be Higuruma's time to pass away now. Fans shouldn't count on him to prevail over Sukuna or even make it through. This is the exact reason he might have a chance to shine against him in the upcoming chapter or the one after that before fading away forever. Jujutsu Kaisen chapter 239 offers a very good chance of another character dying next.
Ultimately, there is no way that the fight between Yuji and Sukuna can not be one-on-one, at least not for a good chunk of it. It remains to be seen what the other sorcerers will do, but for the time being, Yuji is on his own, and fans should watch him use his anger to further his sorcery skills and challenge Sukuna. The protagonist needs to move forward, and JJK 239 could be the perfect place to focus on that.
Jujutsu Kaisen Chapter 239 Release Date
You can read Jujutsu Kaisen at Viz Media. Fans can read the series for free on the Manga Plus app and Shonen Jump official websites. Jujutsu Kaisen chapter 239, the upcoming chapter in JJK, is scheduled to be released on October 22, 2023.