Kuwait's tallest building, Al Hamra Tower, celebrates its 10th anniversary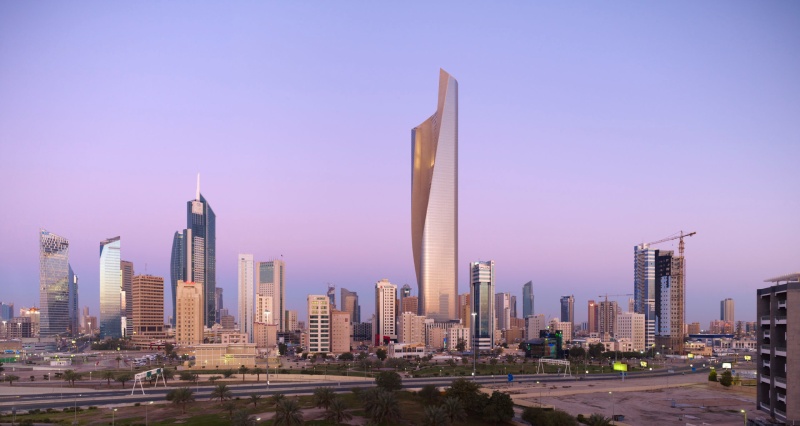 Al Hamra Business Tower marked its 10th anniversary on the 12th of December, 2012, a significant milestone in the development of this iconic building, which is widely regarded as an international symbol of Kuwait.
The tower was opened by the late Amir Sheikh Sabah Al Ahmad Al Sabah, the Crown Prince Sheikh Nawaf Al Ahmed Alsabah at the time, Prime Minister Sheikh Jaber Al Mubarek, and Head of Parliament Mr. Jasem Alkhurafi.
Al Hamra Tower, Kuwait's tallest building with 80 levels and a height of 413 meters, stands out for its distinctive design, which appears to fold in on itself. While the innovative design is captivating to watch, it also serves a structural and environmental purpose by significantly reducing heat gain on office floors.
The building's delicate glass veil, which reflects the peninsula's profile, gives the impression of a modern, delicate sculpture or encased figure. This form is transparent to the Gulf on the north, east, and west sides, and it is nearly opaque to the intense desert sun on the south.
Since its opening, the tower has won more than 12 international awards in a variety of categories, including the Council on Tall Buildings and Urban Habitat (CTBUH)'s "Best Tall Building 10 Year Award 2021 of Excellence."
Al Hamra Business Tower is now home to some of the largest and most valuable corporations, as well as a number of government agencies and diplomatic missions and offices around the world. Not to mention the shopping center, which is home to a number of high-end international brands that promote a premium lifestyle.
The tower attracts over 8000 employees every day, making it the most densely populated area in Kuwait. Other attractions include the sky lobbies, cinemas, food hall, and electric vehicle charging stations.