Living Up To Her Goal To Achieve Beyond The Limits, Lesley Carter Wants Her Son To Become The Youngest Kid To Travel All Seven Continents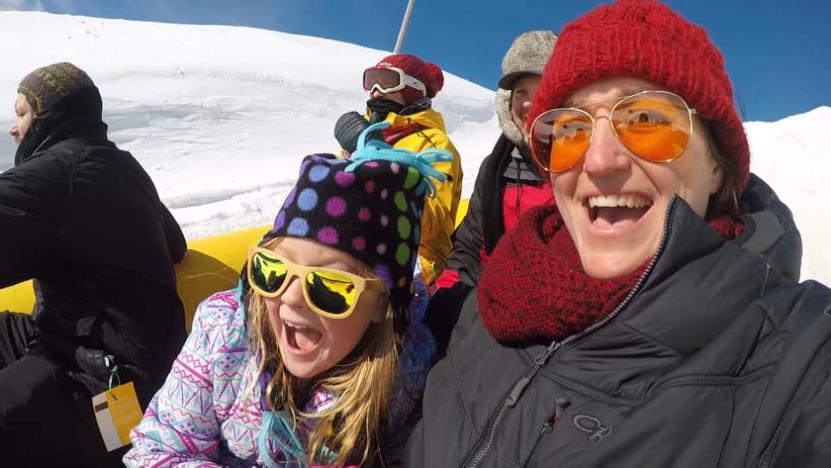 Lesley Carter is a proud owner of Bucket List Publications. Her wanderlust helps you find your true north-100 countries and every continent. Lesley is indubitably living up to her goal to achieve beyond the limits. Her passion is extreme traveling, and she has tried every bucket list adventure on her list, be it skydiving, paragliding, white-water rafting, piloting a biplane, helicopter, diving with sharks, and all the thrills.
Lesley explains how to achieve change and development both in your personal and professional turf. It is common for us to ask ourselves how to achieve goals and overcome our limits. The focus you make on your goals or your limits, without a doubt, is one of the factors that most conditions you in your life. Although it seems like a trivial fact, it is completely different if you focus first on what you want rather than on limits.
Lesley loves traveling with her husband, daughter, and son. Today, she lives her dreams to the fullest and now wants her son to become the youngest kid to travel all seven continents. Lesley exquisitely expresses her views on how she wants her kids to travel and live on the edge:
We travel the world together.
"Traveling with children makes us see the world with different eyes," says Lesley Carter.
There is a concept that is constantly sought at every stage of life, and that is the ability to grow. We find new skills and abilities in growth, such as joy, unique challenges, connection, and love. So, where do we find this concept of growth? In the only possible place: outside our comfort zone. The good news is that growth can take place anywhere. The good news is that it develops exponentially when we TRAVEL! And we will be happy to tell you how traveling helps you grow.
When the family grows, our way of traveling has to adapt to the rhythm of the little ones: the intense days of frenetic tourism and 12 hours of walking are over, we prepare the luggage more carefully and plan the itineraries more.
Lesley shares: "My children have shown us another way of traveling. They enjoy discovering new places, and they are amazed and excited by the simplest things- knowing a place through the eyes of our children is the most beautiful experience. So I encourage you to keep traveling with them.
Why travel young
Lesley Carter recounts the adventures she has experienced as a family on her travels worldwide. Bucket List Publications features many practical tips, categories by continents, and a section with recommendations and reflections on the peculiarities of traveling with children on trains, planes, and other means of transport.
"Don't wait for them to grow up. You can experience the world with them and develop a deeper connection with them during the process." Lesley encourages all parents to travel the world as a family.
The quintessential family travel blog.
We must respect divergence and celebrate diversity. Helping our children appreciate diverse cultures is one of the most wonderful parts of traveling with kids.
Experience the world!
When we travel to a new place for us, our environment becomes unpredictable, our critical thinking and problem-solving skills are tested, and we begin to grow.
Lesley Carter, a writer, and editor, perfectly describes the benefit of being out of your comfort zone. She says, "If you want to grow-be ahead of your competition, which means a temporary loss of security. So every time you don't know what you're doing, you should know that you're growing up".
Traveling with kids helps you grow. It takes you away from what is familiar to you, which leaves room for personal growth and development.
Why make Max the youngest child to visit every continent? 
Lesley wants to give her children every opportunity in life and share her love of traveling with them. By making her son, Max, the youngest child visit every continent, he will have a step up in the travel industry. He will make history and carry that with him throughout his life.
How will she make it happen?
The first continent, North America, is covered because it's where they call home. Max has already been to USA, Canada, Mexico, Dominican Republic, Bahamas, and Haiti.
The second continent on their list is Asia. With plans to visit Dubai in April, that will be complete before the summer. Atlantis, The Palm and Four Seasons Resort Dubai at Jumeirah Beach will provide them a starting point to explore Dubai. There is a direct flight from Dallas, Texas to Dubai with Emirates so a 12-hour flight will bring them to their destination with minimal effort. The time-change will be difficult, but manageable.
The third continent planned is Africa, which will be crossed off the list in June with a visit to Uganda. Africa Adventure Safaris will take them on a 5-day safari with highlights including Queen Elizabeth National Park, Lake Mburo National Park, and Entebbe.
Fourth on the list is Fiji to explore the Oceania portion of the journey. Then, Europe will be the fifth continent. Both continents will be completed before the end of summer, 2022. That just leaves South America and Antarctica. South America is easy to reach with direct flights from Dallas on a daily basis. Antarctica will be the most difficult continent to reach, especially since most cruises only accept children ages 8 and above.
Lesley plans to partner with a cruise line in December, 2023 to arrive on the final continent before Max is four years old. It's a lofty goal, but she believes that the more unrealistic you are with your dreams and goals, the more you are able to achieve.
How traveling changes your life?
"Your travels will shape the person you will become," says Lesley Carter.
It builds intercultural capacity.
Travel develops respectful and effective communication between people from different cultures.
It changes the way we communicate as incredibly diverse nations.
It is humbling when you travel to a new country with a new language.
It shows the difficulty of learning a new language and helps to consider how hard so many people have worked to learn new languages.
Deepen your sense of empathy
Becoming a foreigner in another country is a feeling that one never forgets. It's easy to get lost in simple daily routines, like shopping for groceries, transportation, or finding a bathroom. It's easy to make mistakes. The golden rule has never been clearer: treat others as you wish to be treated. Help, show compassion and offer kindness when strangers seem confused. Kind gestures can brighten someone's day, whether they're a traveler or a confused native.
Traveling combats stereotypes in two ways. It opposes the false travel stereotypes that are being propagated:
That traveling is unsafe. There is more theft.
You will get sick from food.
The list goes on and on.
Traveling draws attention to the irrational fears that exist and sheds light on the beauty of other countries. Second, traveling combats other countries' stereotypes about tourists: that they are loud, rude, entitled, prejudiced, rich, arrogant, etc. Travelers have the opportunity to show genuine curiosity and appreciation for new cultures. All these types of situations can help you grow personally when traveling.
You will be exposed to surroundings and ways of life that are very different from your home.
Traveling puts you in a vulnerable state with exposure to new stories, cultures, ideas, and people. This is one way that shows how much traveling can help you grow. Traveling also takes you out of your sheltered bubble, often surrounded by like-minded friends and family.
Talking about your beliefs with people from different backgrounds creates interesting and challenging conversations that allow critical thinking and questioning.
Do you want to establish lasting bonds? TRAVEL
"Traveling awakens a feeling of openness and friendship," Lesley. It also provides a milieu of strong bonds.
How does Lesley achieve her goals?
Without bucket list goals, there would be no real change. Every year, Lesley sets the most unrealistic travel goals and then she finds ways to make them a reality. Nothing is impossible if you set your mind to it.
"Personal or professional development is not a task of reading books or attending talks. The limits exist, and we have to analyze ourselves. The big change is when you look at your GOALS before your limits. If you look at your limits first, your guidance and options will be up to you. Can I master the art of fulfillment? It is complex, but the experience encourages me to leap", concludes Lesley Carter.
Ready or not – go and conquer your adventure!
So how does travel help you grow? It provides unpredictable challenges that you will either meet or fail, but you will learn immensely from both. You will take everything that you experienced while traveling, and you will be surprised how all that will contribute to your future. Traveling will affect you for the rest of your life positively, and sometimes, the simplest and smallest experiences are the most significant. That's why Lesley Carter is on a mission to accompany her youngest kid to travel all seven continents.