Hawaiian Airlines will cooperate with SpaceX's Starlink satellite service to provide free in-flight WiFi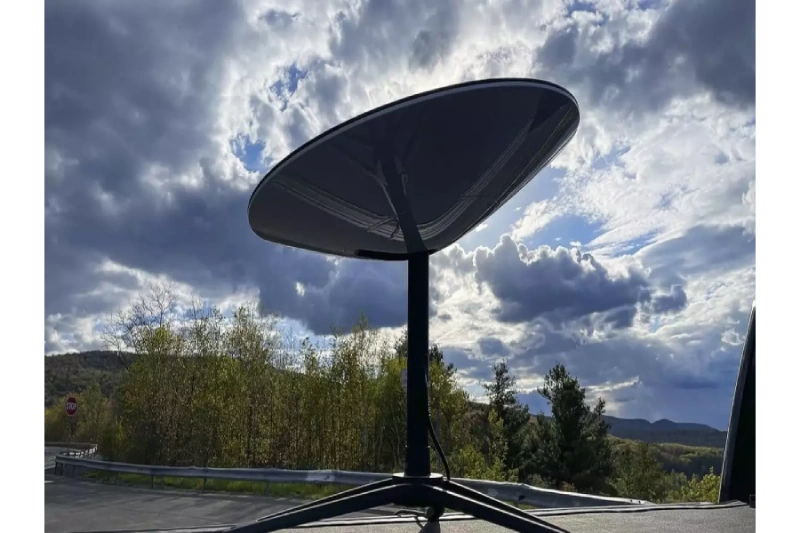 Hawaiian Airlines will soon be providing free Wi-Fi on flights courtesy of SpaceX's Starlink, becoming the first major airline to make a deal with Elon Musk's space organization. Hawaiian Airlines will cooperate with SpaceX's Starlink satellite service to give free WiFi to each of its transoceanic flyers, including travelers journeying from the islands to the mainland U.S., Asia, and the Oceania region.
SpaceX will begin providing wireless internet on Hawaiian Airlines flights from the Starlink satellite network as soon as the next year, which it intends to propose to travelers for free. The deal denotes the first for Elon Musk's space organization with a significant aircraft. Starlink is SpaceX's network of around 2,000 satellites in low Earth orbit, intended to deliver high-speed internet to shoppers and businesses in any place in the world.
System installations are expected to start one year from now, Hawaiian said, with the connectivity to be presented on Hawaiian's Airbus A330, A321, and Boeing 787-9 airplanes. The carrier doesn't plan to install WiFi on its fleet of Boeing 717 planes, which it uses for inter-island service. The move will be a major one for Hawaiian, which right now doesn't offer WiFi on an airplane, making it a laggard by the principles of full-service U.S. and international carriers.
Under the terms of the agreement, Hawaiian Airlines will become the first major airline to offer Starlink's high-speed, low-latency broadband internet service to its visitors free of charge onboard flights between the islands and the mainland United States, Asia, and Oceania.
"When we launch with Starlink, we will have the best connectivity experience available in the air," Hawaiian CEO Peter Ingram said in a statement Monday. "We waited until technology caught up with our high standards for the guest experience, but it will be worth the wait. Our guests can look forward to fast, seamless, and free Wi-Fi to complement our award-winning onboard Hawaiian hospitality."
Hawaiian is the second U.S. mainline carrier to declare that it will offer free WiFi across much of its network, joining JetBlue, which has long offered the service.
Hawaiian Airlines offers around 130 daily flights within the Hawaiian Islands, daily nonstop flights between Hawaii and 16 U.S. gateway cities, and services associated with Honolulu and American Samoa, Australia, Japan, New Zealand, South Korea, and Tahiti.
Hawaii's biggest and longest-serving carrier will prepare its Airbus A330 and A321neo airplane, as well as an incoming fleet of Boeing 787-9s, with Starlink's service. Hawaiian doesn't right now intend to send Starlink on Boeing 717 aircraft that work short flights between the Hawaiian Islands.
Hawaiian and Starlink are in the initial stages of implementation and hope to start installing the service on a select airplanes next year.
SpaceX is beginning to make deals with airlines to give its Starlink satellite internet to sky travelers everywhere. It declared a deal on Monday with Hawaiian Airlines, and last week made a comparative deal with charter carrier JSX. None of the elaborate parties shared the financial details of their deals, yet the two airlines said they're wanting to offer the in-flight Wi-Fi for free, which is both a semi-miraculous fact and an indication of trust that free Wi-Fi is becoming the industry standard. Delta in the interim, affirmed last week that it's running "exploratory" Starlink tests.
Hawaiian's plan for complimentary connectivity with Starlink could increment strain on adversaries to offer free Wi-Fi for travelers, something presently accessible on JetBlue Airways. For example, Delta Air Lines CEO Ed Bastian said in 2018 that the airline wants to offer complimentary, high-speed Wi-Fi on its planes. It was tested on certain flights in 2019.
The installation of Starlink terminals, otherwise called antennas, is expected to begin one year from now on Hawaiian planes. The airline still can't seem to start testing Starlink on an airplane, and there are "certification issues that need to be worked through before we're ready to operate the product," Avi Mannis, Hawaiian's chief marketing and communications officer said in an interview. "But we're confident that there's a path forward for that."
Hawaiian will report its quarterly earnings results after the bell on Tuesday. The financial terms of the deal were not unveiled.
The deal comes as SpaceX has looked for regulatory approval from the Federal Communications Commission to test Starlink on airplanes and shipping vessels and had previously tested the internet network on a handful of Gulfstream jets, as well as military aircraft.
SpaceX founder Elon Musk prodded in October that the aerospace organization was in consultation with airlines about using Starlink.
The airline declined to reveal the financial details of its deal with SpaceX.
Hawaiian doesn't as of now offer inflight Wi-Fi and has an extensive network of flights over the Pacific Ocean, serving the mainland U.S., Japan, Australia, and New Zealand, among different destinations, from Hawaii. It intends to offer Starlink connectivity on its flights out of its home state to cities all through the mainland U.S. and to its international destinations.
In-flight Wi-Fi has been on the minds of Team Starlink for some time. Jonathan Hofeller, SpaceX's VP of Starlink and commercial sales, said last year that the organization was building an aviation product, and was "in talks with several of the airlines." It's a natural place for the organization to concentrate, truly: in-flight Wi-Fi is a billion-dollar market and developing fast, and it's at present dominated by Viasat and Gogo, two products no one would blame for being fast-moving innovators. Also, perhaps best for Starlink, there are none of those bothersome trees or buildings in the sky to disrupt the general flow! Over the long run, there may be lots of competition here, including from organizations like OneWeb and Amazon, which are additionally making large wagers on satellite internet. However, for now, the industry seems ready for the interruption.
Over the last couple of years, the organization has been busy launching additional satellites, looking for FCC approvals, and working out the ability to allow satellites to converse with one another without expecting to speak with ground stations.
Whenever everything meets up, Hofeller guaranteed it'll be an immense move forward in the speed and quality of in-flight Wi-Fi. (Starlink at present promises downloads speeds up to 200Mb/s for its earthbound users.) Now, assuming you've at any point paid extra for "fast" internet on a flight, you know exactly how loosely that term gets used, so don't let your hopes up too high. There's still a great deal to work out, both on the regulatory and product fronts, and, surprisingly, Starlink's existing products have bugs and issues. Yet, the current in-flight bar is most certainly low to the point of making it simple for Starlink (or another person) to improve.
Airlines appear to be similarly as energetic about the thought. Executives have noted more than once over the last few years that traveler assumptions are far in front of the accessible in-flight technology, and things have gradually started to improve. Delta opened up a bandwidth to permit users to message all through a flight, for example, and JetBlue made in-flight Wi-Fi free for its travelers. Yet, there's as yet nothing out there that even verges on equaling your home internet, or even what you'd get at a crowded coffee shop. SpaceX figures Starlink can change that, and various airlines appear to be available to the idea.
Concerning when this is coming to your aisle seat? JSX said it's as of now testing Starlink service and plans to carry it out to its fleet later this year, while Hawaiian Airlines said that it's "in the initial stages of implementation and expect[s] to begin installing the product on select aircraft next year." That's a vague timeline, and Elon Musk-owned organizations are not exactly famous for hitting their deadlines. However, it's working out. Also, these are not prone to be the last airlines that begin searching for a spot to mount a Starlink antenna.
Notwithstanding the partnership with Hawaiian Airlines, SpaceX has arrived at a deal with semi-private air carrier JSX to equip up to 100 airplanes with Starlink's service, which will be proposed to all JSX clients at no charge later this year. Delta Air Lines CEO Ed Bastian likewise told the Wall Street Journal that the organization is as of now testing Starlink for its flights.
Starlink, which is accessible in a handful of countries, charges $110 per month for standard service and $500 per month for premium service. The Starlink kit costs $549 for deposit holders and $599 for new orders.
More than 2,000 Starlink satellites have been launched into orbit by SpaceX to date. The constellation is presently approved for a total of 4,408 satellites, all in orbits at around 550 kilometers (around 342 miles).
Hawaiian Air and Starlink are in the initial stages of implementation. They hope to start on a select airplane one year from now, including the Airbus A330 and A321neo, as well as an incoming fleet of Boeing 797-9s.
Last week, semi-private charter flights supplier JSX said it arrived at a deal for Starlink Wi-fi, the first carrier to do as such. SpaceX at present has around 250,000 total Starlink subscribers, which incorporates the two consumers and enterprise customers. Users pay $110 every month for the standard service and $500 per month for the premium tier, notwithstanding hardware fees.
Hawaiian is scheduled to report quarterly results after the market closes on Tuesday.