SpaceX and NASA Launched Four Astronauts Crew Mission from 4 Countries to the International Space Station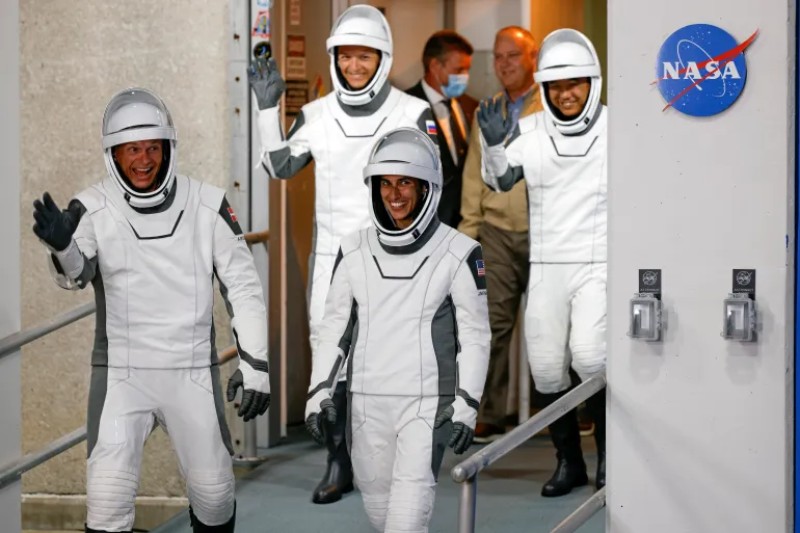 Launching on a SpaceX rocket toward the International Space Station, four astronauts from four different countries and space organizations around the world began a mission that will last for more than six months.
On the Crew-7 mission, the crew is traveling in the SpaceX Crew Dragon Endurance capsule. At 3:27 a.m. ET on Saturday, the spacecraft was launched from NASA's Kennedy Space Center in Florida atop a SpaceX Falcon 9 rocket.
The four astronauts on the mission are Russian cosmonaut Konstantin Borisov of Roscosmos, Danish astronaut Andreas Mogensen of the European Space Agency, Japanese astronaut Satoshi Furukawa of the Japan Aerospace Exploration Agency, and NASA's Jasmin Moghbeli, who is serving as mission commander.
When the Crew Dragon spacecraft entered orbit, it disengaged from the Falcon 9 rocket and started traveling through orbit on its own. The spacecraft will cautiously navigate toward the space station for more than 24 hours as it orbits the planet at a height of 420 kilometers (220 nautical miles).
After launch, Moghbeli sent a message to SpaceX mission control aboard the Crew Dragon capsule, saying, "Space travel is difficult, but you make it look easy."
"We're a united team with a common mission," she added. "Go Crew-7. Awesome ride."
Around 8:39 a.m. ET on Sunday, the crew is anticipated to dock with the space station.
Moghbeli, Mogensen, Furukawa, and Borisov will join the other seven astronauts in the orbiting laboratory once they board.
The SpaceX Crew-6 astronauts, who have been aboard the space station since March, will be replaced by the Crew-7 astronauts for around five days.
About this mission
As part of the agency's commercial crew program, which began with SpaceX's first crewed trip in 2020, this mission is the eighth flight carried out by NASA and SpaceX.
The astronauts on Crew-7 make up the most internationally diverse SpaceX crew to date.
"We are extremely proud — and I know I personally am humbled — to be a member of this incredible crew, where if you look at our four patches you'll see a different nation's flag on each one," Moghbeli said during a news conference conducted just after the crew arrived this past Sunday in Florida. The mission commander was referring to the flag patches adorning the left shoulder of the astronauts' suits. "We hope this represents what we can accomplish when we work together in unity and cooperate together. And we think this really is what the International Space Station is all about."
The crew also collaborated to create the mission's official patch, which features an image of a dragon nestled above the Earth.
The red, white, and blue stripes on the dragon's tail, according to Moghbeli, represent the colors found in the flags of the four nations participating in the Crew-7 mission. "We wanted it to represent that everything we do on this mission, we hope ultimately benefits our beautiful home planet and those on it," he added.
The Crew-7 astronauts will examine a variety of experiments throughout their approximately 190-day stay on the space station. The study will look into the possible danger of bacterial and fungal spread from human-driven space missions. If the microorganisms can be ejected from the space station's vents and spat into the vacuum of space, the crew will examine that possibility.
By monitoring astronauts' brain waves as they fall asleep, another ESA experiment will look into how sleeping in microgravity varies from sleeping on Earth. The creation of biofilms in wastewater aboard the space station will be the subject of yet another experiment, which may hold the key to improving how water is recycled for drinking and hygiene in space. (Yes, astronauts have long used recycled urine and sweat to drink and shower aboard the space station.)
Life-changing perspective
Iranian parents gave birth to Commander Moghbeli in Bad Nauheim, Germany, not far from Frankfurt, but she now calls Baldwin, New York, on Long Island, home.
She obtained a bachelor's degree in aeronautical engineering from the Massachusetts Institute of Technology after completing high school, followed by a master's degree in the same field from the Naval Postgraduate School in Monterey, California.
Moghbeli also has a background in the military, having flown for the Marine Corps as a test pilot for more than 150 combat missions and 2,000 hours of flight time.
Her maiden trip to space will be on the Crew-7 mission; she was selected to join NASA's astronaut corps in 2017.
"This is something I've wanted to do for as long as I can remember," Moghbeli said during a July 25 news conference. "One of the things I'm most excited about is looking back at our beautiful planet. Everyone I've talked to who has flown already has said that was kind of a life-changing perspective."
Russia's role
As a result of a seat-swapping agreement signed between NASA and Roscosmos in 2022, Borisov became the third cosmonaut of Russia's space agency, Roscosmos, to travel on a US-made spacecraft.
NASA and Roscosmos have a long history of sharing trips to the space station, and Roscosmos even served as the only carrier after NASA ended its space shuttle program in 2011. However, amid escalated tensions between the United States and Russia over the ongoing conflict in Ukraine, this most recent rideshare agreement loomed big over NASA last year.
NASA has frequently said that the continuous cooperation between the governments in space has not been hampered by tensions on Earth.
Borisov is undertaking his first space flight, similar to Moghbeli.
"I'm very excited, really. I'm honored to be a part of the international crew," he said Sunday. "Experienced astronauts and cosmonauts, they say that when you go to the ISS and you look at the planet, you see that there are no borders. And really, I want to convey that feeling and that emotion."
The only spacecraft now able to transport astronauts to and from the space station are SpaceX's Crew Dragon and Russia's Soyuz, but NASA plans to add another supplier in the coming months. After years of delays, Boeing's Starliner, which, like SpaceX, is covered by NASA's commercial crew contracting program, is anticipated to start operations within the next year.
Rounding out the crew
Mogensen, who is piloting the Crew-7 mission, is a native of Copenhagen. He graduated from Copenhagen International School with a bachelor's degree before attending Imperial College London in the UK to receive a master's in aeronautical engineering. He also graduated from the University of Texas in Austin with a doctorate in aerospace engineering.
He studied navigation and control for spacecraft landing on the moon at the Surrey Space Centre in the UK before being selected by ESA in 2009 for astronaut training.
His first trip into orbit was in 2015 on a 10-day Russian Soyuz mission to the space station. This is his second flight into space.
"It's hard to describe what an incredible place the International Space Station is," Mogensen said at a Sunday news conference. "I didn't realize it until shortly before docking on my first mission when I looked out the windows … and I could see the gigantic solar arrays stretching out in space next to me.
"I realized just what a unique and incredible laboratory that we — humanity — has built in low-Earth orbit over the past 20, 25 years."
Furukawa, the only other astronaut from Crew-7 with prior spaceflight experience, was born in Kanagawa, a city in southern Japan. Before beginning his career as a clinical surgeon, he obtained his medical degree and doctorate in medical science from the University of Tokyo.
He was selected as a JAXA astronaut in 1999 and launched on NASA's final space shuttle flight, STS-135, in 2011 to finish his first mission to the space station, a 165-day stay.
Furukawa said he is eager to return to the microgravity environment of the space station and engage in scientific investigations, such as studies that could help advance the creation of new medicines and initiatives that might guide how humans can one day explore the moon.
The SpaceX Crew-6 astronauts will tell the Crew-7 astronauts farewell after they arrive at the space station because they will depart in the upcoming days onboard their spaceship, the Crew Dragon Endeavour.
Aboard the Russian Soyuz MS-24 capsule, astronaut Loral O'Hara of NASA and cosmonauts Oleg Kononenko and Nikolai Chub will join the crew of the space station in mid-September.