Makeup to photography – A peek into the prodigious life of Angel Samples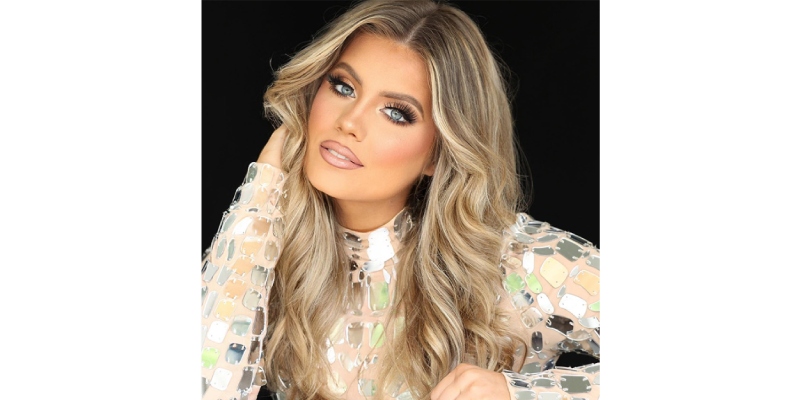 There is no denying that most women want to look presentable when stepping out of the house. Then there are those who prefer looking picture-perfect no matter where they go. Hence, they keep on experimenting with makeup and trying out the latest beauty trends. In fact, beauty-conscious women want to learn makeup techniques that not only complement their skin tone but also enhance their facial features. Now more than ever, social media platforms have become an ever-growing encyclopedia that is all about makeup, with influencers constantly coming up with unique and fun makeup looks, product reviews and much more.
When we see pictures of our favorite celebs or content creators all dolled up and looking exquisite, we obsess over their stunning makeup and overall style. But what we tend to overlook is the way they have been photographed. How they are captured through the camera's lens is integral; using the right angle, the correct light and managing the background that gels well with the look, is what photography is all about. In short, photography is a combination of many things and, most importantly, it is the photographer's skill and aesthetic sense that results in clicking the perfect image.
One such talented artist is Angel Samples, who has a knack for both makeup and photography. Born in Fort Lauderdale and raised in South Carolina, Angel is a hair and makeup expert with a passion for photography. She came from humble beginnings and was raised by a single mom with five siblings. Angel did not have the means to pursue her dreams until she met the love of her life and now husband. With his love and support, she was able to join a cosmetology school. This was followed by doing hair and makeup for weddings, and since then, there has been no looking back for Angel.
In 2011, Angel Samples discovered that she liked clicking photographs, and after struggling for a year, she found her true calling – beauty pageants. It was then that she decided to open her first beauty studio, offering hair, makeup and photography for contestants who wanted to take part in beauty pageants. And that's when her career took off. However, it was not smooth sailing for her. Angel was preparing for her maternity leave, and she had to downsize to a smaller studio. According to her, she was forced out of her lease and moved to a smaller studio.
So, she took a slow year to focus on being a new mom along with managing her smaller space.
"In this smaller space is where I was able to focus more on my makeup line and save to build my own studio," she said, adding that finally, in 2020, she started building her own studio. "I am beyond excited to have my own space that I personally designed. I am fully focused on growing my own cosmetic line that I started years ago but was suffering because of my personal life. Besides, I plan to offer high-end headshot photography and event hair and makeup to my clients as well," she shared.
Being trained in makeup with Mario Dedivanovic and Kim Kardashian in Pasadena, CA, Angel has been the artist behind a number of girls who competed in the local, state, national, and international pageants and interestingly, they have won the titles as well. Moreover, she has done photography for aspiring models who used those images in their portfolios, submitted them to agencies, and later got signed by them.
Angel Samples has done the hair and makeup of some famous names for their important moments, including the United States Senator Lindsey Graham, Madison Lecroy and Leva Bonaparte from Southern Charm and TikTok celebrity Kayla Patterson. Apart from these, Angel Samples has weaved her magic on Holly Julian, who won the second season of Bachelor Pad, Naima Mora and Yoanna House, winners of different seasons of America's Top Model, Sarah Hamrick, who won the Miss SC Teen and the list goes on. As for photography, she has done the makeup and photo shoot for Bachelor star Jordan Kimball and his wife Christina, Paul Jolley from American Idol, and Noah Lis from The Voice, amongst others.
This dynamic young lady firmly believes that everyone should feel good about themselves. "The thing I love most about my job is the ability to bring out the confidence in my clients after doing their hair and/or makeup. When I am almost done with their look, I can visibly see a boost of confidence. That warms my heart because I know everyone wants to feel and look good. When someone looks their best, they are more likely to feel their best," she explained. "To know that I have a job that can bring joy and confidence to someone and make them feel good about themselves is extremely rewarding for me," Angel added.
Success didn't come easy to Angel, and she had to work hard to carve a niche for herself in this cutthroat industry. The idea is to stay focused on your goals and start small to perfect your craft while allowing yourself to grow slowly without getting discouraged. Don't give up when things aren't moving as quickly and effortlessly as you would want them to. Most success stories didn't happen overnight; it involved a constant process of learning and growing.
Angel Samples is someone who, despite having limited resources, had a burning desire to make her life better. She worked hard to achieve the goals of creating a family of her own, becoming an entrepreneur as well as a renowned photographer and hair and makeup artist. A wife and mother who struggled to get pregnant, Angel did not lose hope and is now a proud mom to a beautiful 4-year-old daughter. Though she faced many setbacks on her journey to becoming an entrepreneur, she never gave up on her dream and kept moving forward. All of this tells us that Angel Samples is a fighter and a winner, and that's exactly what she urges aspiring hair and makeup artists to do as well. The key is to never give up and continue working toward achieving your goals, and sooner or later, you will get noticed!