Martín Chambi: Google celebrates the first major indigenous Latin American photographer's 129th birthday with slideshow Doodle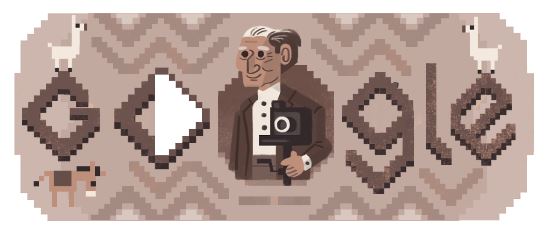 Google slideshow Doodle celebrates the 129th birthday of Peruvian photographer Martín Chambi, one of the first major indigenous Latin American photographers, on November 5, 2020.
Who was Martín Chambi?
Martín Jerónimo Chambi Jiménez was born on November 5, 1891, into an Indigenous Quechua-speaking laborer family in the town of Coaza in the southern Peruvian Andes, one of the poorest regions of Peru, toward the finish of the 19th-century.
Martín Chambi fell in love with photography as a youngster and soon moved to the city of Arequipa to seek after the craft. He started his work as a photographer as a student to Max T. Vargas in Arequipa, Peru.
Martín Chambi moved to the city of Arequipa to seek after the craft. He photographed the newfound citadel of Machu Picchu in the year 1917, and his scenes assisted with touching off the site's worldwide reputation.
Martín Chambi produced a variety of works over his career as a photographer. He took a few snaps of both rich and first-class citizenry including the indigenous individuals. He additionally took numerous self-pictures.
Martín Chambi was cited in a magazine interview in 1936 saying, "in my archive, I have more than two hundred photographs of diverse aspects of the Quechua culture."
Martín Chambi traveled to Chile to display some of his artworks. He used his artistic abilities to permit the crowd to see how the photographer organized the indigenous result that identifies with the Peruvians and the Chileans.
The photographer figures out how to redevelop the process through his artwork, letting the watchers and art pundits comprehend these kinds of political issues that worry between the Chileans and the Peruvians.
Martín Chambi passed on September 13, 1973.
Perceived for the significant historic and ethnic documentary value of his photos, Martín Chambi was a productive picture photographer in the towns and countryside of the Peruvian Andes.
As well as being the leading picture photographer in Cuzco, Martín Chambi made many landscape photos, which he sold for the most part as postcards, a format he pioneered in Peru.
A genuine innovator, Martín Chambi is likewise attributed as the first person to publish a photographic postcard in Peru. His photography experienced a flood in international exposure in the late '70s, prompting an after death solo exhibition at the Museum of Modern Art in New York in 1979.
In 1979, New York's MOMA held a Martín Chambi review, which later went to different locations and propelled other international expositions of his work.