Meet Grandmaster Shifuji Shaurya Bhardwaj, The Inventor of the World's Deadliest Counter-Terrorism Training – "Mitti System"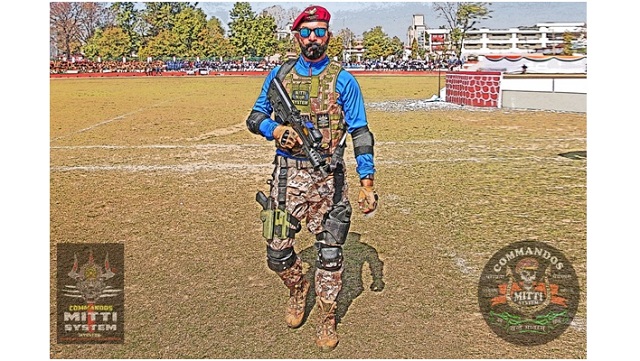 Grandmaster Shifuji is the Inventor of the world's most advanced specialized Counter-Insurgency, Counter-Terrorism, Armed Urban Warfare Training curriculum known as "MITTI SYSTEM" This system is considered the most modern unconventional customization based program for the Elite Special Forces and Specialised Operations Units.
Legendary Grandmaster Shifuji Shaurya Bhardwaj is acknowledged as the World's Best Commandos Mentor, Inventor of the Mitti System, the first-ever Indian swadeshi customized counter-terrorism urban warfare and counter-insurgency training methodology. Mitti system is also considered the world's most advanced and most modern counter-terrorism training system. Grandmaster Shifuji Shaurya Bhardwaj owns the Trademark and Word Mark of Mitti System, which legally allows him to use it exclusively in the world. These Trademarks and wordmarks are registered under the Trademark Act 1999.
Grandmaster Shifuji's Mitti System is a completely "Free of Cost" mentoring services program exclusively for the Indian Armed forces and Indian Paramilitary Forces. Has a vast following that believes in the Indian Armed Forces and apolitical patriotism. Patriots, Spcially respect him because of his Bold attitude, Extreme Fitness, and Yes Because He NEVER shares anything online related to his Freelance Commandos Training, Commandos Mentoring services for his branding purpose. Undoubtedly, Grandmaster Shifuji is one of the World's Top 2 Living Legends, The Deadliest and The most professional Commandos Mentors in the Field of Deadliest Armed Counter-Terrorism & Lethal Counter-Insurgency. The other one is the Founder & CEO of Caliber 3, A serving Colonel Sharon Gat from Israel. He is an IDF Veteran and senior chief instructor of Israeli Special Forces and IDF.
Grandmaster Shifuji Shaurya Bhardwaj, popularly known as Legendary Master Jee, Acknowledged As "The World's Best Commandos Mentor" is a pioneer in the Elite Commandos mentoring and extreme fitness Mitti boot camps industry. Grandmaster Shifuji is the only foreign citizen and first-ever Indian citizen to have completed the graduation certificate and Ph.D. certificate from ISRAEL in the most lethal counter-insurgency, counter-terrorism, and wholly equipped urban combat. He is also the topmost celebrity life coach, an actor, action choreographer, freelance commandos mentor, and chief action designer. He is the Founder of "Mission Prahar", founded in 1999 to educate, train and empower women with his own Invented Mitti Martial Art's extreme self-defense survival tactics across rural India. He has trained more than 40 lakh women free of cost.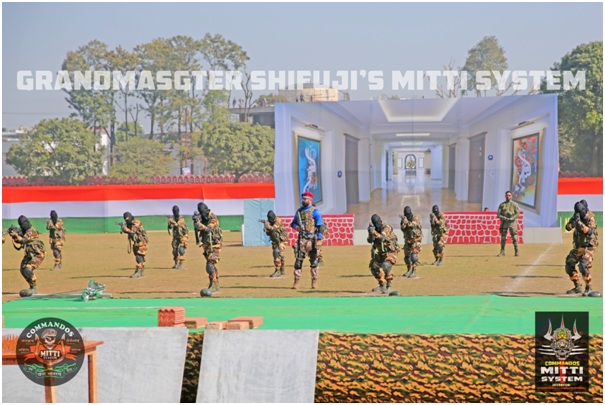 Grandmaster Shifuji Shaurya Bhardwaj started Mission Prahar from Assam on the 17th October 1999 and aimed to train the rural women community in the specialized designed training system known as "Master Shifuji's Mission Prahar Training System." Mission prahar endeavors to build character, courage, and increase confidence in a woman and train her sufficiently to confront any nature of the assault against her dignity and self-esteem. Mission Prahar Training program uses a robust reality-based techniques process that makes a woman defend herself in any unforeseen situation. Some methods incorporate extreme survival self-defense techniques through accessories like Pen, Hair-Clips, Books, Nail Cutters, ATM, ID cards, Jooda Stick, Cell Phone, and Handbags. This simple training educates and trains women in sensible, practical street survival tactics, in-house protection skills, self-discipline, self-awareness, and self-defense, thereby empowering women across our nation. Mission Prahar steered by Grandmaster Shifuji, Managing Trustee of Shifuji's Mission Prahar Education and Training Trust with Trustee Mr. Purushothama Sampangi (An IT and IT Cyber Security Veteran) and Swarnim Aarthie Aarti Tiwari Shaurya Bhardwaj.
Master Shifuji is well known for his solution maker Image, who always provides the most realistic solutions rather than crying about the Problems. He quotes that the rape number can quickly reduce if reality-based Survival Tactics and raw street fight-based protection skills are made compulsory for all the girls across Schools and Colleges in India. "People generally accuse the Government, Law, and Police but how many wishes to do anything for their motherland (Bharat Maa)".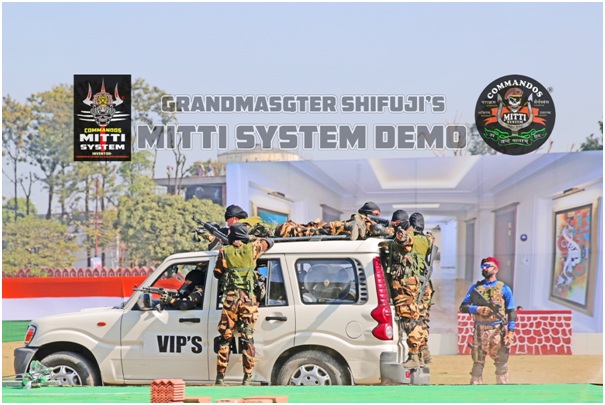 Besides this, Grandmaster Shifuji Shaurya Bhardwaj is the Founder and chief managing director at Shifuji's Advanced Security Solutions 9 "SASS9". He provided Mitti System's mentoring services to almost all Topmost specialized Elite Special Forces and Counter-Terrorist Units of the Armed Forces since 1997. As an actor, he has starred in 'Baaghi' 'Baaghi 2', Baaghi 3. 
As an action consultant, action designer he has worked in many other blockbuster action films. He is well known for being the Mentor, Life Coach, and Master of Tiger Shroff, Ahan Shetty, and Subhan Khan Nadiadwala. 
As an action consultant and action designer, He has worked with Warda Khan S Nadiadwala, Ajay Devgan, John Abraham, Krishika Sunil Lulla, Shraddha Kapoor, Shantanu Yadav, VidyutJamwal, Javed Jaffrey, Nora Fatehi, Lisa Ray, SudheerBabu, Varinder Singh Ghuman.
As a Mitti Martial arts, MITTI HINIT Coach Mentor he has trained prominent personalities like Itzikcohen Israeli Veteran Actor, Filmmaker and Producer (well known for his Character in FAUDA as Captain Gabi Ayub), KajolDevgan, Rohit Shetty, Athiya Shetty, RaghuveerHansrajAhir, Amit Thackeray, AaranChaudhary, Vaishnav SK Shetty, LamhaMehra, Sarika Shetty (Vice President, BMW), NysaDevgan, SufyanNadiadwala, Arhan Chaudhary, AniruddhPratap Singh (muscle factory), Major Rubina Kaur Keer, Abhinav Shukla, Ali QuliMirza, AadilChahal, RudraBarot, Arnav Lulla, Mantra Barot, Raja Tiwari, Mayra Jasani, Dr. Raksha Tiwari, Laddu Yadav, Shiv Jasani, DeekshaShaurya Bhardwaj, Prashant Saindane, AmanInu Tiwari, Pal Mehra, RajveerPratapShaurya Bhardwaj, Harsh Cheenu Tiwari, Atiksha Bhardwaj, Babulal Mistry, Krishna Murti Tiwari.
Grand Master Shifuji's recent big project is Mission Prachand Bharat Shaurya company with India's most distinguished surgeon Dr. AbhijeetDeshmukh. Mission Prachand Bharat Aims to provide a 50 Million Employment-based employable skills training program to PCC verified Indian Youth. 
His other notable missions are Mission Meri Mitti, Mission Prachand Bharat Shaurya, Mission Compulsory Military Training, Mission Muzaffarabad, Mission ShahadatSamman, Mission Jai Hind Bro, Mission Bharat Math, Mission Vedic Military School, Mission Mitti Boot Camp. Master Shifuji's Mitti System and Israeli's Counter-Terrorism training buddy is Major Eitan Cohan, A SnrMost Commando Instructor of Israeli Special Forces and IDF.