Mr. George Pelgrim donates new Toyota bus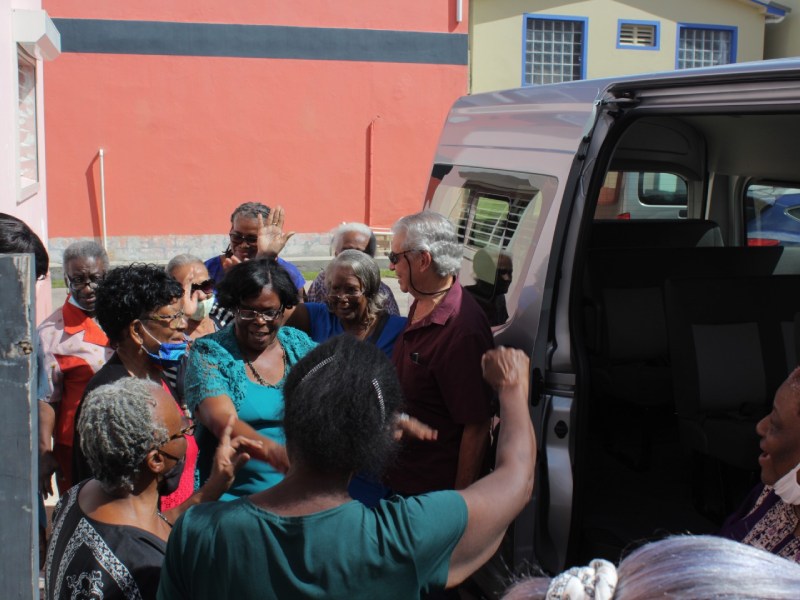 Philipsburg – The Home Away from Home Taking Care of the Golden age is the proud recipient of a brand new Bus, courtesy of George Pelgrim and St. Maarten Shipping & Stevedoring. Established in 2003, to provide assistance to seniors and the elderly here on St. Maarten, the foundation has a membership of over 125 members.
With all of its members being over the age of 65, The Golden Age Foundation has realized the challenges involved with members getting in and out of public transportation.
sponsors who received a proposal letter was George Pelgrim. For years, philanthropy and giving back to the community (click here to see) has been a staple in Mr. Pelgrim's life in St. Maarten, so teaming up with The Golden Age Foundation was an easy decision.
Thanks to contributions from George Pelgrim and a host of other sponsors, The Golden Age Foundation now has a brand new bus. The bus will be used to transport members to weekly meetings at the John Larmonie Center. The bus will also be used to provide transportation to outdoor actives, away transporting members to run errands if they have no other means transportation.
The Golden Age Foundation received a new Toyota Bus from George Pelgrim.
Presentation Ceremony
President Patricia Flanders stated the official presentation ceremony of the brand new Toyota Bus will take place in May 2022. If you would like information regarding The Golden Age Foundation, call 520-2136 or send an email to [email protected]
Follow us on twitter
Mr. George Pelgrim has teamed