NBA All-Star team starters for 2023 have been named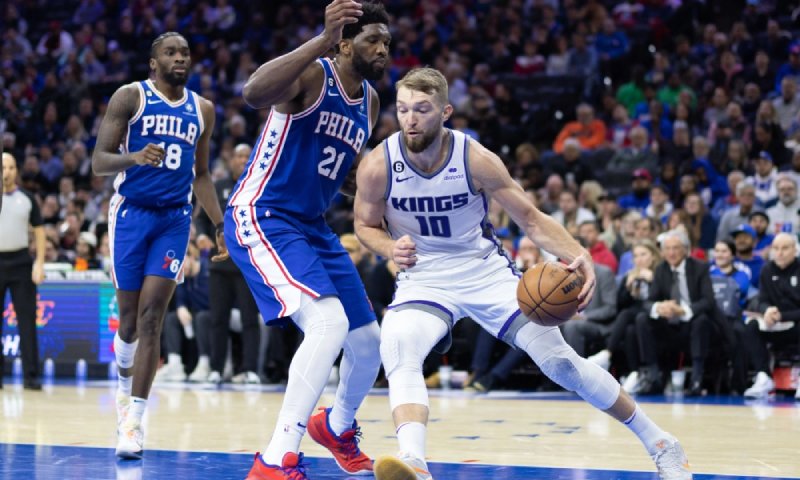 Kareem Abdul-Jabbar holds the NBA career scoring record, but LeBron James is getting close. He has also surpassed Abdul-Jabbar on yet another page of the All-Star record book.
The Los Angeles Lakers star tied Abdul-Jabbar for the most NBA All-Star selections in league history with his 19th selection on Thursday. James, who received the most votes overall, will lead one team in the All-Star Game on Feb. 19 in Salt Lake City, while Giannis Antetokounmpo, who leads the Eastern Conference in votes, will lead the other team.
Eastern Conference starters
Giannis Antetokounmpo (Milwaukee Bucks)
Kevin Durant (Brooklyn Nets)
Jayson Tatum (Boston Celtics)
Donovan Mitchell (Cleveland Cavaliers)
Kyrie Irving (Brooklyn Nets)
Western Conference starters
LeBron James (Los Angeles Lakers)
Nikola Jokic (Denver Nuggets)
Zion Williamson (New Orleans Pelicans)
Stephen Curry (Golden State Warriors)
Luka Doncic (Dallas Mavericks)
The NBA has used the captain format for the All-Star Game six times; James has served as captain each time, never losing, and enters this year with a 5-0 record. Antetokounmpo has been promoted to captain for the third time, having previously done so in 2019 and 2020.
In a change from previous years, when the captains chose their teams a week or two before All-Star weekend, James and Antetokounmpo will pick their teams shortly before the game in Salt Lake City.
Unless an injury prevents them from making a change, the other eight starters are as follows: NBA scoring leader Luka Doncic of Dallas, Golden State's Stephen Curry, Boston's Jayson Tatum, Brooklyn teammates Kevin Durant and Kyrie Irving, Cleveland's Donovan Mitchell, and New Orleans' Zion Williamson, as well as Denver's two-time reigning NBA MVP Nikola Jokic.
"I'm definitely blessed and humbled to be a part of this," Mitchell said during the televised starters' announcement on TNT. "To be a part of my fourth All-Star and now to be a starter, I couldn't be happier."
After Antetokounmpo, Durant, and Tatum were the top three in the balloting, Philadelphia's Joel Embiid—ranked No 2 in the NBA's scoring race with 33.4 points per game—was the odd man out in the third East frontcourt spot.
Starters — Three frontcourt players and two guards from each conference — which was decided by a combination of three votes: Media balloting were worth 25%, fan balloting were worth 50%, and NBA players' votes made up the remaining 25%.
The league's coaches vote to select the reserves, who will be announced on February 2. Among the players who should be given serious consideration are: Damian Lillard of Portland, Shai Gilgeous-Alexander of Oklahoma City, Jaylen Brown of Boston, and Bam Adebayo of Miami.
James is just 157 points away from matching Abdul-Jabbar's 38,387-point career total. James needs just over five games to break the record at his current average of 29.9 points per game. If he doesn't miss any games in between, he could pass Abdul-Jabbar in Oklahoma City on Feb. 7 at home.
This means that the All-Star weekend could be a celebration of James breaking the record that Abdul-Jabbar had held for nearly 40 years if he did so earlier.
NBA Commissioner Adam Silver stated last week in Paris, "Calculating out when it might happen, it seems at this point it's likely to happen before our All-Star break." If it were to happen before our All-Star break, it seems like the All-Star Game this year, which is in Salt Lake City, may be the perfect opportunity to honor him."
James is currently tied with Abdul-Jabbar for the most All-Star selections, and if he plays in Salt Lake City, he will become the first player in NBA history to play in 19 All-Star games. Abdul-Jabbar was chosen to play in the 1973 game, but he did not.
That will be just one more All-Star record that James has set. He is the first player to be selected for 19 All-Star games in a row. Prior to Thursday, he shared that record with Lakers legend Kobe Bryant, who was selected 18 times. Bryant died on January 26, 2020, exactly three years after Thursday.
James would become the 19th player in league history to do so if he makes the start; Bryant made 15 starts. Another All-Star record has been set with 19 starts; With 13 consecutive starts, Bob Cousy has the second-longest streak of this kind.
In addition, James leads all-time All-Stars in minutes, points, made field goals and attempted field goals.