NETFLIX'S : Netflix's Marvel TV universe is dead, and it's impossible the shows will be spared by Disney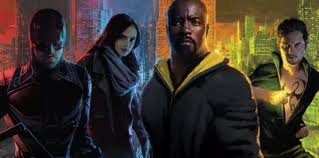 Netflix's Marvel TV universe officially passed on Monday when the gushing monster dropped its outstanding Marvel shows, "The Punisher" and "Jessica Jones." The third and last season of "Jessica Jones" will even now be released later this year.
The scratch-offs were normal expected that Netflix cut out three other Marvel shows a year ago. "Luke Cage," "Iron Fist," and "Daredevil" all debuted new seasons in 2018, however were all unexpectedly dropped over the range of a month. Not in any case extraordinary surveys could spare "Daredevil" (its third season has a 96% Rotten Tomatoes critic score).
After "Daredevil's" cancellation, an online battle called #SaveDaredevil launched a Change.org petition to restore the demonstrate that presently has about 260,000 signatures, a Twitter account with more than 3,900 followers, and a website where fans can stay up with the latest on the "movement."
Be that as it may, the steadfast fanbase may not be sufficient to spare "Daredevil," or its Marvel counterparts.
The official word is that the choice to counteract the shows was of Marvel's hands.
"It's an unfortunate reality to any relationship between a network and a studio in that the network always has the right at any time to cancel a show," Marvel Television executive producer Jeph Loeb told Indiewire prior to "The Punisher's" cancellation. "I think we've made it very clear, that this is not our call. This is Netflix's call."
Information gave to proposed that flagging audience demand was one reason Netflix pulled the plug. Enthusiasm for the shows had dropped essentially since their first seasons. A social-media analysis by Crimson Hexagon in October, after "Luke Cage" and "Iron Fist" were canceled, demonstrated that online buzz for them, and "Daredevil" and "Jessica Jones," had dropped dramatically over time.
Viewership for the second period of "The Punisher," which was discharged a month ago, fell 40% in its first end of the week contrasted with the principal season in 2017, as per analytics company Jumpshot.
Loeb implied that the shows could live on after "The Punisher" and "Jessica Jones" were dropped.. In a letter to fans, he wrote, "Our Network partner may have decided they no longer want to continue telling the tales of these great characters… but you know Marvel better than that. As Matthew Murdock's Dad once said, 'The measure of a man is not how he gets knocked to the mat, it's how he gets back up.' "