No. 1 Carlos Alcaraz cruises into the quarterfinals of the US Open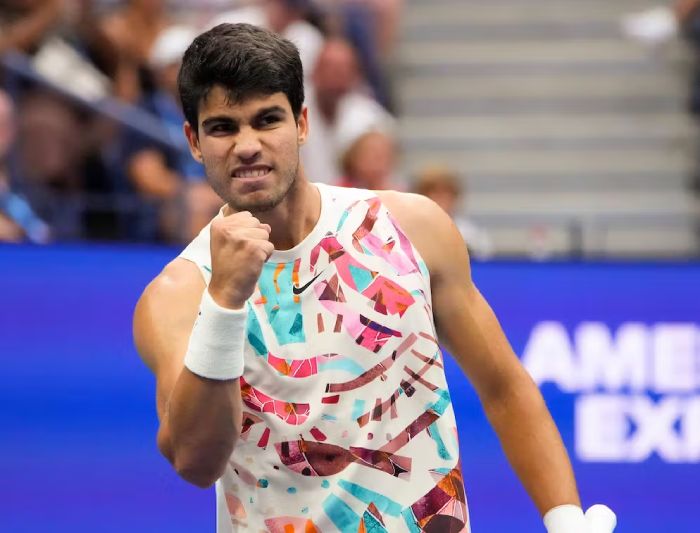 For the third time in as many appearances at Flushing Meadows, Carlos Alcaraz easily defeated unseeded Matteo Arnaldi 6-3, 6-3, 6-4 on Monday to advance to the US Open semifinals.
After winning Wimbledon in July, the No. 1-seeded Alcaraz, who is attempting to defend his championship, stated that he now loves hard courts above any other surface and that he also enjoys playing beneath the Arthur Ashe Stadium dome. He triumphed over the 61st-ranked Italian Arnaldi, who was no match for Alcaraz's strength, which resulted in 31 wins and 22 unforced errors.
The 20-year-old Spaniard became the only player outside Andre Agassi to accomplish so before turning 21 and the youngest player to reach three US Open quarterfinals in the open era that dates back to 1968 by making it to the round of eight.
The winner of the night match at Ashe between the sixth-seeded Jannik Sinner and the No. 12 seed Alexander Zverev will play Alcaraz next.
Andrey Rublev of Russia, the eighth-seeded player, defeated Jack Draper of Great Britain in Louis Armstrong Stadium 6-3, 3-6, 6-3, 6-4 to reach his fourth US Open quarterfinal and ninth Grand Slam quarterfinal of his career.
The third-seeded Daniil Medvedev, the 2021 US Open champion, will face Rubley in the quarterfinals. Medvedev defeated No. 13 seed Alex de Minaur in the night session by scores of 2-6, 6-4, 6-1, 6-2.