President Russell M. Nelson declares plans for the church to construct 20 new temples around the world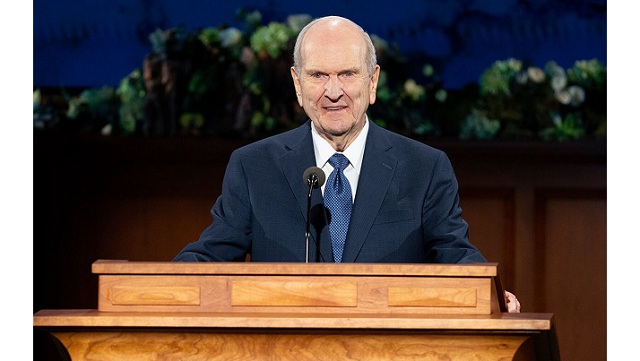 President Russell M. Nelson of The Church of Jesus Christ of Latter-day Saints has declared plans to construct 20 new temples all through the world during the Sunday session of the 191st Annual General Conference.
Robert Funk and his relatives were at his daughter's home in Kennewick, Washington, watching the finish of the general conference when the unexpected news came that a new temple was coming to his old hometown of Smithfield, Utah.
Funk, a long-lasting zone occupant who additionally serves as president of the Smithfield Utah Young Single Adult Stake, utilized words like "excited" and "thrilled" to depict his emotions about a second temple coming to Cache Valley.
"It warms my heart as a native of Smithfield to have a temple in our community. It's just going to be a really cool thing for us," Funk said. "I'm not exactly sure where they will draw the lines for the temple district, but a lot of people are very happy right now with his wonderful announcement today."
Smithfield was the last city referenced on a list of 20 new temple locations disclosed by President Russell M. Nelson during his finishing up remarks of the 191st Annual General Conference of The Church of Jesus Christ of Latter-day Saints on Sunday.
"We want to bring the house of the Lord even closer to our members, that they may have the sacred privilege of attending the temple as often as their circumstances allow," President Nelson said.
The 20 new temples will be built in the following locations:
Oslo, Norway
Brussels, Belgium
Vienna, Austria
Kumasi, Ghana
Beira, Mozambique
Cape Town, South Africa
Singapore, Republic of Singapore
Belo Horizonte, Brazil
Cali, Colombia
Querétaro, México
Torreón, México
Helena, Montana
Casper, Wyoming
Grand Junction, Colorado
Farmington, New Mexico
Burley, Idaho
Eugene, Oregon
Elko, Nevada
Yorba Linda, California
Smithfield, Utah
This is the second-highest number of temples declared at one time in the history of the Church. At the April 1998 general conference, former Church President Gordon B. Hinckley declared plans to build upwards of 32 new temples, however, he didn't list specific locations.
The Church presently has 251 temples reported, under construction, or operating.
There are 41 temples as of now under construction or renovation, and regardless of the pandemic, the ground was broken for 21 new temples in 2020. The church is "building now for the future," the church president said.
The Church has 160 temples in operation, with another 8 closed for redesign, 35 under construction, and now an extra 48 buildings declared.
Those closed for renovation incorporate the Columbus Ohio, Hamilton New Zealand, Hong Kong, Mesa Arizona, Tokyo, Washington DC temples, and pioneer-era temples Salt Lake and St. George.
Different temples in Utah were under construction in Layton, Orem, Saratoga Springs, Taylorsville, and Red Cliffs (St. George).
Extra temples reported yet which have not yet under construction incorporated the Lindon, Syracuse, and Deseret Peak (Tooele) temples.
Since becoming president of the Church in January 2018 three years prior, President Nelson has reported 69 extra temples.
"I pray that your desire to worship and serve in the temple burns more brightly than ever," President Nelson said. "Temples are a vital part of the Restoration of the gospel of Jesus Christ in its fulness. Ordinances of the temple fill our lives with power and strength — available in no other way. We thank God for those blessings."
This is the most temple location at any point reported at one time. The record was 12 temples by President Nelson on Oct. 7, 2018, as indicated by ChurchofJesusChrist.org.
President Gordon B. Hinckley declared plans to construct upwards of 32 new temples at the April 1998 general conference yet didn't list specific locations.
Sunday's news on 20 new temples brings the complete number of temples reported by President Nelson to 69 since becoming the president of the church in 2018. He reported 19 new temples that year, 16 temples in 2019 and 14 in 2020, including eight temples last April and six in October.
Reopening temples
Notwithstanding the temple declaration, President Nelson illustrated the four stages for reopening temples during the ongoing pandemic. He expressed gratitude toward Latter-day Saints for their patience and said the temples would continue operations as local government regulations permit it.
"Now, you may be wondering when you will be able to return to the temple. When the incidence of COVID-19 in your area is within safe limits, your temple will reopen," he said. "Do all you can to bring COVID-19 numbers down in your area so that your temple opportunities can increase. Meanwhile, keep your temple covenants and blessings foremost in your minds and hearts. Stay true to the covenants you have made."
President Nelson likewise talked about temples during the conference leadership session recently.
"Names of ancestors are being prepared for the day when temples will again be open for vicarious work to be done," he said on April 1.
Reaction to temple news
Smithfield Mayor Jeffrey Barnes at first missed the huge news since he out of the scope of phone service, climbing in southern Utah. At the point when he drove into Hanksville this evening, his phone "went crazy" with messages.
"I'm still in shock," Barnes said. "I am totally surprised at this announcement. It's hard to believe."
The chairman said city authorities knew that the church had bought a piece of property that was bigger than what an ordinary meetinghouse would require, however didn't know why. Smithfield has a populace of almost 14,000 individuals.
"I think it will be a wonderful addition to the city," Barnes said. "I think the residents will be delighted to have a temple in their town, make it more convenient to attend the temple, being right in their neighborhood. It's exciting."
Alongside underscoring the spiritual strength a new temple will bring to Latter-day Saints nearby, the expansion of the second temple in Cache Valley couldn't be all the more opportune, Funk said.
Consistent territory development throughout the last two decades has resulted in a waiting list several months long for youth to get into the Logan Temple baptistry. Different parts of the temple have been busy also.
"There have been times when the Logan temple has been extraordinarily busy and difficult to get into," Funk said. "Because of the demand, before the pandemic, many of our young people were going to the temple at 5 a.m. to do baptisms for the dead before they went to school, which was pretty amazing to see. … To have another temple in Cache Valley will be a great blessing for people here."
Jordan Falslev, 27, is a returned missionary who goes to ward in the YSA stake in Smithfield. He served as an ordinance worker in the Logan temple from 2015-2017. In recent years he has felt a spiritual impression that a second temple was going to the Logan region. He anticipates serving in the new temple.
"We are super excited … and it's really needed," Falslev said. "I think it shows that Latter-day Saints here continue to be devoted and love the Lord. It's hard to find the words to show how thankful we are."