QI Group and Vijay Eswaran Work Toward Global Sustainability with Daily Action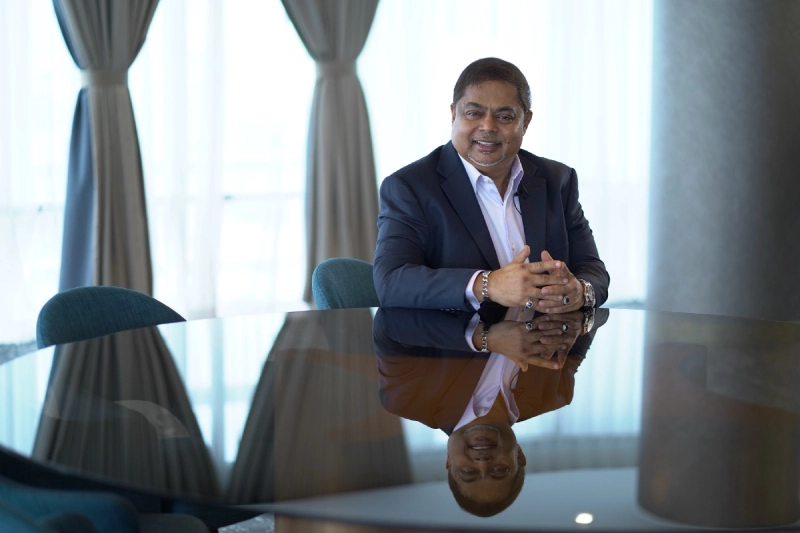 Now perhaps more than ever before, a global call to action is being heard with regard to reforms with sustainable means in corporate infrastructures. As humanity grapples with everything from climate change to human rights violations, companies are being called on to do their part to affect change. Recently, Vijay Eswaran, founder of QI Group, sat down with the podcast A Seat at the Table to share his take on how companies can use a pragmatic approach to incorporate sustainable practices in their business by sharing how his own organization has led the charge for decades.
Eswaran expands on the idea of sustainability with a human-centric approach to business operations and philanthropy. Following a mantra of nonviolence, the entire QI Group has remained meat-free since its founding in 1998. This means all company meetings, events, conventions, and the like, serve only plant-based meals. This effort is designed to advocate awareness about the harmful impact of the animal agriculture industry which is one of the largest contributors to greenhouse gas emissions as well as underscore the idea that we as humans share the planet with other living creatures who have the same right to access and enjoy their autonomy as much as humans.
QI Group does not stop with advocating for dietary changes as part of its sustainability mission. The company has also enacted a policy a few years ago to stop the use of single-use plastic from all its offices. All events and conferences remain plastic-free as well. Eswaran said in a recent interview that the company has "banned the use of single-use plastic in every one of our offices around the world, in all the 42 offices, in all of our events, in the stadiums that we function and run with." That includes events that, prior to the COVID-19 pandemic, would include up to 20,000 attendees. It's worth noting that these conferences were also held completely meat-free, as well.
Infrastructure is also a key component of sustainability. The QI Group established its operational headquarters in Malaysia by acquiring a 15-floor building. The team worked to convert and optimize its headquarters into a state-of-the-art sustainable workspace incorporating best practices in environmental design and performance, which meets requirements for energy and water efficiency, building management, indoor environmental quality, and innovation. In 2013, the Building and Construction Authority (BCA) of Singapore awarded its prestigious Green Mark Gold award to QI Tower. Eswaran attributes much of this to its mission to acknowledge water as a limited and vital resource, running the building on reverse dehumidifier technology that takes advantage of the region's natural airborne moisture and converts it into clean, usable water for the building's tenants. Additional building efforts for satellite offices and a university will leverage this same technology while also employing solar power and promoting emissions-free transportation.
Above all, Vijay Eswaran noted that QI Group's efforts are intentionally aligned with the UN's Sustainable Development Goals (SDGs), which are a set of interrelated guidelines and goals designed to create a sustainable future the world over. To this end, Eswaran shared, the company has aligned "with the UN SDGs that focus on gender equality, access to education, reducing inequalities and climate action." He continued to note that the biggest hurdle to achieving these aims is educating people. "We can create policies and put in enforcement measures until every individual understands it, but they're part of a larger ecosystem and they need to understand the impact they have on others."
So how does a multinational conglomerate help educate its people and those in afflicted communities about the necessity of change? One area is through hiring diversely. QI Group's employees represent more than 50 nationalities and are comprised of 51 percent millennials. "We find a lot of support and understanding in the younger generation," said Eswaran. These teams have helped lead the charge to develop rules, regulations, and programs that employees at all levels and locations can participate in and give back to. Employees are encouraged to volunteer and find ways to give back to their own communities or programs that support development in third-world nations. To date, the QI Group's staff have logged over 100,000 hours of volunteerism, contributing to more than 200 projects in over 20 countries in need.
Eswaran noted that there can be struggles on the path to sustainability, especially when trying to convey the concept in nations where it is a challenge just to put food on the table, let alone worry about environmental or socio-economic concerns. He explained that the company has tried to make the entire concept of sustainability pragmatic, helping them realize they can "ensure there's a roof over their heads…and ensure that the planet is still around." With sustainability a fundamental part of QI Group's mission, they continue to look forward to new ways to give back to society in eco-friendly and human-centric ways.