Reopening of the Burning Man festival road allows many to flee the mud trap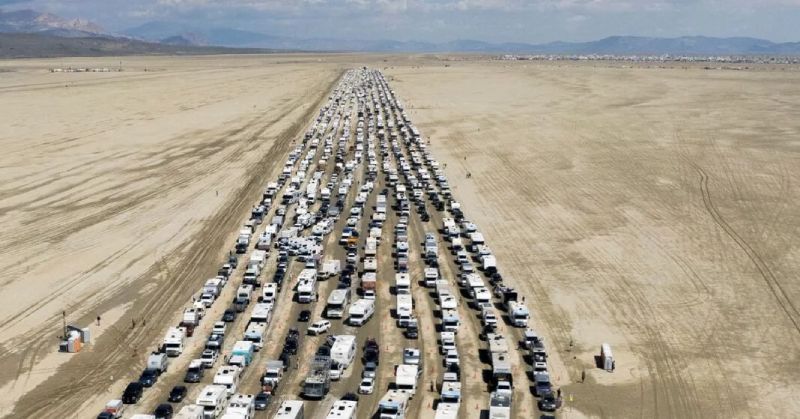 On Monday, Burning Man organisers unsealed the route exiting the remote Nevada desert festival, allowing tens of thousands of visitors to leave after being ensnared in muck for days.
But many of the 64,000 individuals who were still present on the festival grounds as of Monday may decide to stay another night and witness the event's enormous eponymous effigy set ablaze on Monday night, one day ahead of schedule.
The annual, week-long counterculture arts festival became a muddy nightmare due to unanticipated July rain.
The event organisers asked drivers to take it carefully on Monday and consider delaying their departure until Tuesday to decrease traffic, but when the route was finally reopened, a long queue of cars snaked into the desert, inching along in a terrible traffic bottleneck.
Eventually, a convoy of automobiles and recreational vehicles formed a 10-lane-wide organised exodus, travelling in search of the promised land of a hot shower and a tidy bed.
The nearest highway is located along a 5-mile (8-km) gravel road. The "exodus" travel duration was estimated by the Burning Man Traffic account on social media platform X to be 5-1/2 hours.
The location in Nevada's Black Rock Desert is on top of Lake Lahontan, a deep lake that was last active 15,000 years ago, according to the U.S. Geological Society. It is located 110 miles (177 km) north of Reno and 15 miles (25 km) from the closest settlement.
Up to 70,000 people were instructed to remain in their homes for days as authorities stopped the roads and forced all moving vehicles to park.
"People are looking out for one another. We can eat. We have supplies. We are protected. Therefore, overcoming this will largely require teamwork, according to participant David Date.
Officials said on Sunday that one individual had passed away at the incident but gave few more details. An investigation was being conducted.
"It really looked apocalyptic," said festival volunteer Evi Airy. "When you see the people walking barefoot in such a cold with the children. Some people have a small child here like three years old, four years old. I don't know how they survived."
Campers began to leave even before the gate was formally opened when it was still dark. In the improvised Black Rock City that forms for the festival, stuck cars were all over the roadways, some of them horizontally blocking highways because they had lost control.
The event's motto of "leave no trace" of human activity in the desert will be put to the test by the automobile cemetery that lined the desert pathway leading to the main gate.
At one point, workers at the event issued directions on how to cross a "river" that had been formed by the rain. They set up cones on an arc and instructed drivers to negotiate the bend at 20 mph (30 kph), but the route still covered the cars in muck. But the gravel path towards the destination was only beyond that last barrier.
On Monday morning, the festival's temporary airport was reopened.
Tens of thousands of people go to the Nevada desert each year for Burning Man to dance, create art, and enjoy being a part of a self-sufficient, transient community of like-minded individuals. The week-long event, which began as a tiny gathering on a San Francisco beach in 1986, is today attended by famous people and social media influencers. A standard ticket is $575.
A massive wooden effigy of a man is often burned as part of the festival's last night send-off, which also includes a fireworks display. It was moved from Sunday night to Monday night at 9 p.m. PDT (0400 GMT on Tuesday), according to the organisers.