Satyendra Nath Bose: Google Doodle honors Indian mathematician and physicist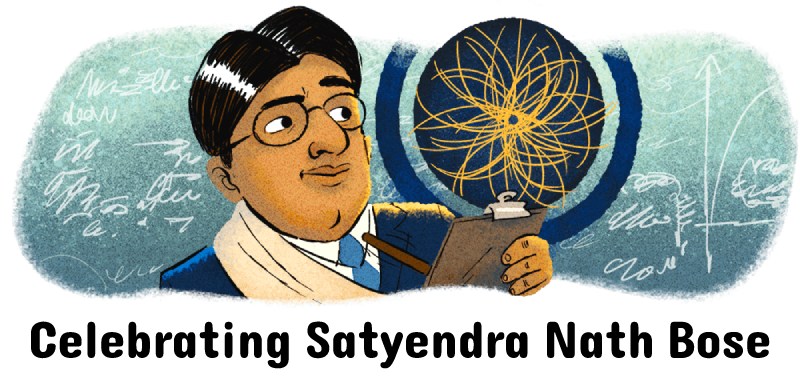 Google Doodle celebrates Satyendra Nath Bose, an Indian mathematician and physicist noted for his collaboration with Albert Einstein in developing a theory in regards to the gaslike qualities of electromagnetic radiation, on June 4, 2022.
Who was Satyendra Nath Bose?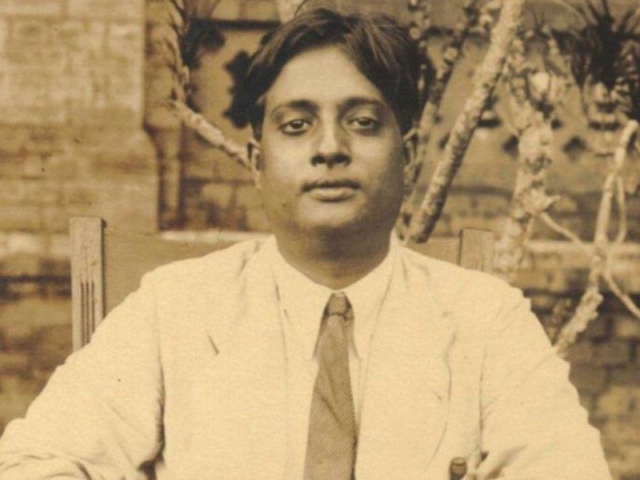 Satyendra Nath Bose was born into a middle-class family on January 1, 1894, in British India's capital city, Calcutta, Bengal Presidency. Today the city is known as Kolkata, situated in the Indian state of West Bengal.
Satyendra Nath Bose's father was Surendranath Bose, an accountant in the East Indian Railway Company. Surendranath had an extraordinary interest in mathematics and science and in 1903 established a small pharmaceutical and chemical organization. Satyendra's mother was Amodini Devi, a lawyer's daughter. Satyendra was the couple's eldest child and their only son; soon after Satyendra's birth, his parents had six daughters.
At age five, Satyendra Nath Bose was selected at his local elementary school. Afterward, after his family moved to Calcutta's Goabagan neighborhood, he became a student at the New Indian School.
At age 15, Satyendra Nath Bose started pursuing a Bachelor of Science degree at Calcutta's Presidency College and procured a Master's in Applied Mathematics at the University of Calcutta soon after. Graduating top of his class for the two degrees, he set his respected position in academia.
Satyendra Nath Bose, a graduate of the University of Calcutta, taught at the University of Dacca (1921-45) and afterward at Calcutta (1945-56). Bose's various scientific papers (published from 1918 to 1956) added to statistical mechanics, the electromagnetic properties of the ionosphere, the theories of X-ray crystallography and thermoluminescence, and unified field theory. Bose's Planck's Law and the Hypothesis of Light Quanta (1924) led Albert Einstein to search for collaboration.
By 1909, at age 15, Satyendra Nath Bose had finished secondary school. He started a bachelor of science degree at Calcutta's Presidency College, which is situated close to the Hindu School. He studied Applied Mathematics, and again he proved to be an outstanding student, graduating in 1913 at the top of his class, with first-class honors.
Satyendra Nath Bose decided he wanted to stay in academia. He enlisted for a master's degree in Applied Mathematics at the University of Calcutta. In 1915, at age 21, he graduated at the top of his class. He additionally scholarly enough scientific German and French to read works published in these languages.
As a polyglot, Satyendra Nath Bose was well versed in a few languages like Bengali, English, French, German, and Sanskrit as well as the poetry of Lord Tennyson, Rabindranath Tagore, and Kalidasa. He could play the esraj, an Indian musical instrument like a violin. He was actively engaged in running night schools that came to be known as the Working Men's Institute.
Toward the finish of 1916, Satyendra Nath Bose began giving applied mathematics lectures, and in 1917 he began giving mathematical physics lectures.
In 1917, the university designated C. V. Raman to the Palit Chair of Physics.
In 1919, Bose and Saha published English translations of Albert Einstein's special and general relativity papers.
In 1921, Satyendra Nath Bose has named the position of Reader in Physics at the University of Dhaka, which is presently in Bangladesh.
Satyendra Nath Bose's extraordinary scientific discovery came about in light of his dedication to teaching. He arranged steadily for the lectures he provided for his postgraduate students and hated it if he didn't completely comprehend all that he educated.
Toward the finish of 1917, Satyendra Nath Bose started giving lectures on physics. While teaching postgraduate students Planck's radiation formula, he scrutinized how particles were counted and started exploring different avenues regarding his theories.
He recorded his discoveries in a report called Planck's Law and the Hypothesis of Light Quanta and sent it to a noticeable science journal called The Philosophical Magazine. Amazingly, his research was rejected. At that point, he pursued the striking decision to mail his paper to Albert Einstein.
Albert Einstein for sure perceived the significance of the discovery — and soon applied Bose's formula to a wide range of phenomena. Bose's theoretical paper became one of the main discoveries in quantum theory.
The Indian government perceived Bose's gigantic contribution to physics by awarding him one of the highest civilian awards in the country, the Padma Vibhushan. He was likewise named a National Professor, the highest honor in India for scholars.
As a genuine polymath, Satyendra Nath Bose proceeded to act as president of numerous scientific institutions including the Indian Physical Society, National Institute of Science, Indian Science Congress, and the Indian Statistical Institute. He was likewise an adviser of the Council of Scientific and Industrial Research and later became a Fellow of the Royal Society.
On June 4, 2022, Google featured a Doodle on its homepage for celebrating Satyendra Nath Bose.
The present Google Doodle honors Indian physicist and mathematician Satyendra Nath Bose and his contribution to the Bose-Einstein Condensate. On this day in 1924, he sent his quantum formulations to Albert Einstein who promptly remembered it as a significant discovery in quantum mechanics.
Satyendra Nath Bose's paper is currently perceived as one of the main theoretical papers in establishing quantum theory. Bose had established a whole new field: quantum statistics.
To pay tribute to Satyendra Nath Bose's legacy, any particle that adjusts with his statistics today is known as a boson. Numerous scientific breakthroughs have come from his work including the revelation of the particle accelerator and the God particle.