Seven benefits of investing in real estate at Seapoint Residences in Dubai in 2023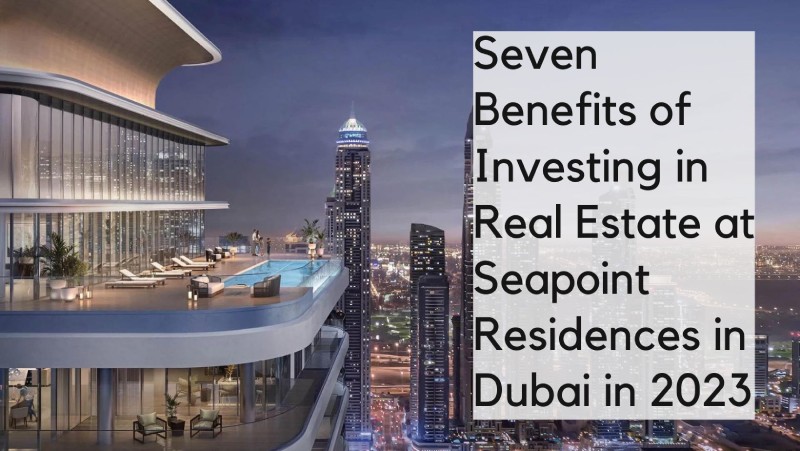 Seven benefits of investing in real estate at Seapoint Residences in Dubai in 2023. Benefits of property in Seapoint Residences. Real estate in the JBR area.
SEAPOINT RESIDENCES in Dubai, UAE gets the attention of the investors from all over the globe. We have compiled 7 reasons why you should check out this project as well as have looked into the benefits of the district Jumeirah Beach Residence, where the development is located.
Property in Dubai
In Dubai, one of the most well-known and premium areas to purchase real estate is Jumeirah Beach Residences (JBR). JBR, which is situated on the Persian Gulf's coast, provides a variety of condos and villas with breath-taking ocean views and the greatest facilities. The area has a number of benefits:
The flats are one of JBR's most appealing features. They come in a variety of sizes, from studios to spacious apartments with four or more bedrooms. The living rooms, hallways, kitchens and bathrooms in every flat are all large. The majority of the units offer balconies or patios with stunning sea views.
There are a number of new projects that will be added to JBR. One of them is La Vie, which is located on the beach. It consists of 1-4 bedroom apartments and offers a wide range of amenities including a rooftop pool, children's playground, spacious lounge areas, a gym and more.
JBR is one of the most prestigious properties in Dubai. It contains some of the most luxurious apartments with high ceilings, large windows and wide balconies from which you can enjoy sea views. In addition, JBR has a number of amenities that make it even more attractive, including swimming pools, fitness clubs, gardens, and many more.
There are several public areas in JBR, including retail centres, cafés, restaurants, and theatres. You may relax and take in the stunning views of the city and the sea while swimming in the ocean at the beach.
JBR provides villas for those who desire more room and comfort. These are lavish homes with high ceilings, wide windows, and outside spaces that are quite huge. Private swimming pools, sizable gardens, and stunning sea views are just a few of the many facilities available in the homes.
Property prices at JBR vary by property type and location. However, all properties in JBR are quite expensive, and their cost can be several times higher than in other areas of Dubai.
In conclusion, if you are looking for accommodation in one of the most popular and prestigious places in the emirate, then real estate in JBR is definitely one of the best places to choose. A wide range of apartments and villas, beautiful sea views and a host of amenities make for an excellent life in Dubai.
Benefits of property in Seapoint Residences
In contrast to other residential complexes in the emirate, Seapoint Residences is a brand-new residential development in Dubai that provides its inhabitants with special features and advantages.
Location:
Seapoint Residences is conveniently positioned near all of the city's top attractions, including the Burj Khalifa, Jumeirah Beach, Dubai Mall, and many more. It is situated on the Persian Gulf's coastlines and provides beautiful sea views.
Housing quality:
Apartments, villas, and townhouses with excellent furnishings and cutting-edge amenities are available to Seapoint Residences' inhabitants. Each apartment blends elegance, relaxation, and utility while keeping each individual's requirements in mind.
Features:
A comprehensive selection of facilities are available to Seapoint Residences' residents, featuring a luxurious rooftop pool, a gym, a children's area, an outdoor recreation space, and much more. The community also provides complimentary Wi-Fi, parking beneath the building, and round-the-clock security.
A life of luxury:
Living at Seapoint Residences is a memorable experience because of the ideal fusion of elegance and convenience that is provided for residents. On their balconies or patios, residents may take in stunning sea views. They can also visit one of the numerous cafés and restaurants that are housed at the community area.
Wide range of flats:
Seapoint Residences gives its inhabitants a wide range of villas and townhouses in addition to studios and spacious apartments. The greatest options for families with kids are available at these homes, which feature their own yards, gardens, and pools.
Proximity to main roads:
Seapoint Residences is located near the main roads of Dubai, which allows residents to quickly get to anywhere in the city. This makes the community an ideal destination for those who come to Dubai for work purposes or those who are considering an extended stay in the city.
Purchasing a home at Seapoint Residences is a fantastic way to get high-end housing with distinctive sea views, lovely facilities, and many advantages that you won't find in other residential developments.
Real estate agency in Dubai
One of the most senior real estate companies in Dubai is Ax Capital. They have been helping people locate suitable houses in this lovely city for many years, offering their clients a high-quality service. Visit their website to learn more about the most recent offers available.