SpotLoan Review: Is SpotLoan.com Legit?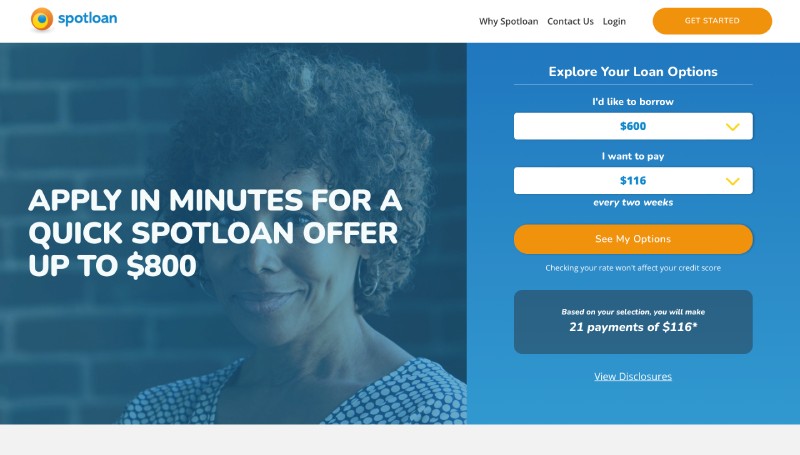 SpotLoan has gained recognition as an online lending platform, often considered an alternative to traditional payday loans. However, like any financial service, it comes with its own set of advantages and drawbacks. This article provides an in-depth review of SpotLoan, highlighting its services, benefits, drawbacks, and more.
Who is SpotLoan?
SpotLoan is a digital lending company owned by BlueChip Financial, a tribal entity governed by the laws of the Turtle Mountain Band of Chippewa Indians of North Dakota. Offering short-term personal loans with fixed payments, SpotLoan positions itself as a more manageable alternative to traditional payday loans.
SpotLoan's Legal Standing
SpotLoan operates under the authority of a sovereign nation other than the United States. This tribal status allows them to operate outside of certain federal or state laws, such as North Dakota's interest rate limit. However, this tribal standing has been contested, and their compliance with standard legal requirements remains a subject of investigation.
The Anatomy of a SpotLoan
SpotLoan offers personal loans ranging from $300 to $800, with repayment terms of up to 10 months. Unlike conventional payday loans that require full repayment on the borrower's next payday, SpotLoan allows borrowers to pay back their loans in several installments.
High APR: A Caveat
One of the crucial factors to consider while applying for a SpotLoan is its high Annual Percentage Rate (APR). Depending on your loan terms, your APR with SpotLoan could go as high as 490%, significantly higher than what most other personal loan lenders offer.
Lending to Less-than-Perfect Credit
SpotLoan extends loans to individuals rebuilding their credit. While your credit score will be considered during the application process, SpotLoan also considers other factors, making it possible for individuals with bad credit to secure a loan.
SpotLoan at a Glance
Here are some additional elements to consider when evaluating SpotLoan.
Availability: SpotLoan services are offered in 38 states across the U.S.
Fast Funding: Approved loans may be transferred to your bank account as early as the same day or the next business day.
Bank Account Required: An active bank account that can accept electronic funds transfer is required to apply for a SpotLoan.
Educational Resources: SpotLoan provides educational articles on its website to help individuals understand personal loans and financial management.
Who Should Consider SpotLoan?
SpotLoan may be a viable option for those facing emergency expenses and seeking a short-term installment loan, especially if traditional payday loans or title loans pose too much risk. However, if you have good credit or need a larger loan amount, it's recommended to explore other lenders.
How to Apply for a SpotLoan
To apply for a SpotLoan, visit their website and fill out an online application. The application will require personal information, employment details, and bank account details. Approved applicants can receive funds as soon as the same day or within two business days.
Alternatives to Consider
If SpotLoan does not seem to be the right fit for you, consider other online loans like SpotLoan such as:
SpotLoan: The Bottom Line
While SpotLoan offers an alternative to traditional payday loans with flexible repayment terms, its high APR makes it a costly option. As with any financial decision, it's crucial to read the terms thoroughly and ensure the loan fits within your budget.
FAQs
How can I contact SpotLoan? You can reach SpotLoan via email at [email protected] or by phone at 888-681-6811.
Where is SpotLoan based? SpotLoan is based in Belcourt, North Dakota.
Are SpotLoan loans available in every U.S. state? No. SpotLoan loans are currently available to residents of 38 U.S. states.