"The Lockdown allowed me to channel my storytelling bug into writing my first book" the first-time author details his experience of writing his maiden novel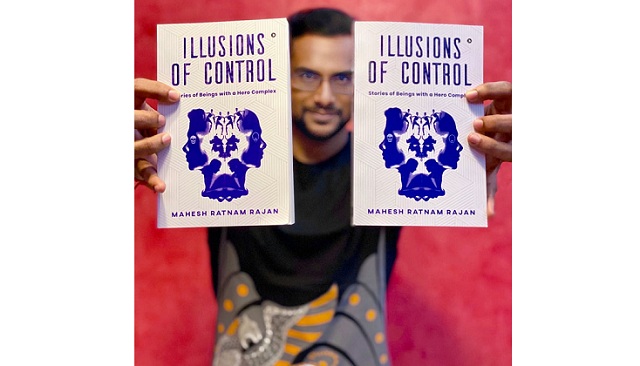 Indian bookstores now have another fantastic addition to the growing list of speculative fiction. We're talking about 'Illusions of Control,' an anthology collection of speculative fiction by debutante author Mahesh Ratnam Rajan. Since its release, the book has been received well by its audience, who especially love it for its unique, unconventional narrative style.
We got hold of the author Mahesh and sat down for an exciting conversation about how he went from being Director of Strategy & Marketing at an IT firm to releasing a book amidst the long and what felt like an unending lockdown.
Speaking to Time Bulletin, the author describes his writing experience. "I went back home to Chennai during the lockdown, and time allowed me to develop different storylines that would often pop into my head. I would usually be inspired by a book I was reading or a movie I was watching, or in passing conversations. It was never my plan to write a book, but I just knew I had to write these down. The lockdown allowed me to channel my storytelling bug into writing my first book." He also added that Illusions of Control was really an experiment to see if he had the temperament to sit down and finish a story. And boy, what a successful experiment it was.
Mahesh is an ardent fan of Sci-Fi, Thriller, Mystery or Fantasy novels, comics, movies, and this has clearly been reflected in his first book. But the primary inspiration was his fondness for and philosophy, pushing him to create something of his own. "I remember a professor of mine telling me that "Hell is that last moment in life where you regret not doing what you truly wanted to do." And well, that was all the push I needed."
Being his first book, the author had his fair share of difficulties. "I remember often feeling discouraged or frustrated every time I hit a roadblock. In addition to that, I was crippled with self-doubt, which always deterred my progress." It did seem like a long road ahead for him. Still, in a matter of 10 months, the author had seven amazing stories, each set in a fictional universe with exciting and nuanced protagonists.
When asked about the inspiration in coming up with such a title, he said, "I was thinking about how people often try to plan out different things, but they rarely do things turn out the way they would have hoped. Humans seem to be trying to grasp control over our fate, which we clearly have no control over. These plans to control are merely an illusion – well, that's how I came up with the title. Of course, this is not always true, but in the context of this book, the title is apt."
Mahesh also hopes to inspire many more through his journey. "I think everyone needs to experience what they have always wanted to do in life. Even if you fail, at least you'd have the satisfaction of knowing that you tried"
In addition to being a passionate storyteller, Mahesh captures unique portraits as 'Lightweaver,' while professionally being the Director of Strategy & Marketing at Vertace Consultants, a Chennai-based Information & Technology firm. He has also dabbled in graphic design, as well as managed a metal band! There is a lot that the author does and a lot more that he will do.
For now, one must get a copy of 'Illusions of Control' from the nearest bookstore and prepare to be mesmerized by the amazing narratives weaved by Mahesh Ratnam Rajan.
'Illusions of Control' is priced at Rs.349 and available in Paperback and E-book formats across major E-Commerce channels and platforms.
For further updates on Mahesh and his book, visit:
https://linktr.ee/maheshratnamr