These 8 States will be Able to See the "Ring of Fire" Eclipse in October 2023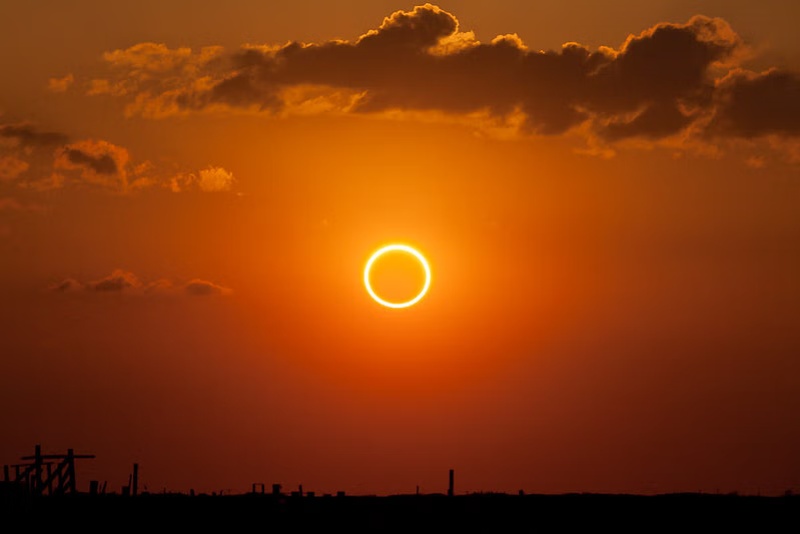 Skywatchers, start singing the Johnny Cash song Ring of Fire and mark your calendars. An annular solar eclipse known as the "ring of fire" eclipse will be seen on October 14 just over a month from now across eight US states, parts of Mexico, and other locations in South and Central America.
Millions of people will be able to see the eclipse, and those who live in areas where they can't can watch NASA's online broadcast.
Annular solar eclipse? Do not be misled: The term "annular" may seem like "annual," but it really refers to an eclipse in which the moon crosses in front of the sun while remaining sufficiently far from it in its orbit to prevent the sun from being entirely covered. The outcome is a broad, bright ring in the sky, hence the name "ring of fire."
The route of the eclipse on October 14 passes through eight states, including Texas, Oregon, and even the picturesque Crater Lake. The first viewing in Oregon begins at 9:13 a.m. PDT, while the final viewing in America is at 12:03 p.m. CT for Texas viewers. After that, the eclipse traveled to Mexico, Central America, and South America.
Additionally, the eclipse falls on the same day as the Oct. 7–15 Albuquerque International Balloon Festival.
The 125-mile path of annularity must be traversed to witness the ring of fire itself, and those who are closest to the path's center will benefit from longer viewing times.
If you can't see the eclipse in person, you may watch it live online on YouTube on October 14 from 10:30 a.m. until 12:15 p.m. CT.
NASA provides preparation safety advice for the annular eclipse on October 14, 2023, noting that it is unsafe to look directly at one without specialist eye protection.
If you miss the eclipse in October, start making preparations for the total solar eclipse that will span North America on April 8, 2024, going over Mexico, the US, and Canada. It will start over the South Pacific Ocean, travel through Mexico's Pacific coast, and then enter the United States in Texas. Before entering Canada, it will pass through the states of Oklahoma, Arkansas, Missouri, Illinois, Kentucky, Indiana, Ohio, Pennsylvania, New York, Vermont, New Hampshire, and Maine.
The last annular solar eclipse before the one in October occurred in June 2021, but US citizens couldn't see it. It could be seen in Canada's north.