Things to Know about Rosh Hashanah and Yom Kippur, the Jewish New Year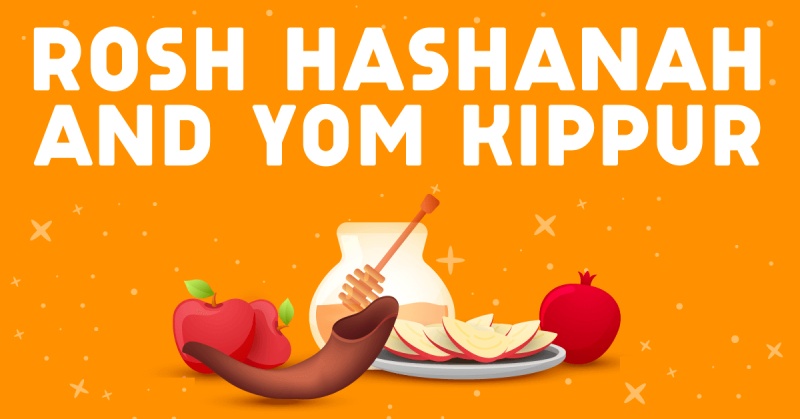 The Jewish "High Holidays," which last for ten days and include Yom Kippur, also known as the Day of Atonement and the holiest day on the Jewish calendar, begin with the two-day festival known as Rosh Hashanah.
The 10-day period known as the High Holidays on the Jewish calendar begins with Rosh Hashanah on September 15 and lasts through September 17, 2023, in the evening. It's also known as the Jewish New Year, and it's a season of joy and introspection. Prayer services, festive meals, and other heartfelt traditions are observed by those who celebrate the festival.
The Jewish High Holy Days, which lead up to Yom Kippur, the Jewish Day of Atonement, begin on Rosh Hashana, the Jewish New Year. Rosh Hashana, which means "head" of the year in Hebrew, is observed with special prayers, foods, gatherings, and other activities.
While everyone is having fun, others may be wondering if businesses are closed in observance of the Jewish holiday. But what is Rosh Hashanah exactly, and how is it celebrated? Here is all the information you should need to know:
Rosh Hashanah: What is it?
The Jewish New Year is celebrated on Rosh Hashanah, which means "head of the year" in Hebrew. Jewish people all across the world repent of their misdeeds from the previous year during Rosh Hashanah and promise not to repeat them in the upcoming year.
What is Yom Kippur?
The 10 days of atonement, which started with Rosh Hashanah, ended with Yom Kippur. A "shofar," a trumpet made from a ram's horn, is typically sounded to mark the end of the day, which is traditionally marked with fasting and prolonged periods of intense prayer.
When does Rosh Hashana fall?
Rosh Hashana begins on Friday at dusk and ends on Sunday at dawn. The only Jewish festival that lasts two days both inside and outside of Israel is the New Year's celebration. The 48-hour celebration is referred to as yoma arichta, which translates to "a long day" because it can be viewed as one continuous day.
When is Rosh Hashanah and Yom Kippur 2023?
On the Gregorian calendar, which is the one most people use, Rosh Hashanah is marked on the first day of the Hebrew month of Tishrei, which falls in September or October.
Rosh Hashanah in 2023 starts at dusk on Friday, September 15, and finishes at sunset on Sunday, September 17. The evening of Sunday, September 24, will mark the start of Yom Kippur, which will last until the evening of Monday, September 25.
How is Rosh Hashanah celebrated?
Rosh Hashanah celebrations might vary from family to family, but they usually involve unique foods, customs, and mitzvot, or commandments. A unique service with words of hope and atonement for the coming year is held at a temple or synagogue, where a large number of people attend services.
During services, a shofar, or hollowed-out ram's horn, is sounded to awaken any spiritual slumber and encourage believers to turn to God and consider their transgressions.
Giving to people in need, or Tzedakah is a significant aspect of Rosh Hashanah. The idea is that if one performs nice deeds, God will take notice and grant them a prosperous new year.
As a centuries-old custom, some Jewish families throw breadcrumbs into bodies of water to represent casting off their sins.
What Do People Eat During Rosh Hashanah?
Fish is a traditional meal on Rosh Hashanah because it represents abundance and fertility. To demonstrate their willingness to be leaders this year rather than followers, some people will eat the fish's head.
In addition to eating challah bread and honey-dipped apples, many Jewish families also do so to represent their sweet expectations for the next year.
Some families will also eat pomegranate fruit, as its numerous seeds stand for the year's numerous benefits in the coming year.
What Are Rosh Hashanah Greetings?
Is it OK to say 'Happy Rosh Hashana'?
Yes, you should wish Jewish friends, family, coworkers, or classmates a good Rosh Hashana or Happy New Year if you are speaking to them during the festival. You might also say "Shanah Tovah," which is Hebrew for "good year."
The most common greeting is "Happy New Year" because Rosh Hashanah marks the Jewish New Year. The Hebrew counterpart is "Shanah Tovah," which is pronounced "shah-NAH toe-VAH" and means "good year."
L'shana Tovah u'metukah, which translates to "for a good and sweet year," is shortened to "Shanah Tovah," which means "for a good and sweet year."
In Hebrew, "chag sameach" (pronounced KHAHG sah-MEY-akh) is the word for "happy festival," which is the equivalent of "Happy Holidays."
Are banks open on Rosh Hashanah 2023?
Since Rosh Hashanah is not a federal holiday, you may anticipate that most banks will be operating as usual. Naturally, since the holiday occurs on a weekend this year, many banks are closed or have limited hours on Saturdays. The banks will then remain closed as usual. On Sundays, all banks are closed. For their banking needs, customers can use ATMs or online services. If you're unsure of your bank's weekend schedule, be sure to call your local branch to find out what's open on Saturday.
New Year's Day, Martin Luther King Jr. Day, Presidents Day, Memorial Day, Juneteenth, Independence Day, Labor Day, Columbus Day, Veterans Day, Thanksgiving, and Christmas are among the 11 holidays that are recognized by the U.S. Federal Reserve. Banks, post offices, the stock market, and other services will be closed during certain times.