Twitter: The Trending Social Media Platform of the Moment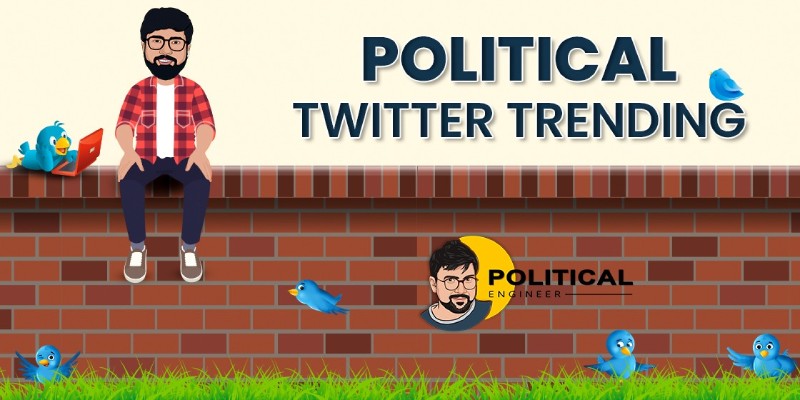 Twitter, founded in 2006, is a microblogging platform that allows users to post short messages, known as "tweets," of up to 280 characters. According to a study by the Hansa Research Group, Twitter has seen significant growth in India in recent years, with over 33 million active users in the country.
Why is Twitter very useful for politicians?
One of the key benefits of Twitter for politicians is its format, which is short and snappy. In addition to its format, Twitter is also known for its ability to trend topics and bring attention to important issues. This makes it an incredibly valuable tool for politicians who are looking to stay informed and participate in relevant conversations.
Some of the key reasons why Twitter is so useful for politicians include:
Wide Reach in audience:
High Engagement
Real-Time Access
Short and Snappy Format
Increased Visibility
Direct Feedback
Personal Branding
Cost-Effective Marketing
Moreover, Twitter's vivid demographic user base makes it an ideal platform for crisis management and emergency situations. Politicians can use Twitter to quickly and effectively communicate important updates and information to their followers of all age groups, keeping them informed and engaged with the informative content that they post.
Importance of Twitter hashtags
Twitter hashtags are a simple but effective tool for politicians in India. They are keywords or phrases preceded by a "#" symbol that helps categorise and organise tweets. Twitter hashtags offer numerous benefits for politicians and brands, therefore, Political Engineer offers a range of services to help politicians maximise the use of Twitter hashtags, including:
Building a community
Increasing visibility
Tracking conversation
Measuring impact
Creating brand awareness
Driving engagement.
Mobilising supporters
Twitter hashtags play a crucial role in setting Twitter trends during political campaigns for politicians. Political Engineer offers comprehensive services to help politicians in India and popular brands to make the most of Twitter hashtags, reach a wider target audience, engage with constituents, and achieve their political goals.
Political Engineer's Twitter Action Plan
The Political Engineer is created to help politicians and brands improve their social media marketing. We work as their virtual social media secretary and help them reach more people on social media. Our goal is to improve their online presence and connect with their audience in a better way. With our help, they can achieve their goals and have a lasting impact online.
● Tweet Bank for Politicians
On the basis of current and trending news in state or national politics we create a collection of tweets and call it a 'tweet bank'. The tweet bank contains hundreds of tweets ready for each topic with tweet text, images, videos, infographics etc already added to it.
As a busy politician, we understand the struggle of finding time for research and crafting the perfect tweet. That's why we've created a solution to save you time and energy.
● Get your hashtag in top 5 trending hashtags organically
Our aim is to provide you complete support in ranking your chosen hashtag in the top 5 trending hashtags organically. Getting into the list of trending hashtags is of great importance, because nowadays, national and international news are picked from Twitter's trending hashtags only.
These days politicians are even purchasing slots on Twitter to show their hashtags as trending. These purchased slots show as sponsored hashtags and cost roughly around Rs 2 lacs for 1 hour. But with Political Twitter Trending you will not have to pay such a hefty amount and moreover, your hashtag will rank through organic traffic.
● Team of 20000 Twitter warriors
We have a hardworking team of 20,000 Twitter warriors, which is responsible for ranking your chosen hashtag in the list of top 5 trending Twitter hashtags and that too through a completely organic way. This entire process is real quick and can be done in 15-20 minutes after your tweet is live.
How does it work?
Political Twitter Trending is a unique concept which has unmatched potential of organically setting Twitter trends. In the near future, it will completely revolutionise the current Twitter trend patterns and bring a great change in modern day politics. Various state and national party candidates can highlight their agendas on global levels using Political Twitter Trending.
Let us understand the working of Political Twitter Trending for:
Politicians
Politicians can completely rely on the Political Engineer for managing their Twitter handle and expect a sure shot result in terms of creating fresh & engaging content, gaining new followers, setting twitter trendings and most importantly creating personal branding through our extended reach capacity.
Government Ministries or Political Parties
Ministries must always post right information with correct facts, therefore, it is necessary for government ministries and political parties to get onboarded with the Political Engineer, and let us take charge of spreading your information effectively to the world using Political Twitter Trending.
Events
As Twitter is the best way to quickly connect with a large number of people, Political Twitter Trending will boost the reach of your message about hosting or being a part of any political or professional event.
Brand Launching
Using Twitter with Political Twitter Trending will be the most effective way to launch your brand and reach your target audience more accurately. Many Indian and foreign brands such as Paytm, Starbucks, Coca Cola, Tata Motors etc use Twitter for their product launch.
Our commitments to politicians / brands
Twitter is a valuable tool for both politicians and brands looking to reach a large and diverse audience. At Political Engineer, we understand the importance of a comprehensive Twitter marketing strategy for both politicians and brands and are committed to helping our clients achieve their goals.
For politicians, our team will help to define their target audience and create a content strategy that aligns with their political agendas and goals. This includes a mix of promotional tweets, political news, and public engagement, helping to keep their followers informed and interested in their campaigns.
For brands, our team will work with them to define their target audience and create a content strategy that aligns with their brand identity and goals. This includes a mix of promotional tweets, industry news, and customer engagement, helping to keep their followers interested and engaged in their brand.
Why should you invest in Political Twitter Trending?
Twitter is a powerful tool that allows you to reach millions of people in real-time, and Political Twitter Trending puts you at the forefront of the political conversation. By investing in Political Twitter Trending, you will have access to the latest and most up-to-date information on political events, allowing you to stay informed and on top of the latest developments.
Here are other points why you should consider investing in Political Twitter Trending:
Reach a vast audience
Immediate response
High engagement rates
Boost visibility and credibility
Stay ahead of the competition
Data-driven insights
In today's fast-paced world, it is critical to stay ahead of the curve, and Political Twitter Trending provides the perfect platform to do so. By investing in Political Twitter Trending, you will have the opportunity to reach and engage with millions of politically active individuals, stay informed on the latest political events, and build relationships with your audience.
Don't miss this opportunity to stay ahead of the curve and invest in Political Twitter Trending today!