What is the Standard Size of a Tennis Court?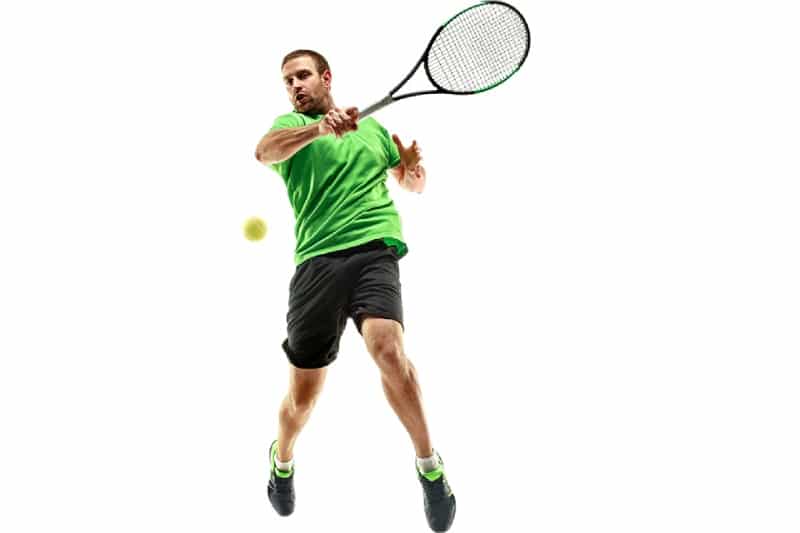 As we spend more time at home again with the sudden rise in the omicron variant, everyone is looking for a better way to make the space they have more enjoyable and usable. For some people, that means ensuring having the perfect work from the home office. For others, it means making extensive upgrades to the outdoor space, like a tennis court. Tennis has become one of the world's most popular sports. Whether you are looking for a more active lifestyle or are planning on playing competitively, there are some things you should know before getting started on your new at-home tennis court. For example, is your backyard suitable for a tennis court? Is there enough space? What kind of lighting will you need? What type of court? And What is the standard size of a tennis court? 
Court Size and Dimensions
The global tennis governing body, the International Tennis Federation, says that a competent court must be rectangular. It must also measure 23.77 meters long with a width of 8.23 meters for singles and 10.97 for doubles. 
More often than not, tennis courts are built with doubles in mind as it doesn't take up that much more space and provides significantly more use. That's why most tennis courts you see have not only the outer lines used during a doubles match but inner lines for singles. The internal lines outline the play area for a singles match. 
The net for the court is 1.07 meters in height and divides the courts in half.
The service line is marked at 6.4 meters away from the net.
However, when building a court, you must account for the additional space around the court, which usually makes the whole space measure 18 meters by 37 meters in total. This allows players to access balls that overrun the court.
Types of Tennis Courts
There are four primary groups of court surfaces that are played regularly. Grass courts, clay courts, hard courts, and carpet courts. These courts are generally categorized as fast, medium, or slow play. The grass is the fastest among the court surfaces. Clay courts are considered significantly slower. However, they are still widely used as the French open is still played on a clay surface. Carpet courts are generally reserved for indoor tennis events or temporary court setup and are not often used. They're faster than hardcourts but have a low bounce.
Traditionally tennis was played on grass courts. It became a popular sport while being played on the lawns of the well-to-do in Brittan.
In some areas, grass courts are still preferred. Wimbledon, for example, is still played on a grass court.
Grass courts have seasons and aren't usable year-round. Grass courts are very different than modern artificial courts. Weather plays a more significant factor in how the match may go when playing on a grass court, and there is less bounce when the ball hits the surface.
Hard courts are the courts most people are familiar with. They're the ones that have the high bounce outdoor hard surface. These are the courts you typically see at a school or sports club. 
Installing a Home Tennis Court
Because home tennis courts take up a good amount of space, one of the first things you should do is measure your backyard. Remember that you need the area for the full court; plus, you will need to consider space between the court and other structures on your property. Often you'll need to leave a little over 6 meters between existing buildings and your new tennis court.
Next up, you're going to want to look into the city regulations as well as any homeowners association you belong to. These governing bodies usually have set standards in place for where and how a tennis court can or can't be installed.
If you find that your HOA has rules against tennis courts or outdoor sporting areas, don't just throw in the towel. Often you can petition for an exception with the HOA. This might require a presentation, but HOA's will sometimes make allowances if no one is in serious objection. It can never hurt to ask; the worst they can do is say no.
Once you know you have enough room and approval to do so, it's time to start planning your dream court. This is when it's essential to involve a professional.
A lot goes into building a long-lasting and functional tennis court, including things like leveling and grading the area for the court. Understanding the best direction, knowing what type of surface will work best in your climate and space. These are all things that a professional company specializing in tennis court installation will understand.
A company with a designer on staff will also be able to help you when it comes to the accessories needed to make your new court the most valuable. For instance, most people prefer to install lighting to play into the evening hours. They'll also have information on the best size and type of fencing to use for your new court. You don't want to upset the HOA by letting your tennis balls loose in the neighborhood. 
Reasons to Choose a Professional
A tennis court can be an excellent investment in your property if you ever plan on selling it. Everyone is looking to get more for their money when they buy a home. High-end upscale upgrades like a tennis court are a hot commodity in today's market. They are also significantly less maintenance than a similarly large scale project like a pool.
Working with a professional designer specializing in tennis courts can be a fantastic opportunity to increase the value of your home. They're going to help you get the best use out of your space. They're also going to know how to make that tennis court look like it belongs in the yard. The designer can often plan the landscaping around the court to help improve the overall look of your outdoor space.